If you had to choose two colors to represent Halloween, which would you choose? If you're like most people, black and orange are probably the strongest contenders. According to Board & Brush, these are traditional Halloween shades as black represents night, shadows and all things spooky, while orange is reminiscent of autumn, falling leaves and pumpkins.
However, while some like these colors, others may not be big fans of orange and black. If this is your case, you will have to think outside the box to find or create decorations that highlight other colors.
If you need inspiration, here are 40 Halloween decorations that aren't just black and orange. Some pieces are cuter and more kid-friendly, while others are a bit spookier. Plus, there are a few ideas that those who like a more minimalist and chic decorating approach would really appreciate.
1. Painted Pumpkins
A great way to change the look of orange pumpkins is to paint them. To give them a traditional Halloween look, you can add the faces of creatures like ghosts and vampires.
2. White Ghosts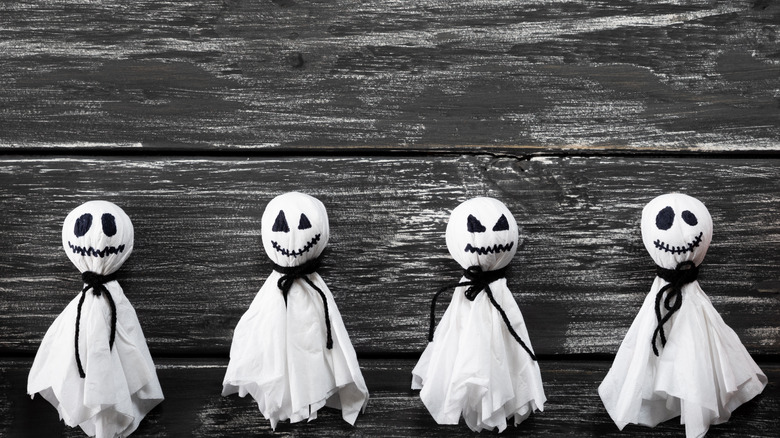 siam.pukkato/Shutterstock
Create little ghosts from white fabrics to give your space a haunted feel. This would allow you to showcase the Halloween fun without using orange.
3. Cute Scarecrow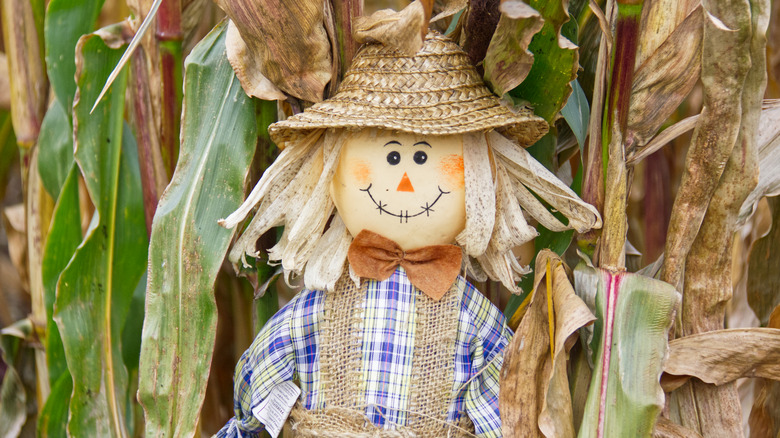 emile.m/Shutterstock
Plus, scarecrows are fun fall decorations that don't have to use traditional colors. To stay away from orange and black, give your scarecrow a blue plaid shirt.
4. White Pumpkin Centerpiece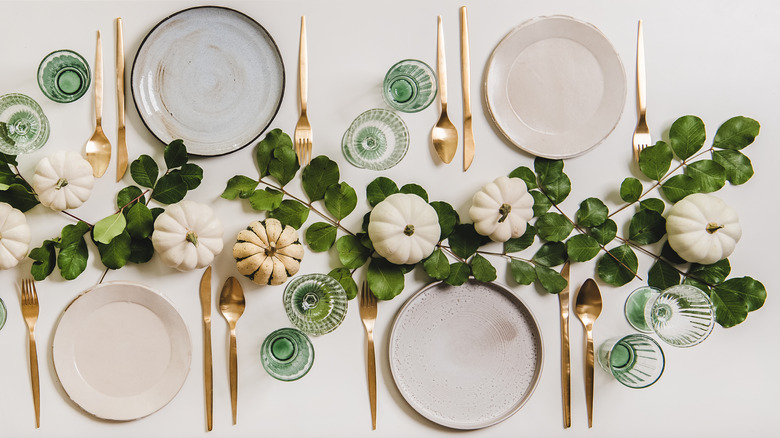 Forest Manufacturing Foxys / Shutterstock
If you like fancy decorations, you can choose to adorn your table with small white pumpkins and greenery for Halloween.
5. Dynamic Moms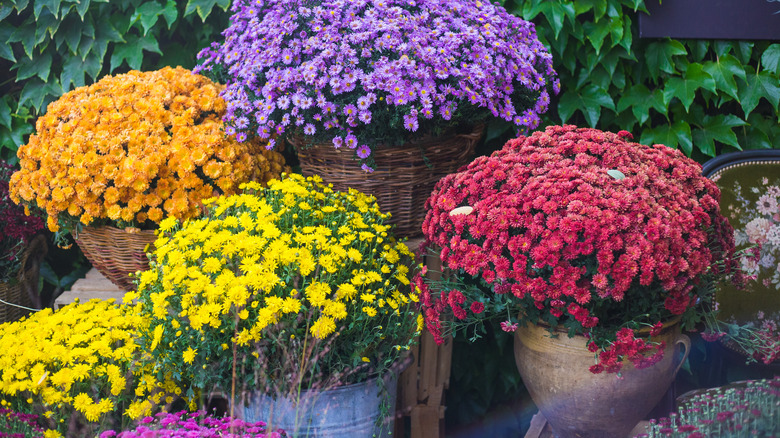 Foxphotos/Shutterstock
Mums are a great way to bring bright color to your home. They come in a number of bright shades, like pink, purple, and yellow.
6. Frankenstein-themed desserts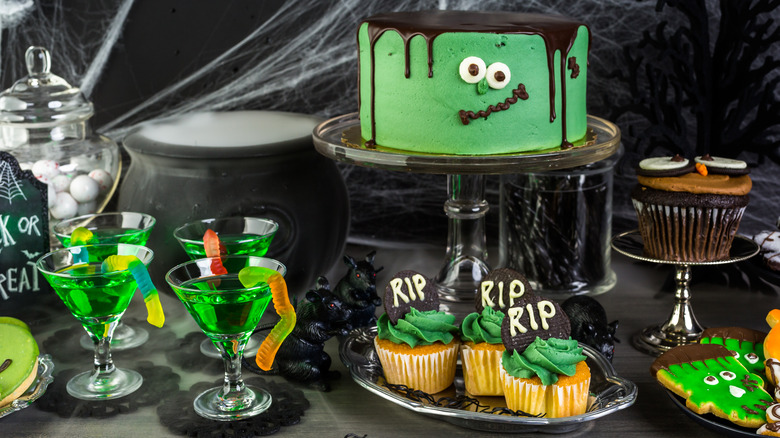 Arina P. Habich/Shutterstock
To keep the orange and black out of your Halloween desserts, you can focus on a green Frankenstein theme.
7. Muted Pumpkins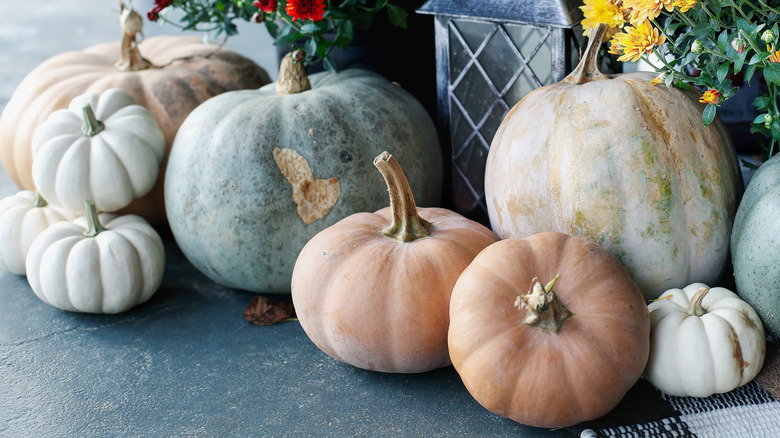 Stephanie Frey/Shutterstock
For a muted fall setup, choose pumpkins that aren't bright orange, like the ones above. Pumpkins can have shades like white, tan, green, and blue.
8. White Mummy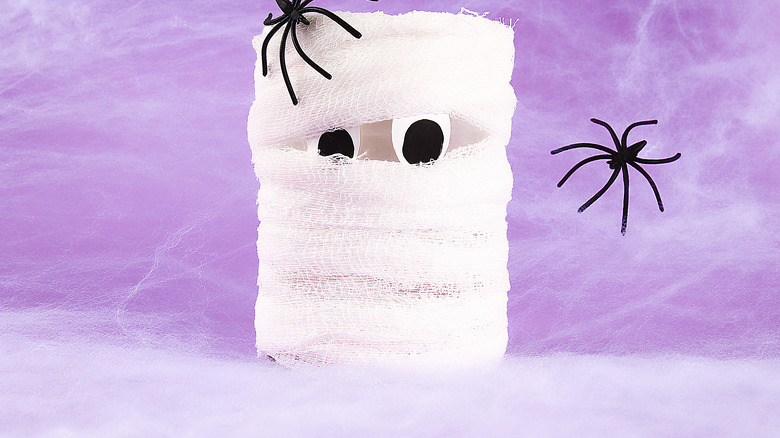 Olya Detry/Shutterstock
Another creature to focus on when decorating for Halloween this year is a mummy. You can make cute mummy decorations with eye cutouts and gauze.
9. Neon Pumpkins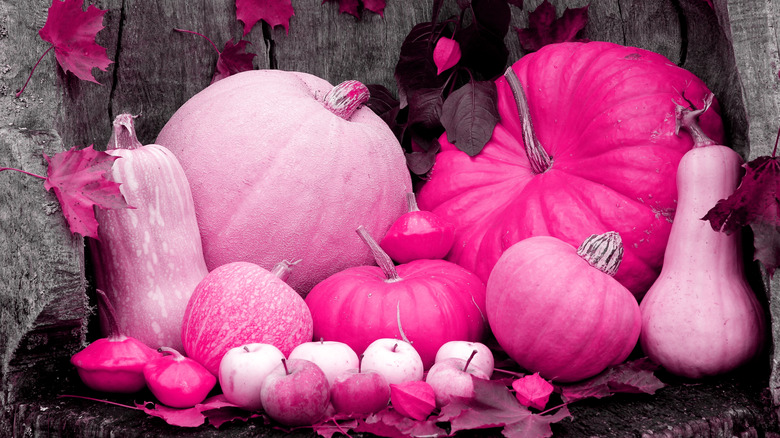 AJStudio Photography/Shutterstock
If you want your home decorations to really stand out, try painting your pumpkins with neon colors like the pink shades above.
10. Metallic Pumpkins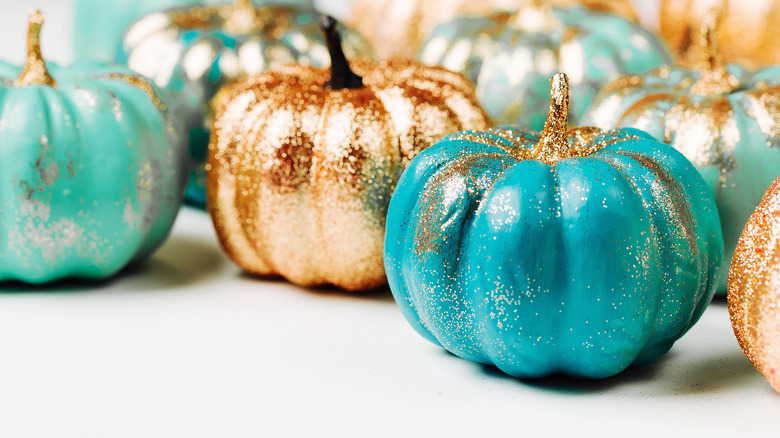 Igiseva Maria/Shutterstock
Or, you can paint your pumpkins in gorgeous teal, blue, and gold hues to make your Halloween more glamorous.
11. Pink Cobwebs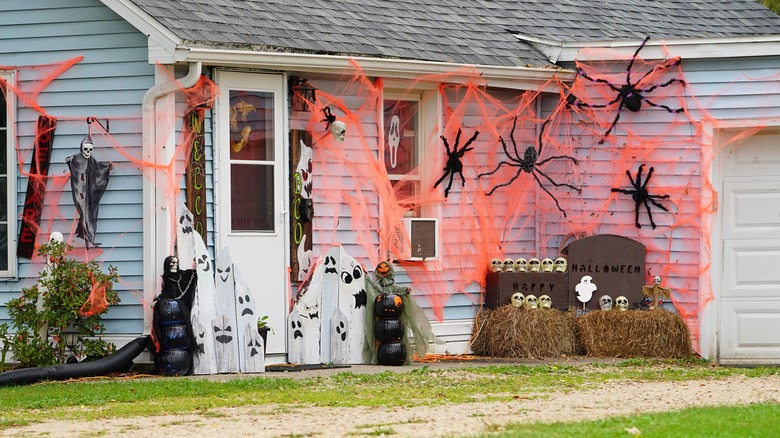 Aaron of LA Photography/Shutterstock
One way to draw lots of attention to your home's Halloween display is to use bright pink faux cobwebs.
12. Pink Skull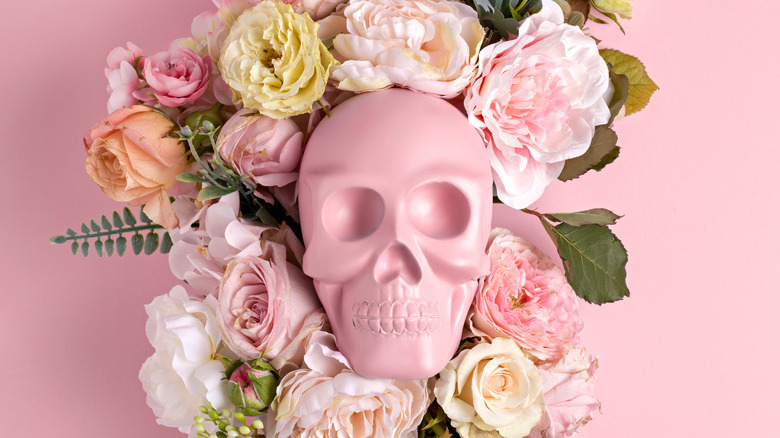 Gligoric/Shutterstock
Here is an example of how Halloween decorations don't have to fit the typical mold. Paint a skull with your favorite color and surround it with flowers.
13. Classic Skulls
Aquarius Studio/Shutterstock
Or, if you want to take a more common route, you can use a traditional faux skull decoration in your Halloween decoration.
14. Red Nosed Clowns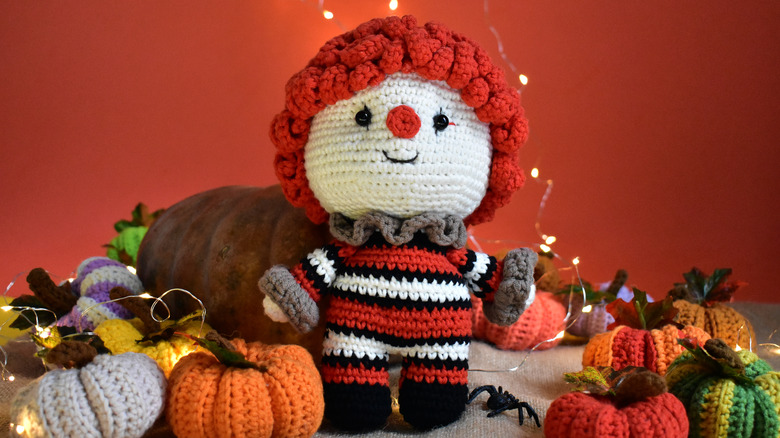 Vintage Camellia/Shutterstock
Clowns usually feature red and white instead of orange and black. Try creating a cute clown display, like the one above, or make it rather spooky.
15. Gray Headstones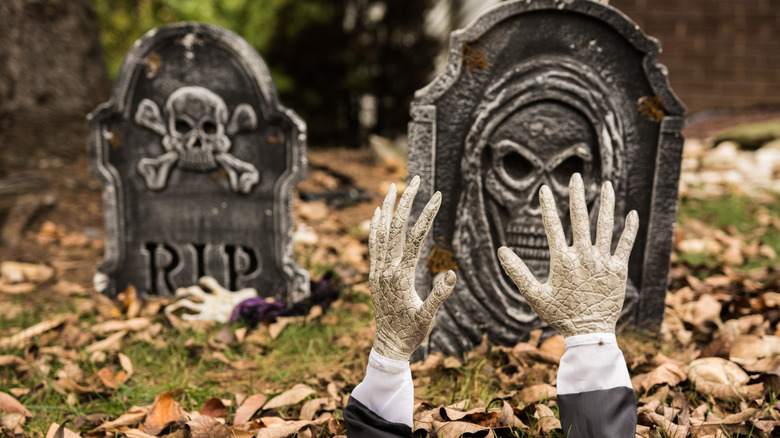 Sandy Morelli/Shutterstock
Creating a faux graveyard in your front yard with tombstones and gray hands will give your home a spooky look without using traditional colors.
16. Colorful Bouquet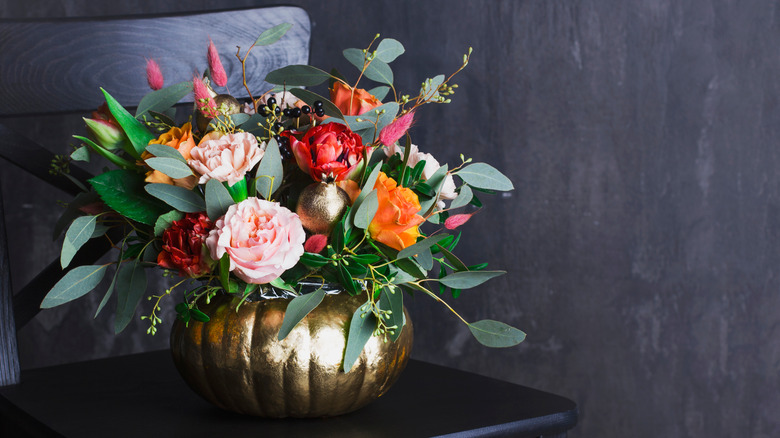 Galina Zhigalova/Shutterstock
To cast a glamorous Halloween spell, use a painted metal pumpkin as a vase and create bouquets of flowers using pretty shades of pink and red.
17. Purple cat cake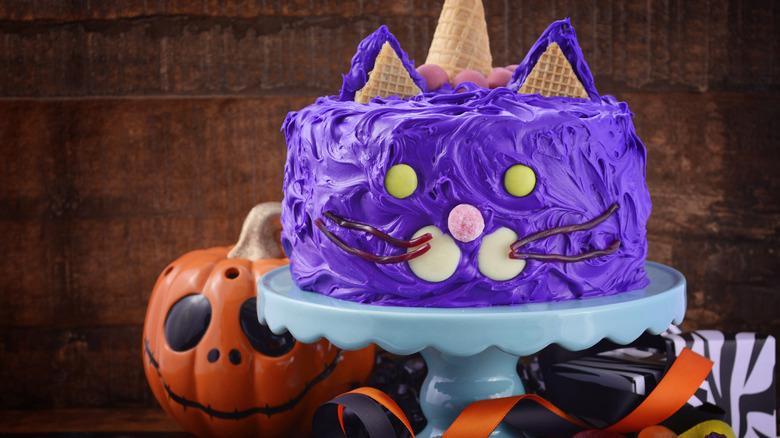 Milleflore Images/Shutterstock
Another baked good you could make is a pretty purple cat cake. It will remind people of a black cat (known to bring bad luck) without using black color.
18. Warm Lights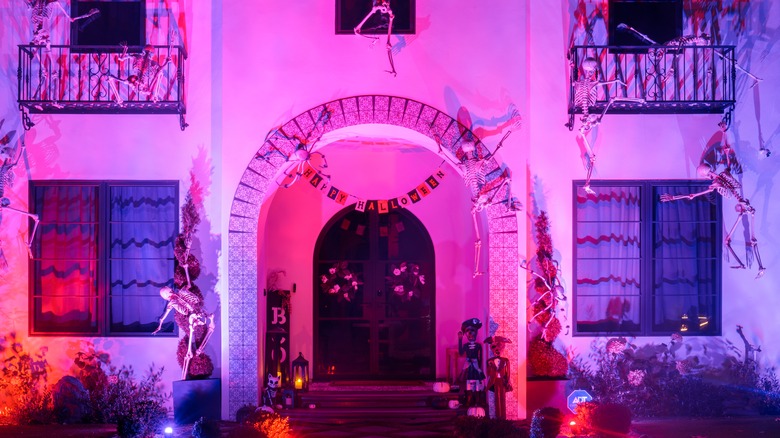 yhelfman/Shutterstock
To cast a warm, colorful glow on your Halloween display, you can use purple and pink spotlights.
19. Golden candlesticks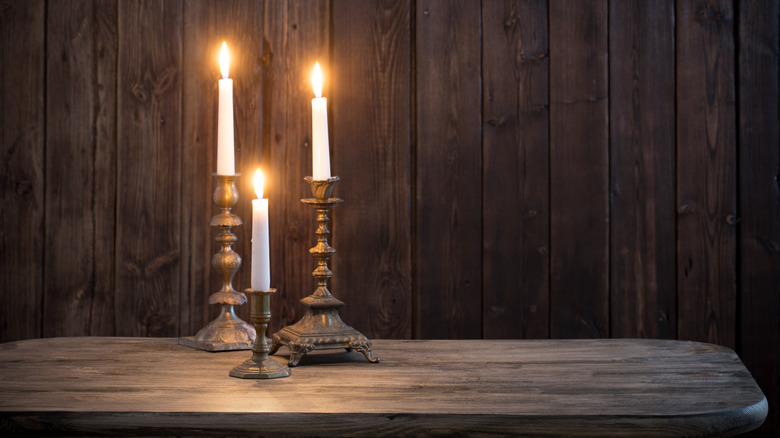 Maya Kruchankova/Shutterstock
Lighting large candles on antique-looking gold candlesticks and turning off the lights will give your space a spookier vibe.
20. Red and Yellow Crown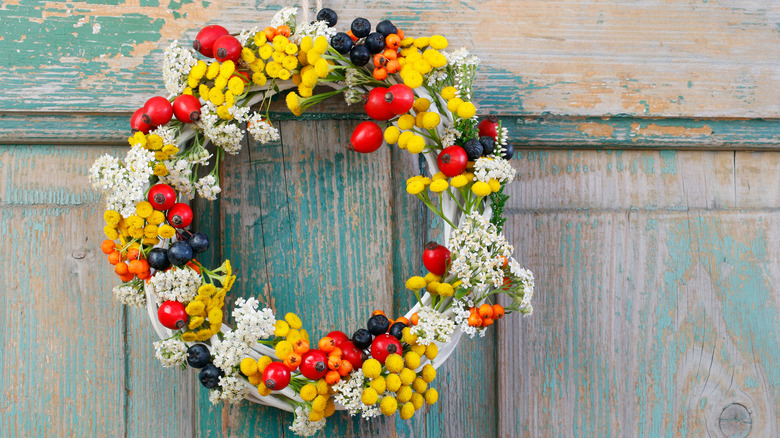 Agnes Kantaruk/Shutterstock
You can create a fall wreath for your front door using mostly red and yellow elements.
21. Neutral Display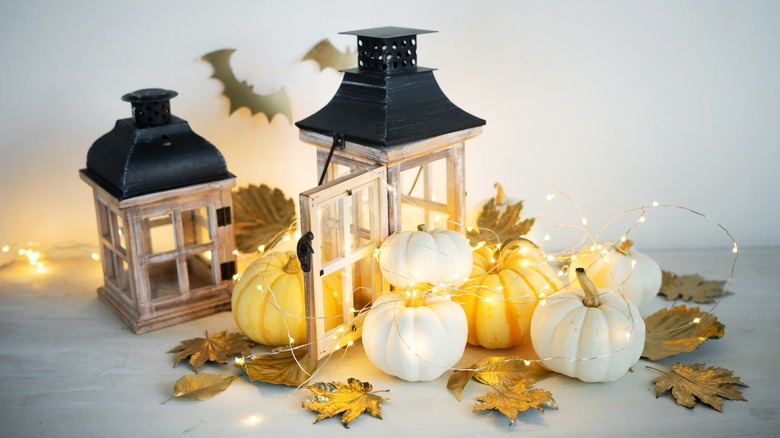 July KB/Shutterstock
To create a neutral Halloween decoration, use white pumpkins, wooden lanterns and twinkling lights. You can also spray orange paint leaves a fun golden color.
22. Yellow caution tape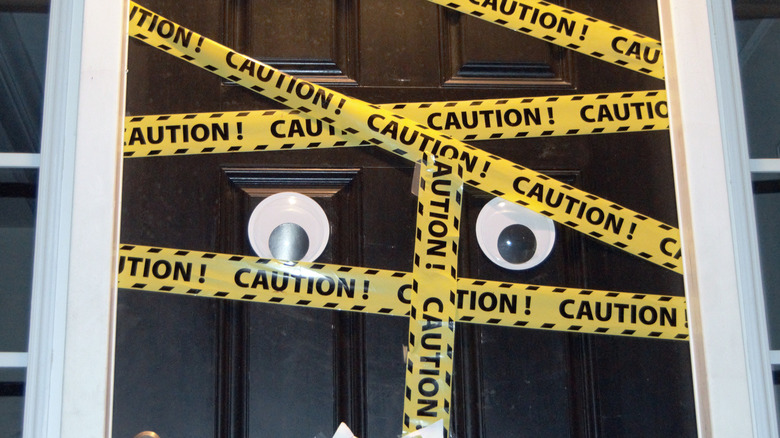 Lyons Lens Photography/Shutterstock
Another item typically used during Halloween is the yellow warning tape. Make your home look like a spooky crime scene with this simple decorative item.
23. Pumpkin Welcome Sign
stock_studio/Shutterstock
If you want to make a fun Halloween craft, paint pumpkins and stack them. You can also easily make it a welcome sign, like the one above.
24. Sunflower Display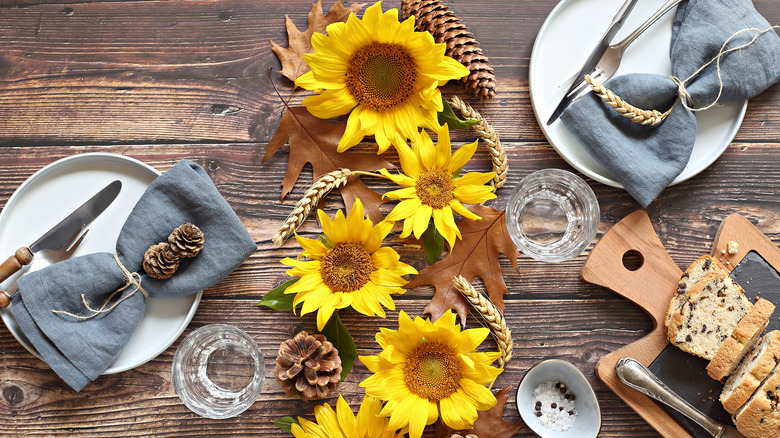 Losangela/Shutterstock
Another way to bring the season into your home is to use sunflowers, brown leaves and pine cones to create a decorative table display.
25. Blood red sign
While orange and black are typically used to create Happy Halloween signs, choose to use red, which would remind the viewer of blood from a spooky crime scene.
26. Pastel Pink Details
Those who love pastel pink could add pumpkins, pumpkins and pink gourds to their pretty Halloween decoration.
27. Neutral Pillows
If you want your decorations to make your home cozier, choose to add neutral pumpkin pillows. Brown bedding will also provide an earthy fall feel.
28. Spells and Potions
If you like witches, incorporate decorative pieces that look like spell books and potions. These are usually in brown or rust tones.
29. Golden Bats
You can also spray your black bat ornaments a shiny gold color, which will make them stand out in the inky darkness of the night.
30. Dripping Red Candles
White candles with dripping red wax will remind the viewer of blood. This could easily be created by adding food coloring to your candles.
31. White Pumpkins
Instead of choosing traditional orange pumpkin decorations, buy white or light peach ones.
32. Translucent Skull
Translucent decorations can also look very unique, like the skull candle holder above. If you hate using brightly colored decorations, this may be a great option for you.
33. Cork Bat Art Piece
A unique DIY you could try is to create a bat with lots of corks. Glue the corks together with hot glue, then hang them on the wall.
34. Cozy Gray
When creating a Happy Halloween sign, you don't need to use orange. Use a comfortable gray background instead.
35. Dried flowers and candles
Bronzed or dried flowers and candles could be used to create an earthy and mystical decorative display.
36. Green pumpkins
If placed on either side of your driveway, green pumpkins could be used to welcome your guests to your home.
37. White cobwebs
White faux cobwebs are generally used to make porches and landscaping more spooky. To add more interest, include a glowing purple spider.
38. Pastel Pumpkins
To create additional adorable pumpkins, you can paint them in pastel shades of pink and blue and add large googly eyes.
39. Painted Gourds
Or get creative with water bottles. Adding gems, glitter, and gold flakes will make this project even more fun.
40. Purple Inscription
To make your fake cemetery really stand out, trace the inscription on the headstones with purple paint or another color.