The holiday season has officially arrived, bringing with it the prospect of reuniting with our families and friends for celebrations that are long overdue.
While it's too early to call Covid, we're leaving it behind enough to plan some real Thanksgiving and Christmas festivities with the people we love – and even on this early date our calendars are filling up.
Whether you're making a big feast at home or bringing a dish to a Friendsgiving potluck, we've got holiday recipes, from soup to shortbread, from five remarkable California chefs that promise your memories this season will be delicious. Long live the holidays, together again.
---
Chef Alex Hong's Chestnut Faviolo with Quince and Robiola Cheese
(Patricia Chang)
Michelin-starred chef Alex Hong of San Francisco's Sorrel comes from a sporty and adventurous family in Boulder, Colorado. This is where he will be returning for Christmas this year. And while he's usually the "meat of the meat" at Thanksgiving spent with friends in SF, at his home in Boulder, he indulges in dishes for which he happily takes no responsibility.
"My aunt makes a really amazing wild rice and oyster stuffing, which is my favorite," says Hong. "My dad makes this honey cooked ham that's lacquered with brown sugar and maple syrup. It's basically like candy."
And while Sorrel also takes his vacation, the restaurant's fall tasting menu has a perfect dish for your holiday table: Hong Chestnut Raviolo filled with fresh peeled chestnuts, pancetta, and quince.
Get the story and the recipe.
Chef Brian Malarkey's Butternut Squash Soup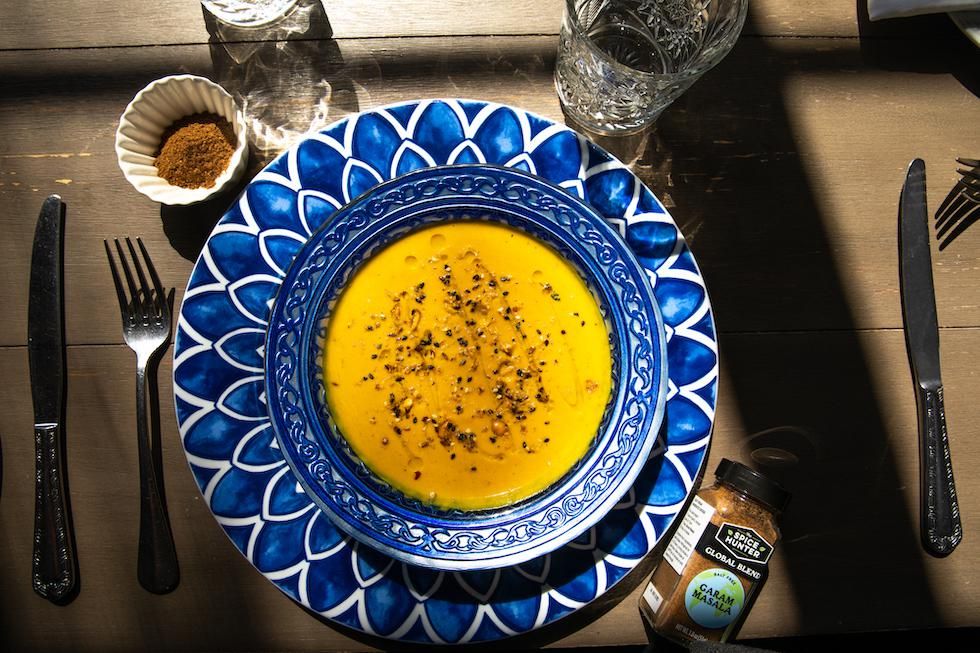 (Madison Daube)
Celebrity chef Brian Malarkey of San Diego is well known for his Excellent chef appearances and his 15 best-selling restaurants in Southern California. Most recently, he launched a line of cooking oil, with a portion of the proceeds going to Golden Rule Charity, a non-profit organization that supports workers in the hospitality industry. Chefs Life only sells three varieties of cooking oil: a blend of EVOO, avocado, and grapeseed oil for dressings and aioli; a mixture of avocado, olive, sunflower and grape seed oil for sautéing, frying, baking and roasting; and regular EVOO for finishing, misting and soaking.
The latter style is perfect to finish off Malarkey's Butternut Squash Soup, a seasonal classic he makes with coconut milk and garam masala. "You have to find a way to get umami flavor in there," he explains. "Garam masala has so many flavors it takes it to the next level."
Make enough and this dish can go from soup to gravy to dressing with minimal effort.
Get the story and the recipe.
Chef Brenda Buenviaje's Cajun Seafood Gumbo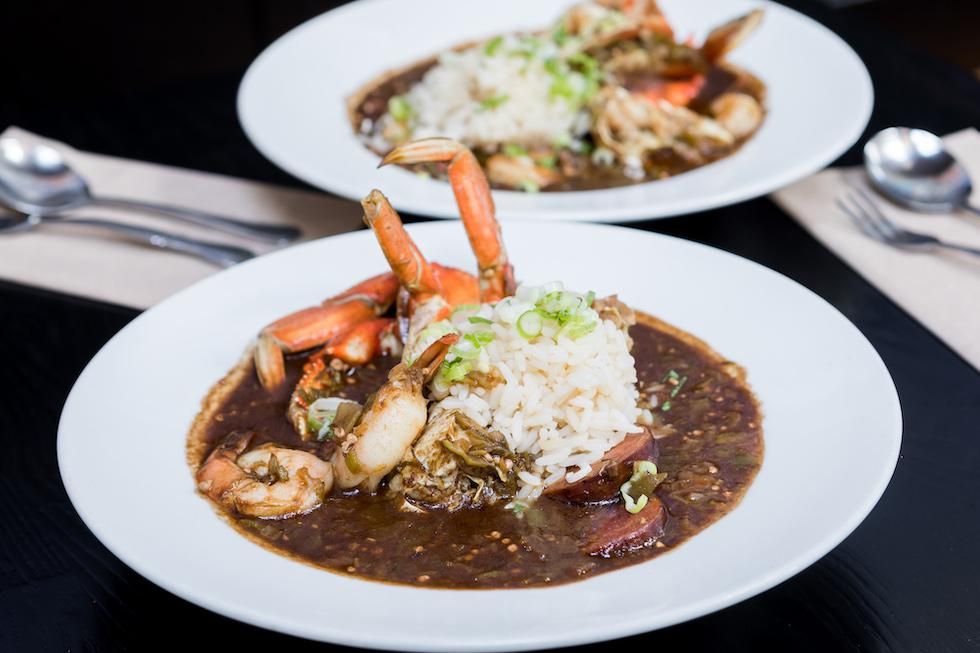 (Patricia Chang)
Chef Brenda Buenviaje, of the eponymous French Soul Food restaurants in SF and Oakland, cherished the local food culture from her childhood in New Orleans. "My parents, we always had a boat and we often went to catch our own crabs, shrimps, fish. Growing up, there was always a pot of okra at every gathering, especially during the holidays," she says.
When the stew is ready, it can be eaten with different sides, including rice and hushpuppies. or kolsch.
Get the story and the recipe.
Chris Cosentino's Crown Pork Roast with Persimmon, Dandelion and Pomegranate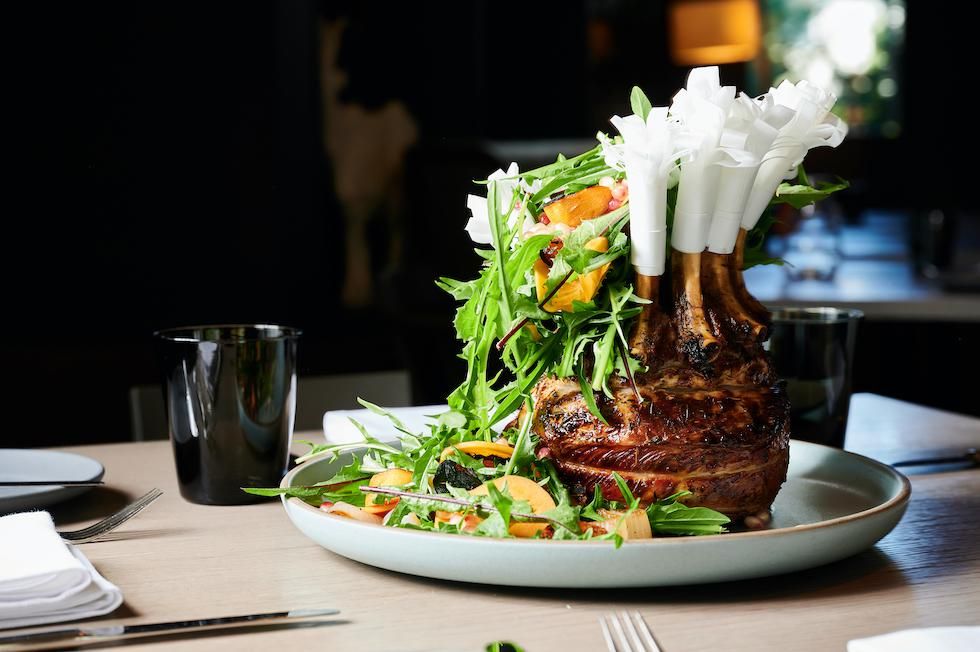 (Marc Fiorito, Gamma Nine Photography)
Acacia House chef Chris Cosentino doesn't yet know what will appear on her own table, but he does know who will be sitting around her: his 21-year-old wife Tatiana, son Easton and a close family friend. "It's really about spending time in the kitchen and with my family," he says. "It's not always a big thing, but it's always about enjoying our time together."
One possibility is the crowned pork roast, a masterful centerpiece for a holiday table. "When you think of pork and holidays it's usually ham, but I'm half English and it's very English," he explains. He even teaches us how to make the tiny homemade chef hats he uses to garnish each bone.
Get the story and the recipe.
Whole Spiced Shortbread From Pastry Chef Toast Liz Prueitt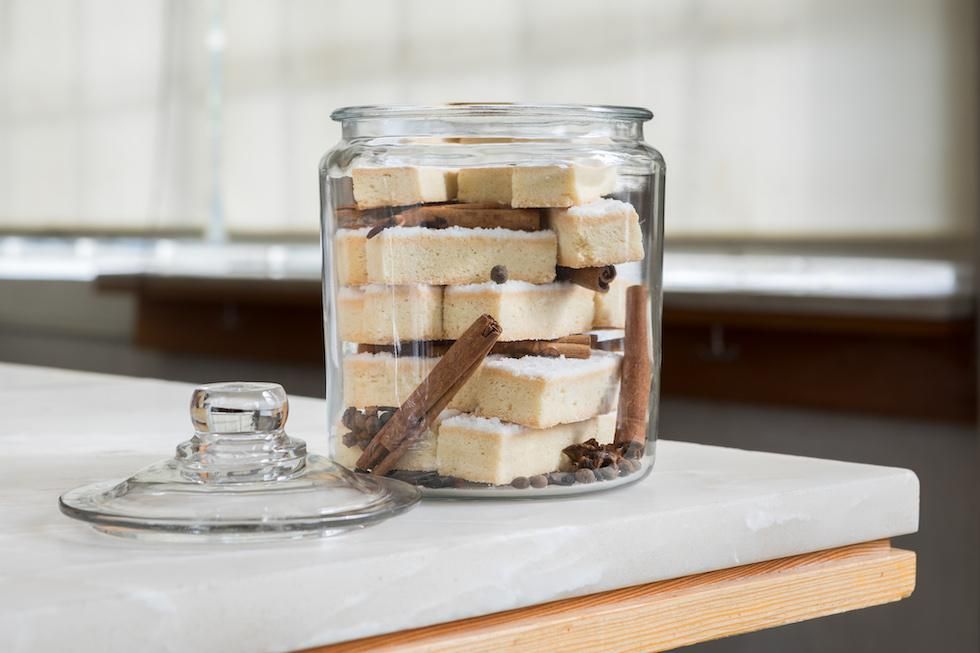 (Patricia Chang)
Not usually found in any of Tartine's menus (but can be found in the cookbook Tartine: a classic revisited) is Pastry Chef Liz Prueitt's shortbread, a holiday-ready butter cookie packaged in a cute box. Between and over the confectionery, the chef sprinkles a variety of hot spices, including whole cloves, star anise pods, cinnamon sticks, and allspice. "So what's going on is the cookies just take on that wonderful flavor, it infuses them really beautifully," she explains. "The subtlety depends on how long you leave the whole spices in the box."
When cookies are at their peak of heat, cinnamon, allspice, cloves and anise can do double duty in spiced cider or mulled wine, suggests Prueitt. "The presentation is so pretty," she said. "I love that it is both beautiful and tastes delicious on the table and in the glass."
Get the story and the recipe.
Thanks to our partners at The Spice Hunter.
The Spice Hunter team takes inspiration from local and global food trends to create unique, premium products that enhance your kitchen with bold flavors, delicious aromas and vibrant colors. Whether you are looking to try a different cuisine or add a new twist to a favorite recipe, they provide a lot of inspiration by adding diversity to your pantry. Be your own gourmet chef and receive 25 percent off your order with code 7×725 at spicehunter.com.
For more festive dishes with flavors from around the world prepared by California's top chefs, visit 7×7.com/holiday-recipes.