Eid-al-Adha is upon us and no party is complete without delicious food and desserts. And since it will likely be strictly a family business this year, you can give traditional desserts an original and healthy twist. Nutritionist Hena Nafis points out that festivals are not the time to count calories. "Portion control is the key, but on Eid day I don't do anything too healthy because it's time to celebrate. Biryani in the Awadhi style (without potato) is a menu staple along with sevaiyan kimami. I think biryani is a complete meal since you have ingredients from each food group like carbohydrates, protein, healthy fats, and fiber. I prefer to cook my biryani in rice bran oil and a little ghee, with lean meat, green peppers, mint leaves and chopped nuts, "says Hena.
Eid cooking takes a healthy turn
Traditional Eid desserts that are a must have include pure khurma, baklava, kulfi faluda, phirni, sevaiyan kheer and others. Home chef Rushda Humaira said: "Traditionally, sevaiyan dudh is prepared during Eid at home. Loaded with nuts and baked in coconut milk, this dessert is still everyone's favorite and can't be replaced. But in recent years, people have started to prefer healthy foods over anything else and the first thing that gets replaced are dates. "

Food writer Debjani Chatterjee Alam adds that while most Eid desserts are filled with healthy ingredients, the tradition followed in her in-laws' family for years is to savor dimer halwa, which self is an original version of the ordinary halwa. "I had tasted it the first time after my wedding. The dish contains all the ingredients to boost immunity, including ghee. It's an ancestral recipe that I learned from my mother-in-law and of course, she does it better than me, "she adds.
Here is a look at some of the traditional yet original and healthy desserts that you can try this Eid.
baklava
Crunchy and delicious, baklava is a Turkish dessert made with layers of flaky filo dough soaked in honey and butter and layers of chopped pistachios, spicy nuts and almonds. Filled with dried fruits and honey, it's both delicious and healthy. These baked pastries are soaked in rose sugar syrup, which gives the dessert its characteristic fragrant essence. Although the baklava-making process is a bit onerous, the end result seems to be worth it.
Almond barfi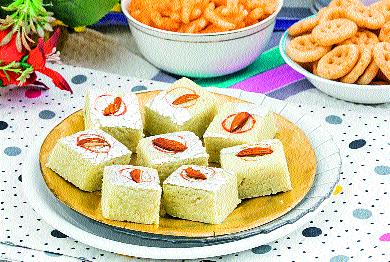 Almond barfi or badam is a basic Eid dessert. The benefits of almonds when combined with milk, sugar and ghee only taste rich and divine. Almonds are rich in vitamins A, E, magnesium and also lower blood sugar and cholesterol levels. It is also effective in losing weight. Once the barfi dough has been made by mixing all the ingredients, spread it out on a plate to cool it and cover it with vark or silver leaf, then cut it into square or rhomboid cubes.
Kimami Sevaiyan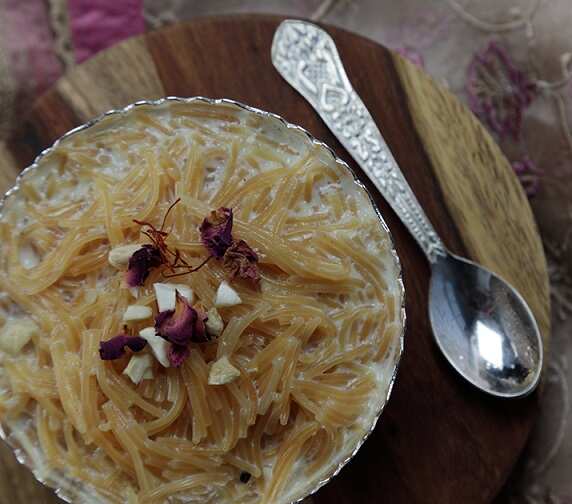 Similar to pure khurma, the star ingredients in this dessert are vermicelli and milk, but it has a slightly thicker consistency. The vermicelli used in this recipe are also of good quality. During preparation, lotus seeds, almonds, coconut, cashews and raisins are added to the mixture of milk, khoya, sugar and vermicelli to make it rich. You can replace the sugar with stevia or jaggery powder.
Date milkshake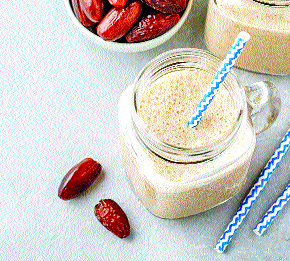 Popularly known as khajur, dates are packed with essential nutrients, vitamins, and minerals. They're also high in dietary fiber, antioxidants, and simple sugars, which almost instantly give you a boost of energy. Dates and milk provide the energy and nutrients needed during fasting, and also lower our body

Temperature. Mix dry or wet seedless dates and milk in a grinder, there is no need to add extra sugar because dates are sweet. If you're making children's meals at home, add a scoop of vanilla ice cream while stirring. Once the shake is ready, serve it by garnishing it with chopped walnuts, dates

and raisins.
Salted Caramel Tahini Cheesecake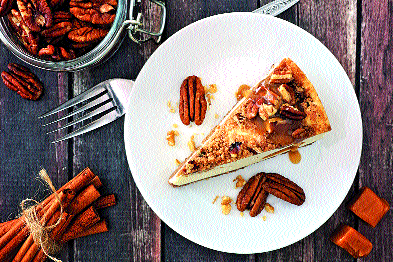 This is one of the most innovative Eid desserts you can make and impress your family members. A rich cashew cheesecake flavored with tahini (a Middle Eastern condiment made from toasted and ground sesame) and date syrup. This unusual decadent dessert is not only healthy, but tastes out of the ordinary. The best part? It's both vegan and gluten-free.
Special innovative recipes Eid-al-Adha: