---
Dilmah CEO Dilhan C. Fernando and his wife Serena Fernando with guests at the opening of t-Lounge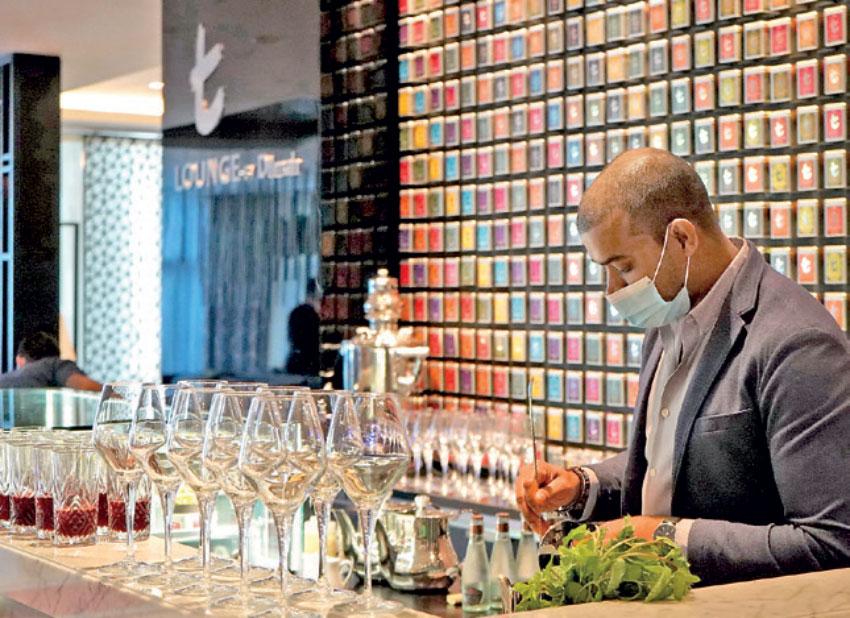 Dilmah mixologist at work
Sharing the flavors of Sri Lanka, combined with Ceylon tea in a carefully crafted tea-inspired menu, t-Lounge by Dilmah is centrally located at Pullman Dubai Creek City Center.
To celebrate the launch of t-Lounge by Dilmah, Pullman hosted VIPs and media with a live art session while presenting a 21st century tea party.
The launch menu featured a range of multicultural-inspired fusion food sets that included cold sandwiches and canapes, finger-licking hot dishes that crisscrossed a bit of the Far East, and a dessert station that offered it all, curd cakes, pies and mousses. However, the highlight of the menu was undoubtedly the selection of tea infused scones which were expertly paired with some of Dilmah's signature hot and iced teas, made to order at their respective tea stations signified by the meeting of a global union of chefs and mixologists from all over the world bringing their personal touch to the event.
The event was graced by VIPs including Ambassador of Sri Lanka to the United Arab Emirates Malraj de Silva, Consul General of Sri Lanka to Dubai and the Northern Emirates Nalinda Wijerathna, CEO of Dilmah Ceylon Tea Company Dilhan C Fernando, the management of the Pullman Dubai Creek City Center, MAF – Nishan Silva, general manager of the Accor Hotels cluster and Ghaith Dalati, manager of the Pullman Dubai Creek City Center hotel.
Speaking at the launch, Fernando commented, "Fine tea has the ability to uplift food in a way that no other drink can and we are happy to add to the fine tea culture in the region. with Dilmah's t-Lounge at Pullman Dubai Creek. Downtown."
There is tea for every occasion, every mood and the Dilmah t-Lounge offers a selection of teas renowned for their quality around the world. The collection available in t-Lounges around the world includes a variety of gourmet designer teas, such as Ceylon Silver Tips and Seasonal Flush, which are very special rare teas. The t-Lounge Seasonal Flush is such a rare tea that it is only cultivated twice a year due to a seasonal phenomenon.
Dilmah, as a tea company, delivers on its promise to operate "business as a human service" with a minimum of 15% of its profit before taxes by funding humanitarian and environmental initiatives, while respecting integrity , ethics and the authenticity of its experiences in all aspects. .
From its humble beginnings, Dilmah has grown on what the brand offers, purity of origin, freshness and ethics, fueled by innovation. Entitled 'Most Popular Brand in Sri Lanka' for 19/20, the Dilmah family applied their unique passion for tea, developing groundbreaking tea-inspired concepts from their global cooking and tea mixology competitions at the Dilmah School of Worldchefs Accredited Oceania Experiential Tea & Tea Rooms in the Middle East.