The Fast Flavors of Nadiya on BBC2 sees the old one Great british pastry shop Winner Nadiya Hussain's mission is to brighten up familiar dishes with surprising ingredients. The lockdown has prompted people to cook more than ever before, but after a few months of trying new, adventurous recipes, many have returned to the same old days. This is something Nadiya Hussain wants to change in her latest BBC2 series and accompanying book The Fast Flavors of Nadiya which, she hopes, will inject sparkling flavors back into our meals.
So we caught up cookbook author Nadiya to give us his guide The Fast Flavors of Nadiya on BBC2…
Release date of "Nadiya's Fast Flavors"
The Fast Flavors of Nadiya starts Thursday November 11 at 8:30 p.m. on BBC2. It's a six-part series, with episodes published weekly on BBCiPlayer thereafter. We haven't heard yet if there's a US or worldwide release date, but we'll update when we can.
What's going on in "The Fast Flavors of Nadiya"?
Old Great british pastry shop winner Nadiya Hussain told us, "The kitchen was a good place to be in the pandemic. It allowed us to enjoy being a little more adventurous and now we are coming out of lockdown and people are going back to their lives. I want to show that we can do it, but we can also continue to do what we loved during the lockdown, like cooking tasty and exciting meals. It just needs to be faster so that we can manage the balance between family, work and life at home. "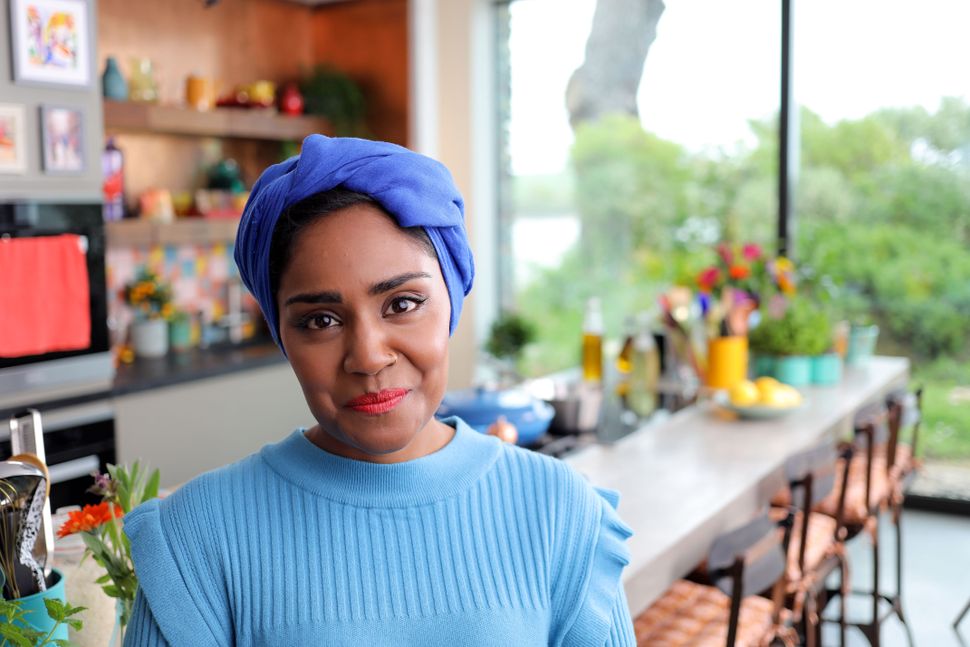 Episodes of "The Quick Flavors of Nadiya"
The six-part series The Fast Flavors of Nadiya has weekly themes such as Treat Yourself and Chill-Out Days with recipes filled with an unusual combination of ingredients to excite the taste buds.
"In the first episode of The Fast Flavors of Nadiya, Comfort Food, I add evaporated milk and macaroni and cheese pot for a depth of sweet and salty flavor and crispy cheese chips in the cheese sauce, "says Nadiya. "This is the best mac and cheese you'll ever taste!" "
Nadiya uses custard powder in her version of French bread, Bombay mixes her burgers and fennel seeds and blueberries in her ice cream cake.
"I'm straddling two worlds, British and Bangladeshi, and I used to worry about combining flavors that looked uniquely British with flavors that I grew up with," she explains. realized that the joy of being part of two worlds is being able to throw away the rulebook!
Then, for episode 2, Nadiya makes a po 'boy pollock (a kind of sandwich with something fried in it). She mixes pollock, chili and red onion with lots of coriander and cumin seeds, fry them and then wrap them in a soft bun with toppings of apple sauce. Dinner is sweet and sour shrimp stir-fry, pudding, cherry, chocolate and cinnamon cake and the final treat is saag paneer pilau, which looks delicious and is cooked in a single pan with very little fuss.
Moving on to episode 3, Nadiya shares her most delicious dessert recipes. "If you want to treat yourself, you might as well do it in style!" is the Nadiya mantra here. She starts off with something unusual – a burnt nut pretzel – which is a new twist on a pie. And yes it looks divine. Next, it's time to make a coffee and nut focaccia. It's a cake disguised as bread! For his next treats, they are lemon and basil shortbread filled with raspberry jam and white chocolate. Then the big sugar ends with a no-bake mint chocolate bun.
Regarding episode 4 The Fast Flavors of Nadiya it's a squash and saffron soup on the menu. Nadiaya uses butternut squash and the juice and zest of a grapefruit to spice up her dish. Its Thai cucumber salad with shrimp is also delicious, followed by a delicious apple and olive cake, gluten free and vegan. Finally, it's time for an alternative Sunday roast using a side of salmon covered in a fresh green sauce, served with roasted onions and salmon skin crackers.