After a few beautiful days at Alila Hinu Bay, it was time to continue our journey to the other side of Oman. Oman Air is one of my favorite airlines and we were able to fly Oman Air's amazing A330 business class from Salalah to Muscat. What an awesome flight it was.
How I booked our business class tickets with Oman Air
Oman Air operates several daily flights between Salalah and Muscat, and the airline is a relatively new partner of Air Canada Aeroplan (love the number of Aeroplan partners). I managed to book business class on the following flight for 15,000 Aeroplan points plus $36.60 in taxes and fees per person:
20/02 WY908 Salalah to Muscat departure 5:40 p.m. arrival 7:15 p.m.
This particular flight was even operated by an A330. Most of the other frequencies on the market are operated by the 737 MAX. Frankly, I would have preferred one of these flights just to review a new product (although it is inferior), but unfortunately it was the flight that worked best in terms of schedules and offered rewards.
Business class boarding with Oman Air
In the last episode, I reviewed Oman Air's Al Khareef Lounge at Salalah Airport, so let's get back to the gate. Our flight was departing from gate 4A and boarding was scheduled to start at 4:40pm, an hour before departure.
In reality, it was just the door that opened an hour before departure. Boarding passes were scanned when you entered the gate, and at that point you were already considered to be on the plane, for all intents and purposes.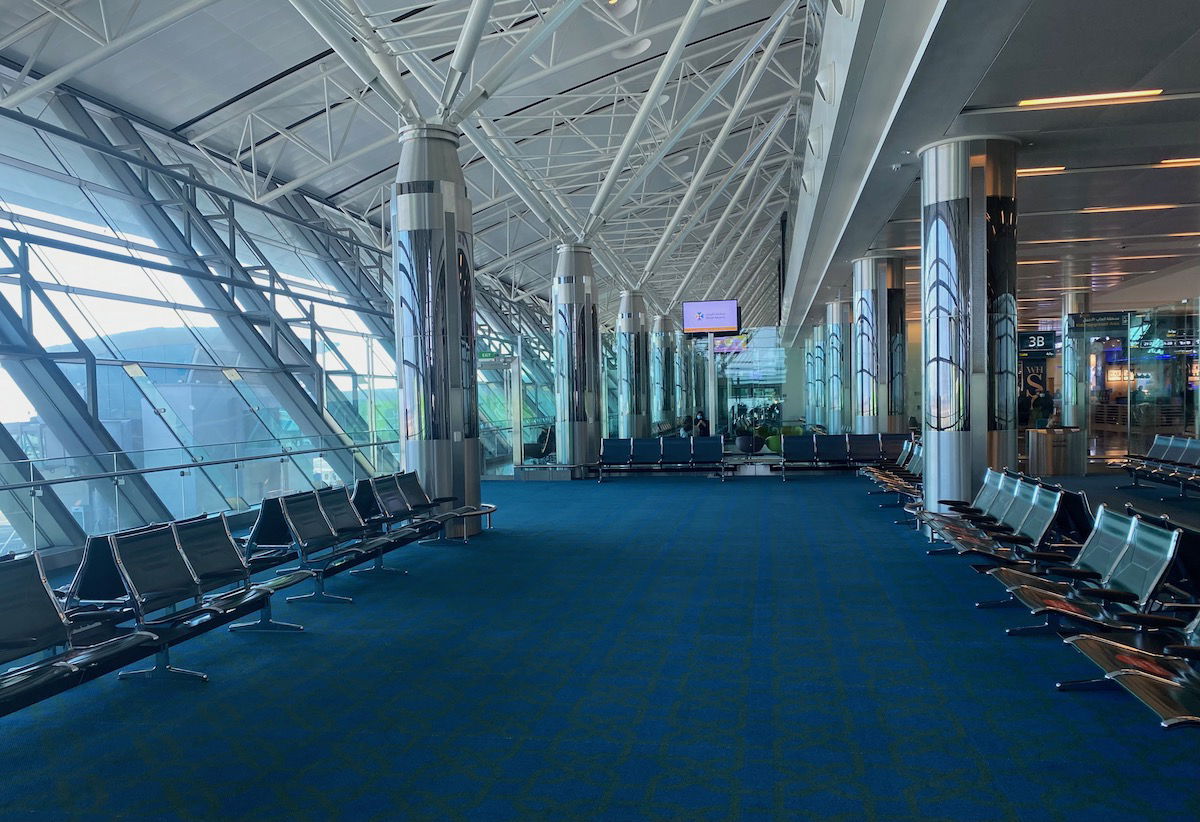 The inbound flight arrived around the same time, so we could see passengers disembarking through the gates. Our flight seemed to be quite busy (especially economy class), with mostly locals traveling.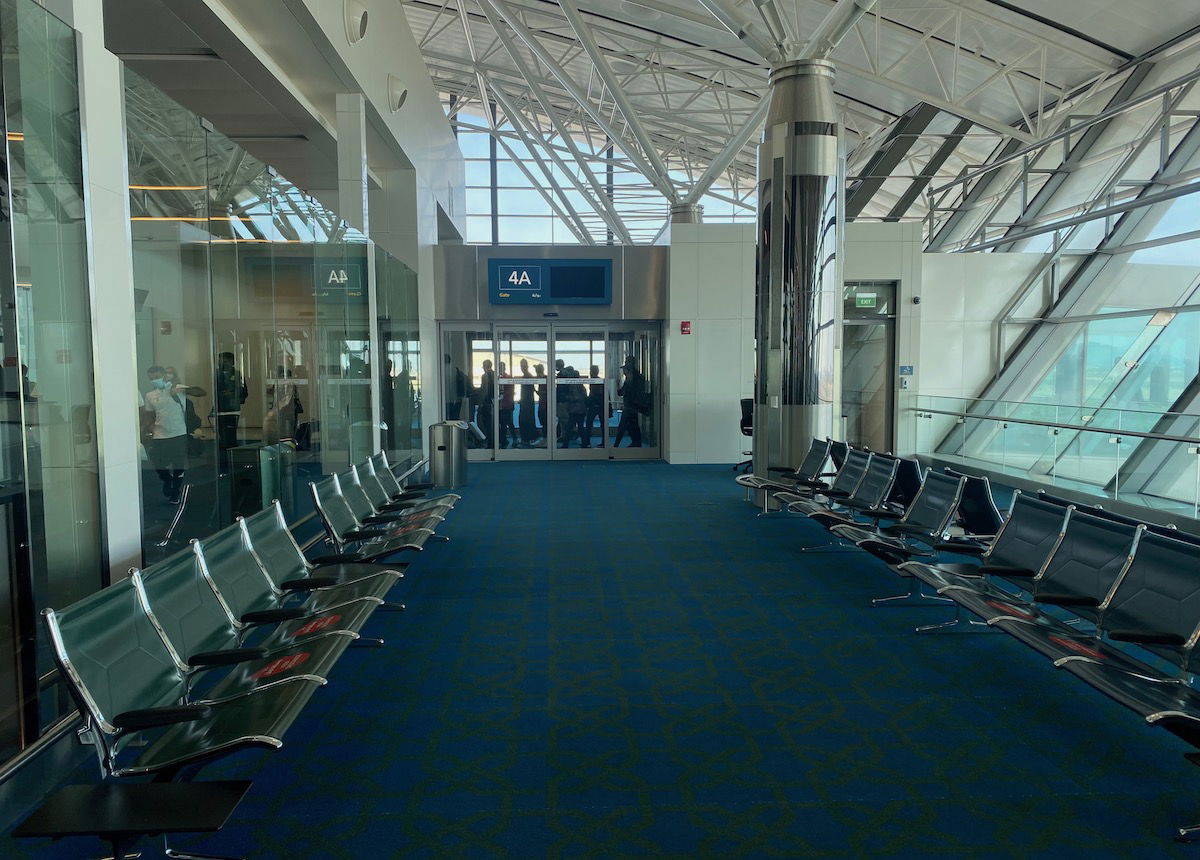 At around 5 p.m., boarding finally began, with business class and those needing more time being asked to board first.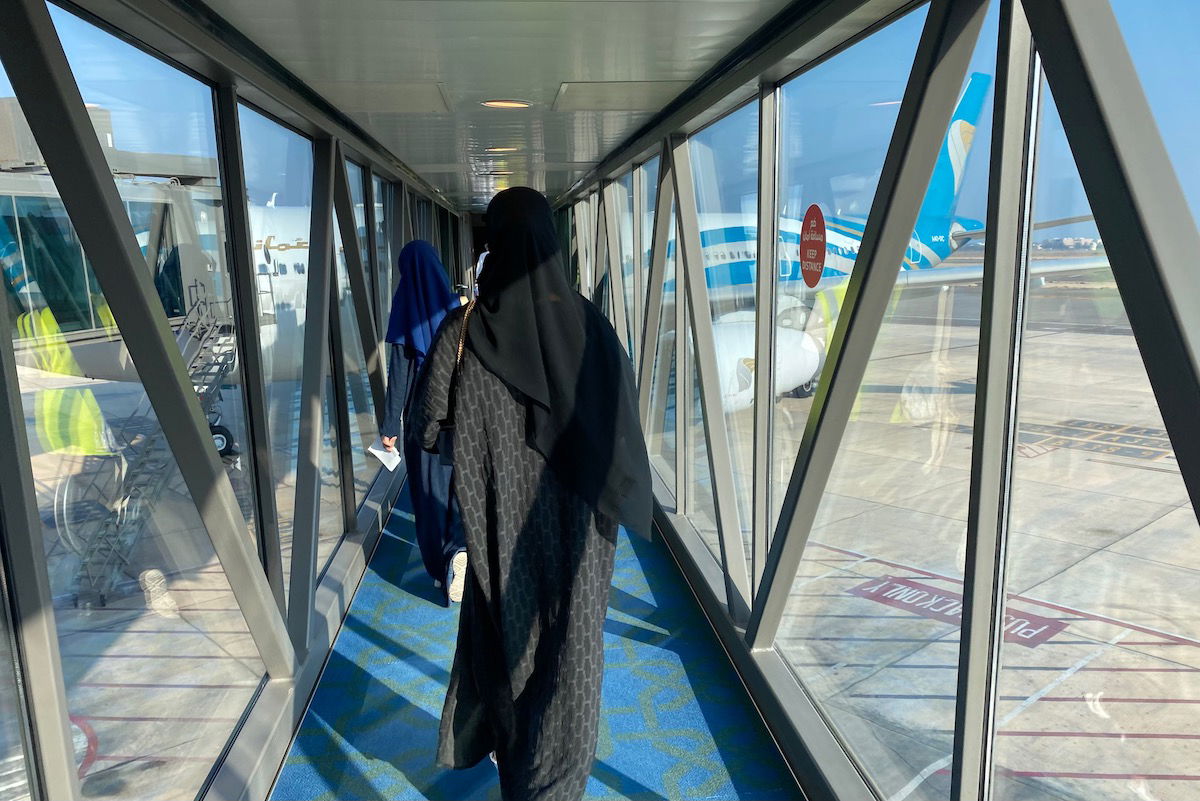 Oman Air Business Class Cabin and Seats
Let me say at the outset that I have already reviewed many of Oman Air's premium products, including the old Oman Air A330 business class, the new Oman Air A330 business class, the Oman Air 787 Business Class and Oman Air 787 First Class. So I'll keep this review pretty brief.
This flight was operated by Oman Air's A330-200 with the new business class product, which consists of Apex suites. This is one of my favorite business class seats. Oman Air's A330-200s have 30 business class seats, spread across five rows in a 2-2-2 configuration. The forward cabin had three rows, while the aft cabin had two rows.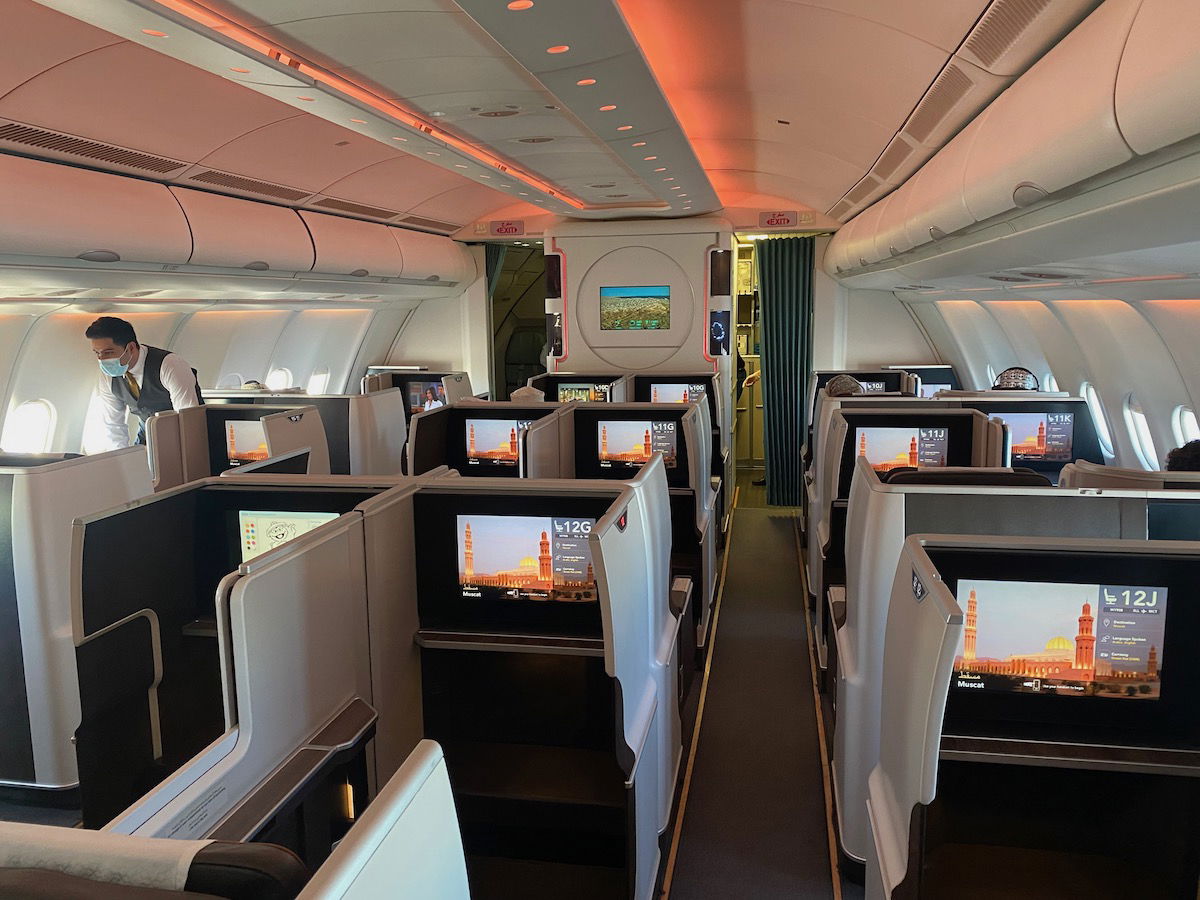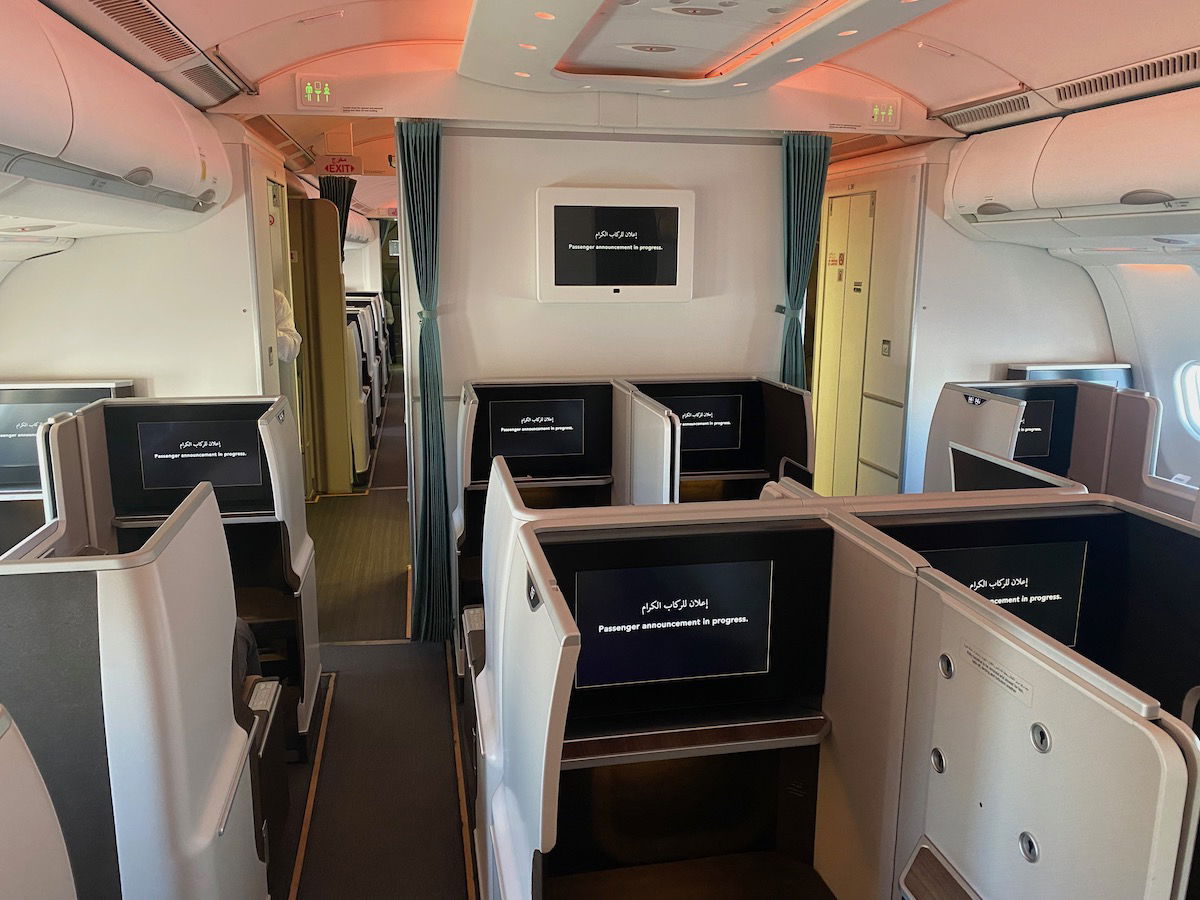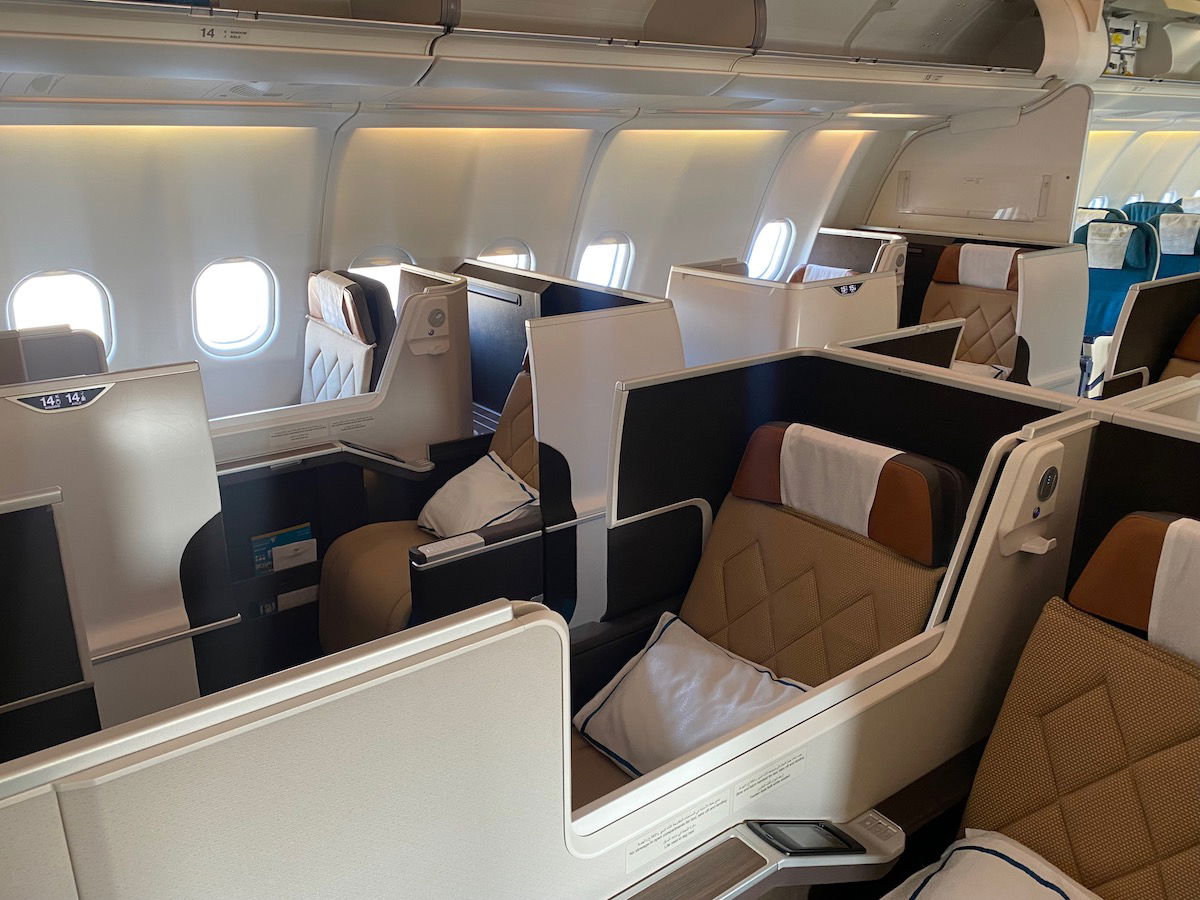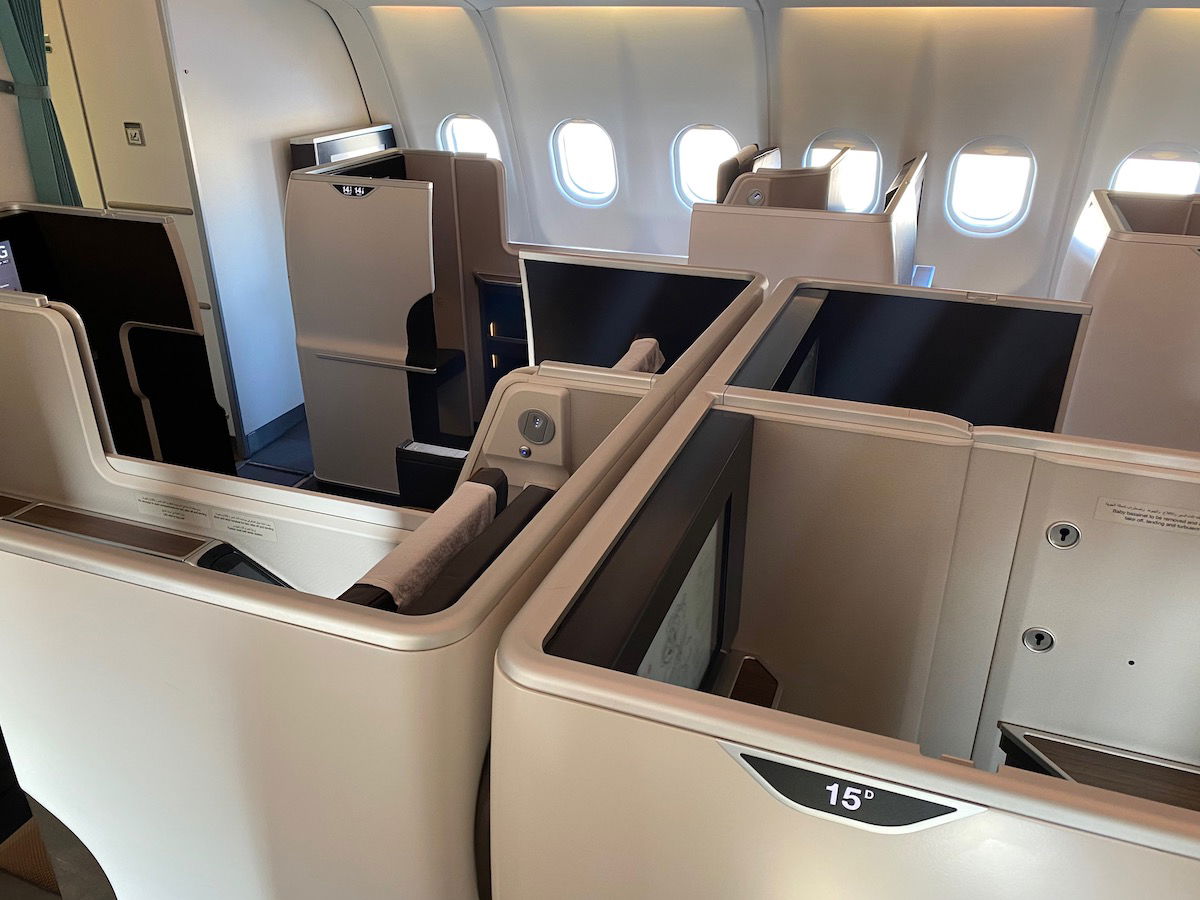 I assigned us seats 15A and 15B, the window and aisle seat in the last business class row on the left. While the aisle seats in this configuration are nothing special, the window seats in this configuration are some of my favorite business class seats.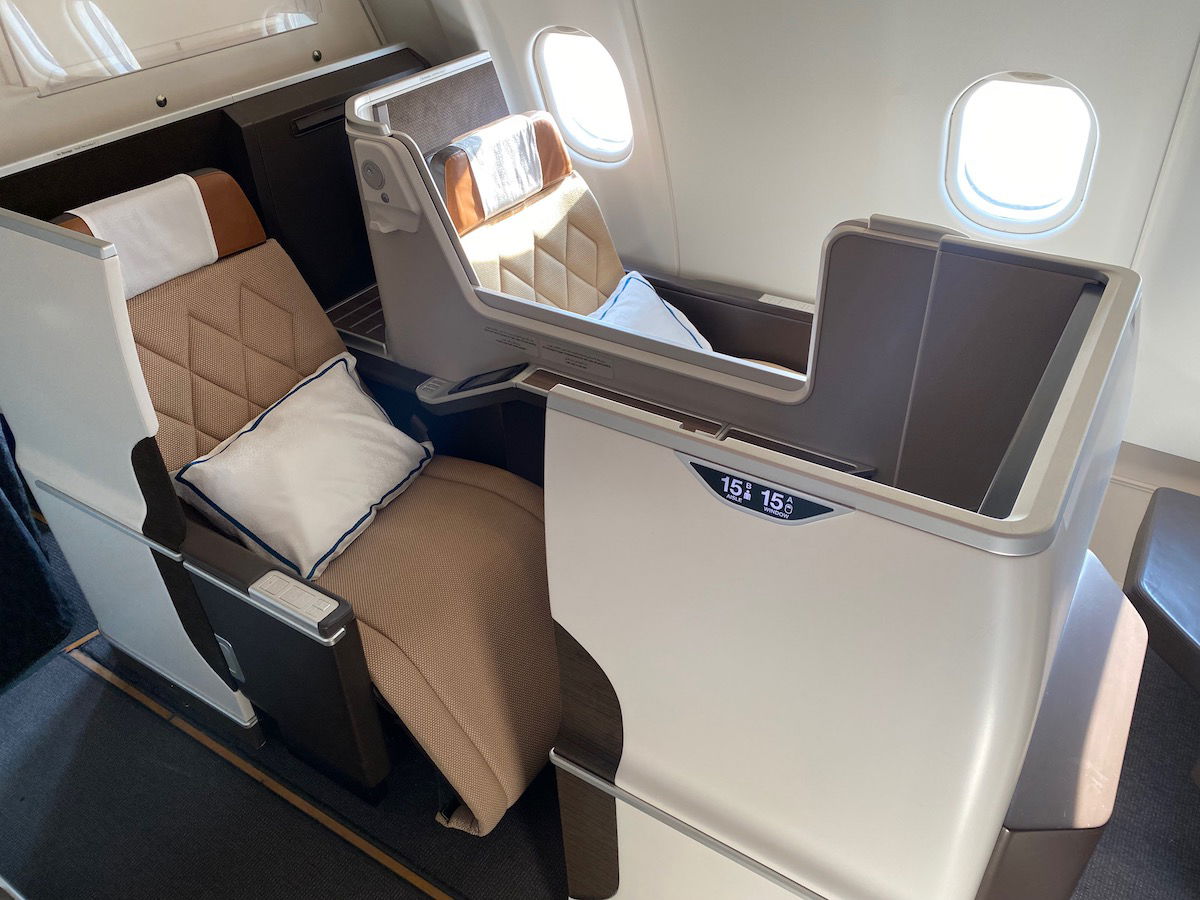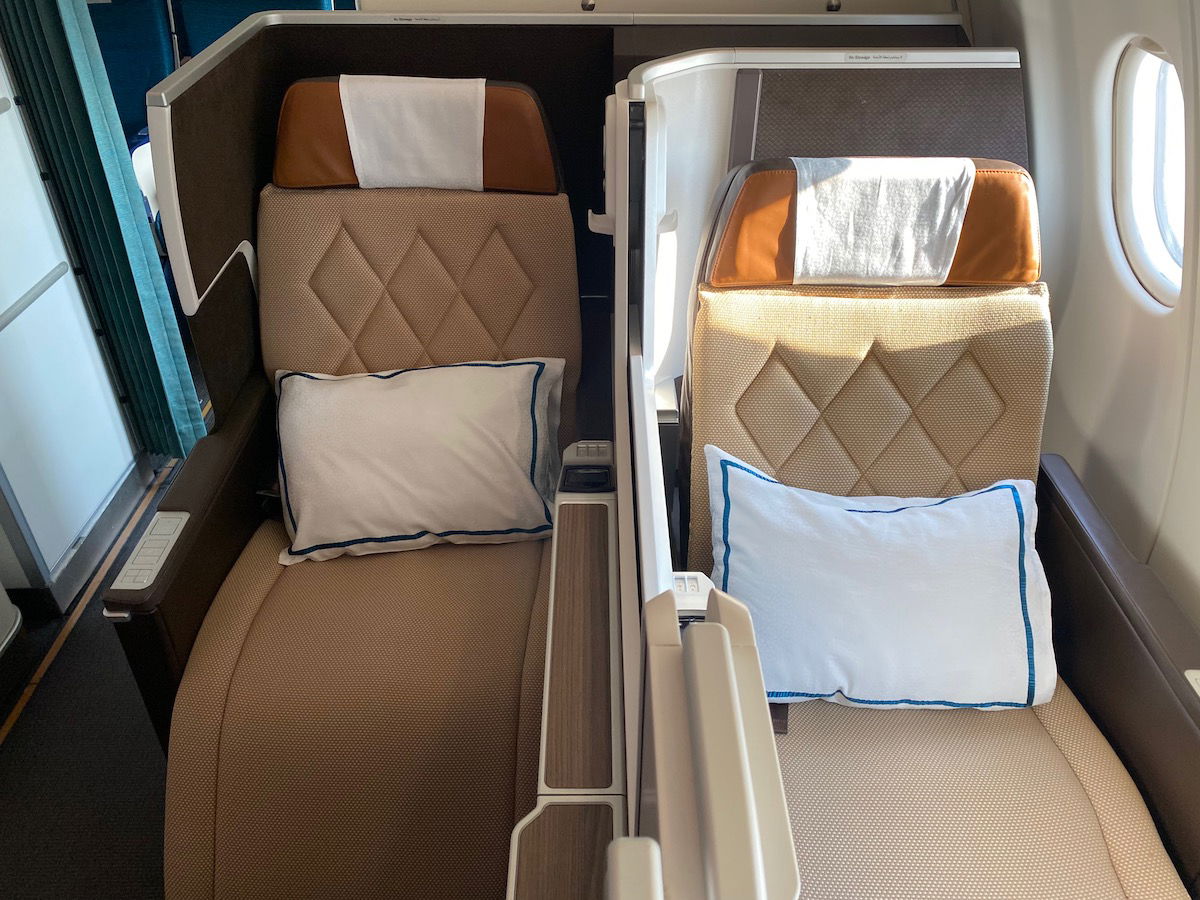 Why are window seats so great? Because they have a huge amount of privacy and space. There's a bulkhead that goes up between the two seats, so you basically have sort of a suite when you're in the window seat in this configuration.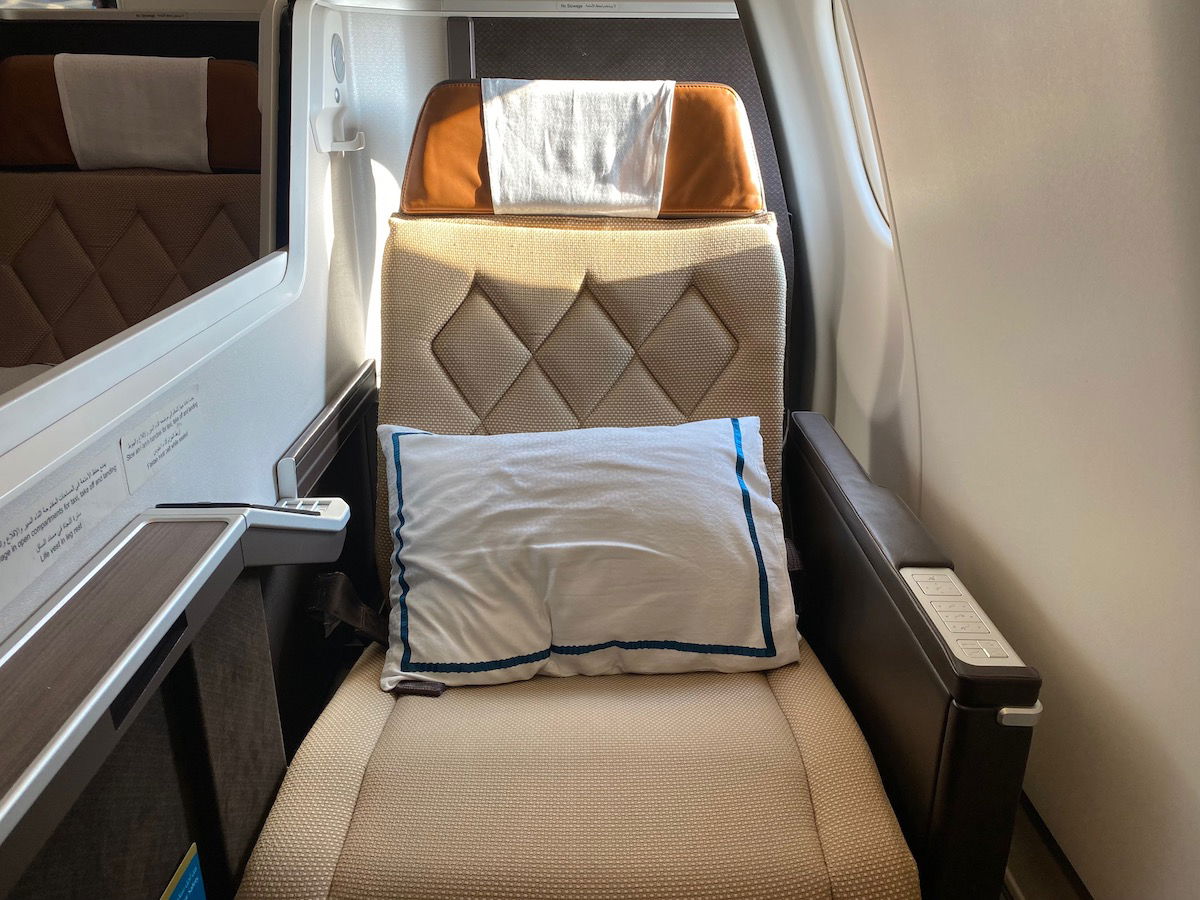 There is no small footwell that you have to put your foot in, but instead you have a huge ottoman that you can place your feet on. There is also storage under the ottoman.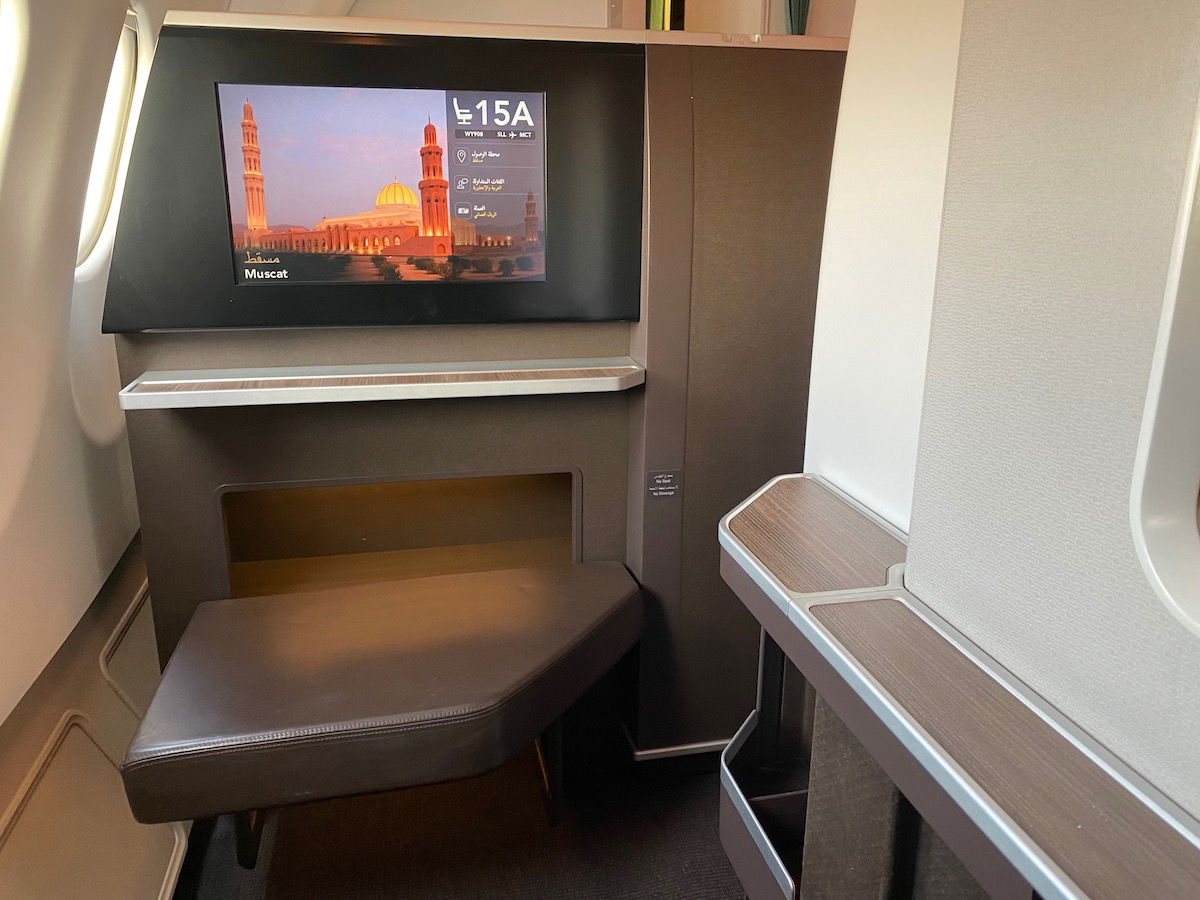 In the window seats you also have direct access to the aisle, as there is a path in front of the aisle seat.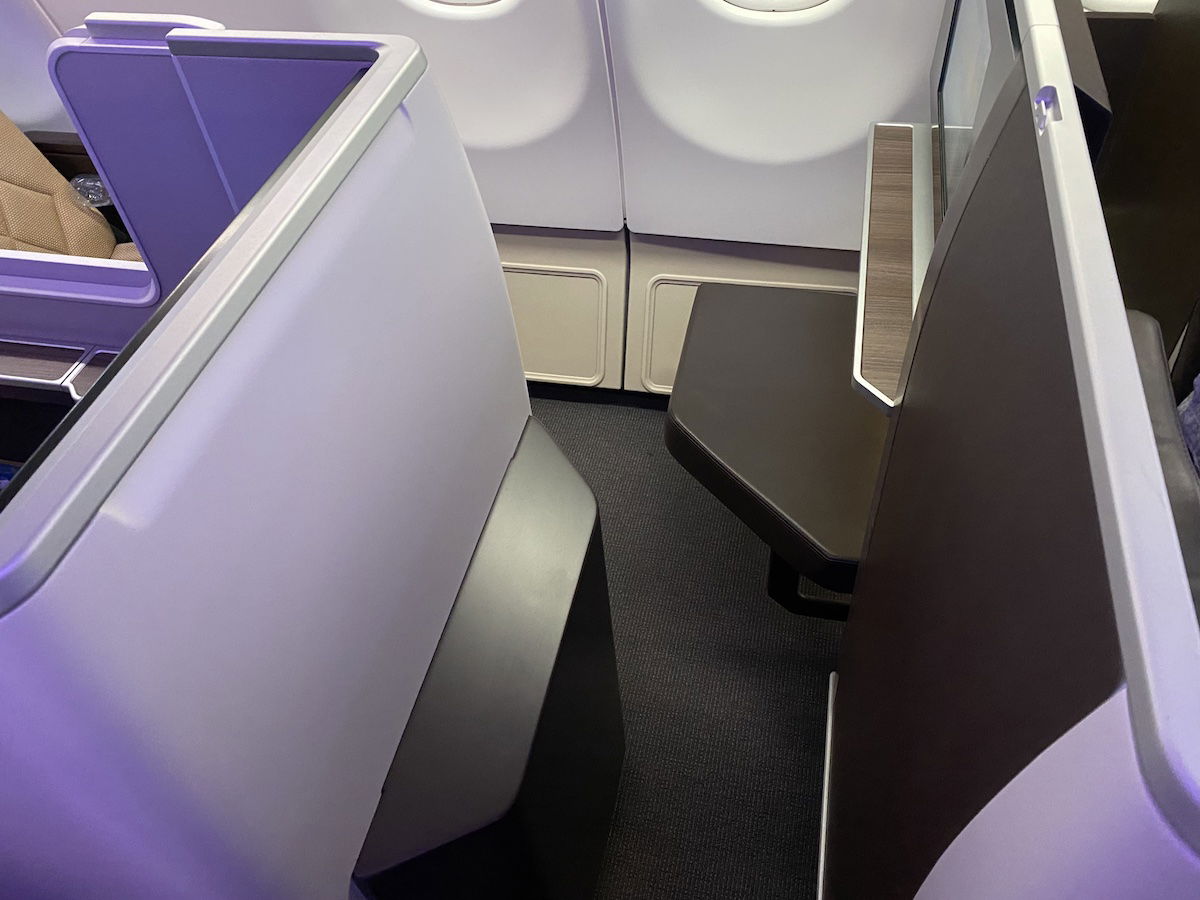 On one side of the seat were the entertainment controls and splitter controls, and on the other side of the seat were the seat controls.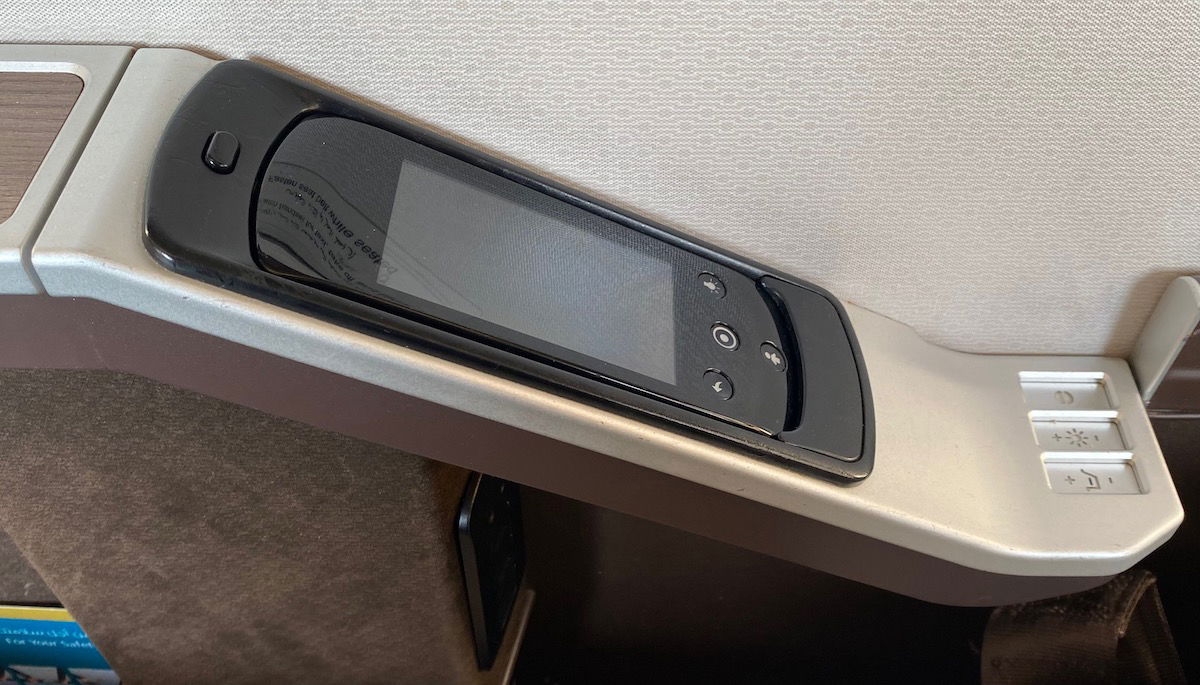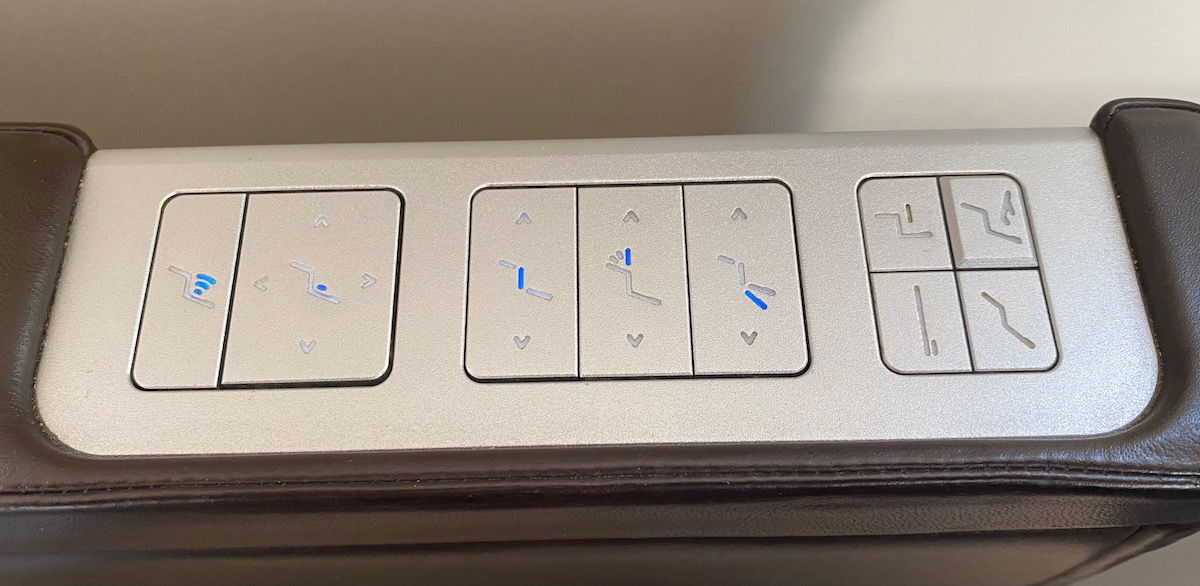 The tray table extended from the center armrest, and there were also a few exposed storage areas along that part of the seat.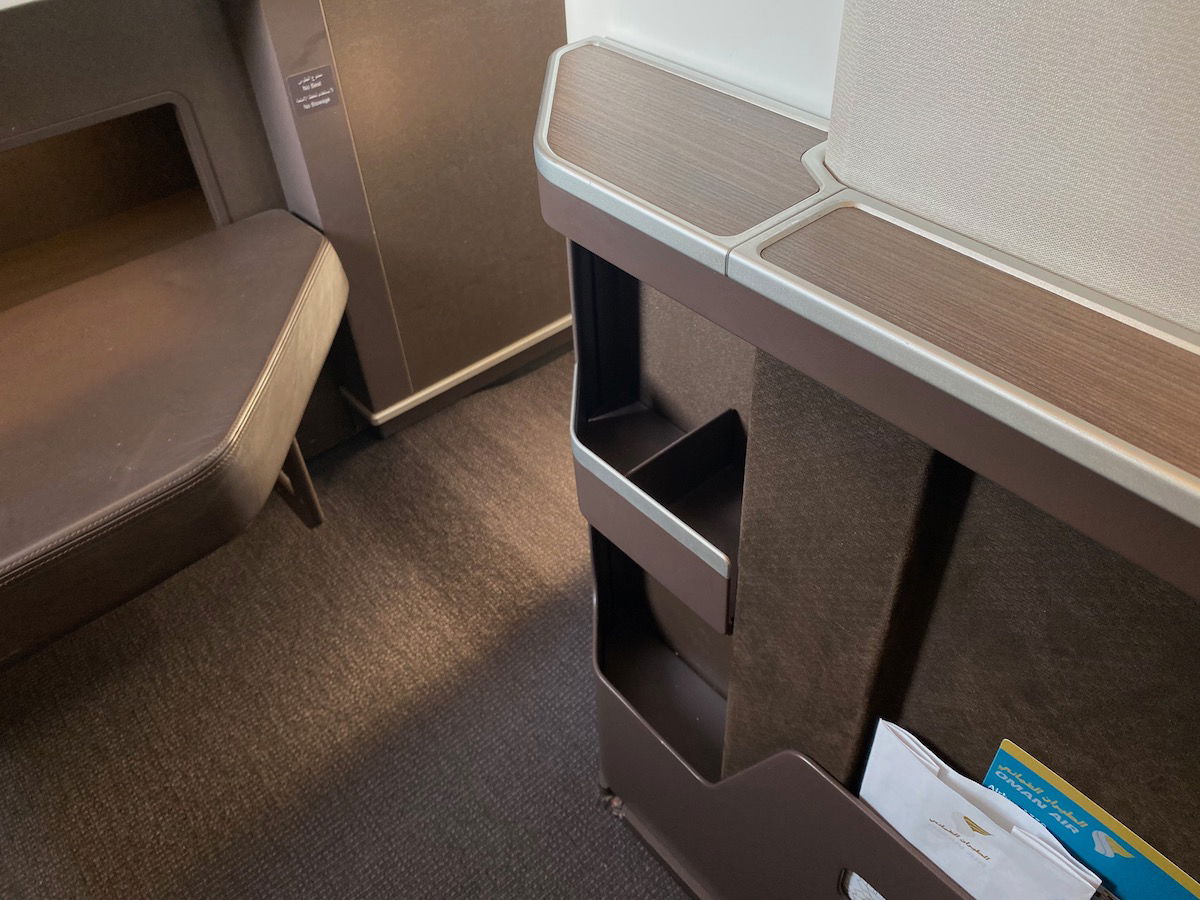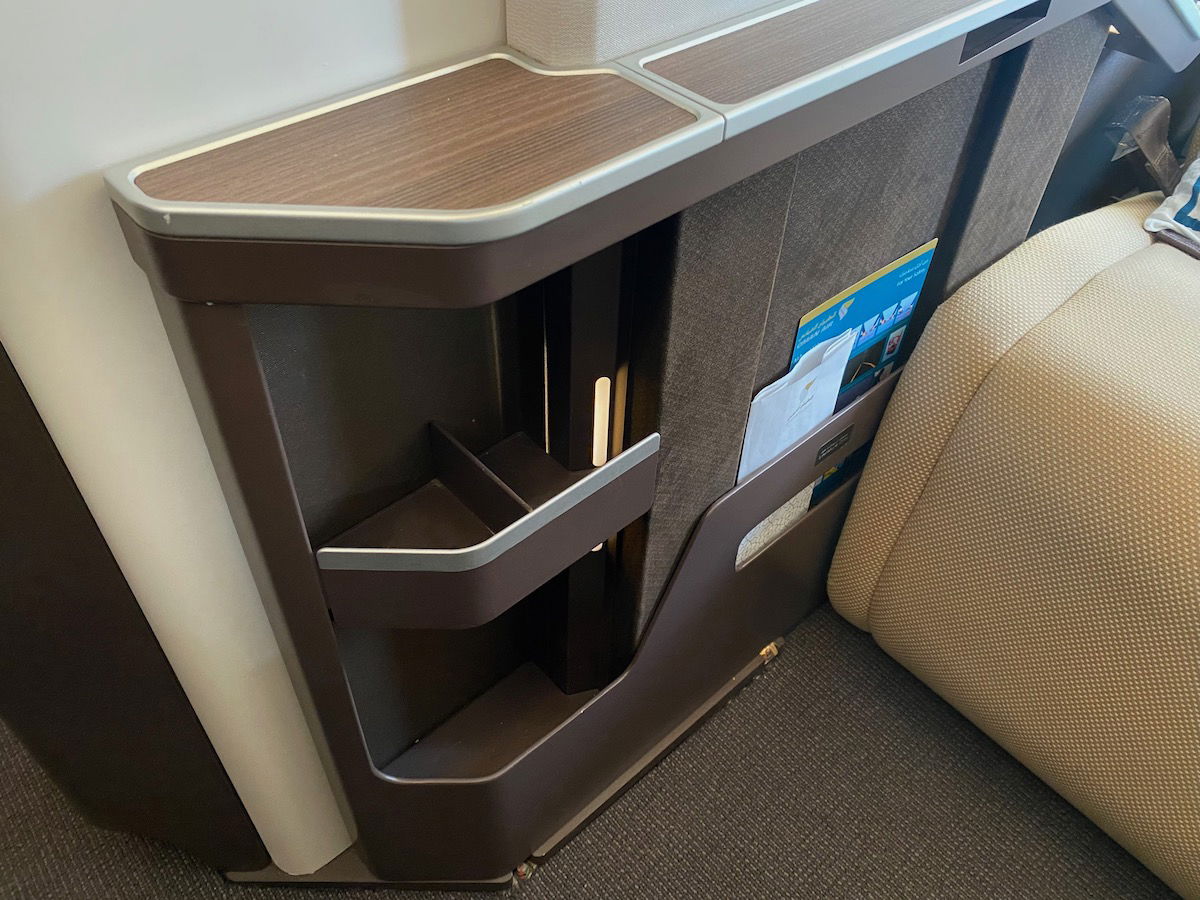 Unfortunately, Oman Air does not have individual air nozzles on the A330, which is a feature I appreciate.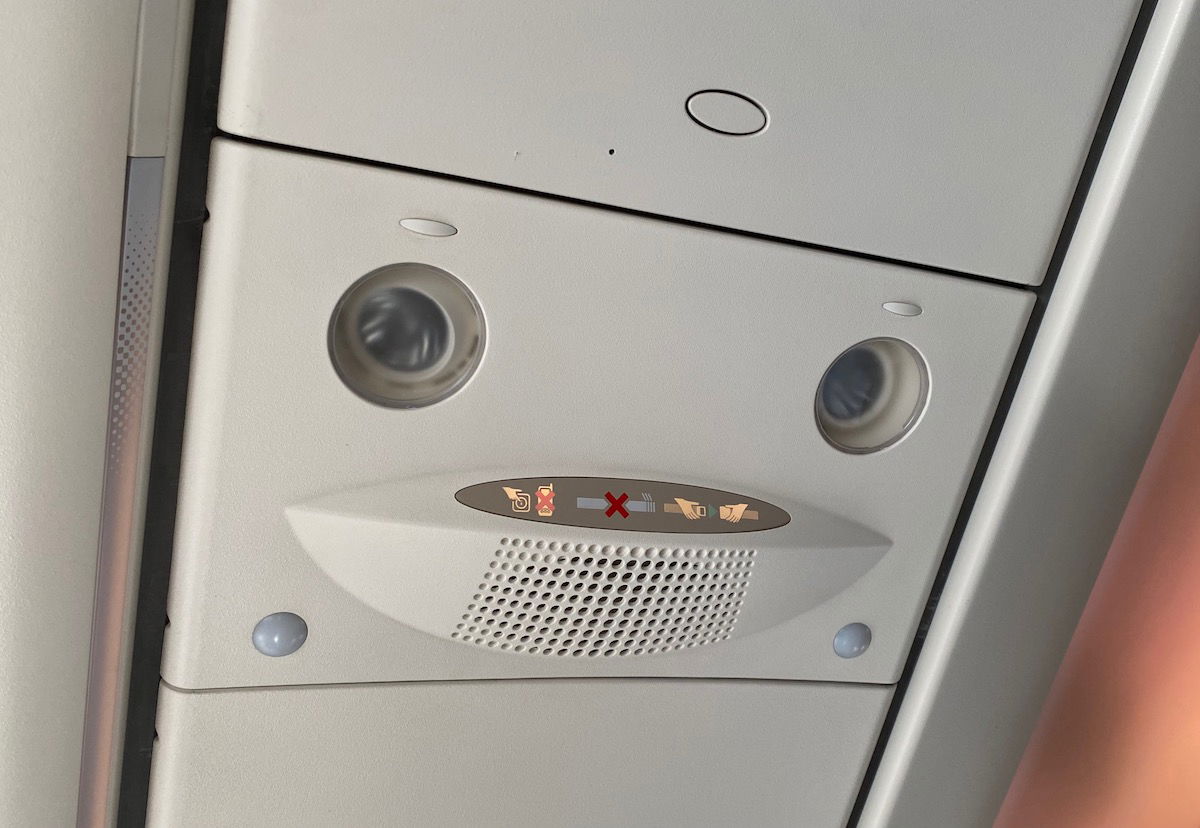 There were two toilets located in business class between the two cabins. They were quite small, but had windows, which is pretty cool.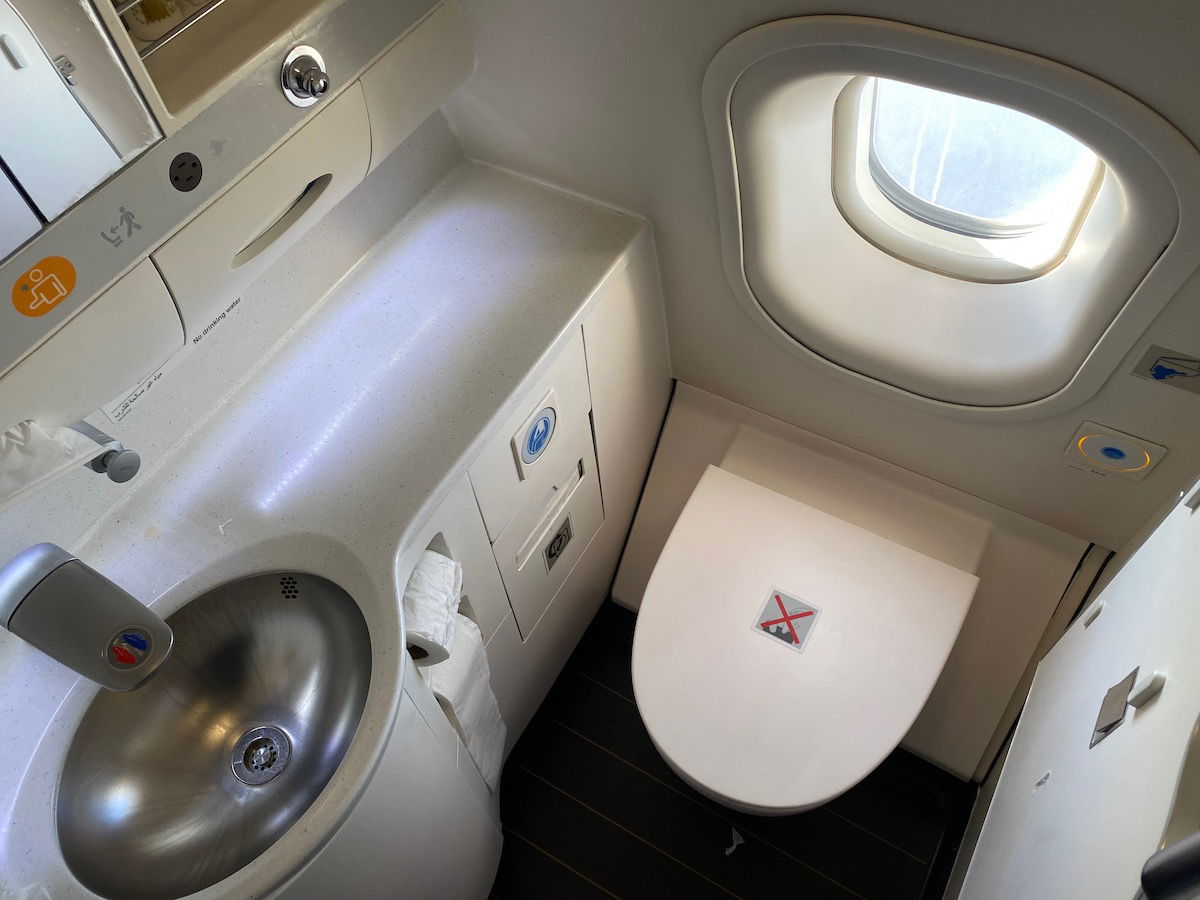 I think it might be the best hard A330 business class product in the world.
Oman Air Business Class Amenities
Boarding school was pretty hectic, as there were a ton of families in economy class and many parents weren't doing a great job controlling their kids. Also, I've been amazed at how many people are using their smartphones without a headset, whether they're just watching TV on their phone or making a phone call with the speakerphone on.
Since everyone boarded through the second set of doors, I probably should have booked us in the forward cabin, in retrospect. Fortunately, Oman Air offers relaxing boarding music, which is one of my favorite boarding music.
Shortly after we settled in, one of the friendly flight attendants offered us the choice of a hot or cold towel. So many airlines cut towels during the pandemic, so it was nice to see them back.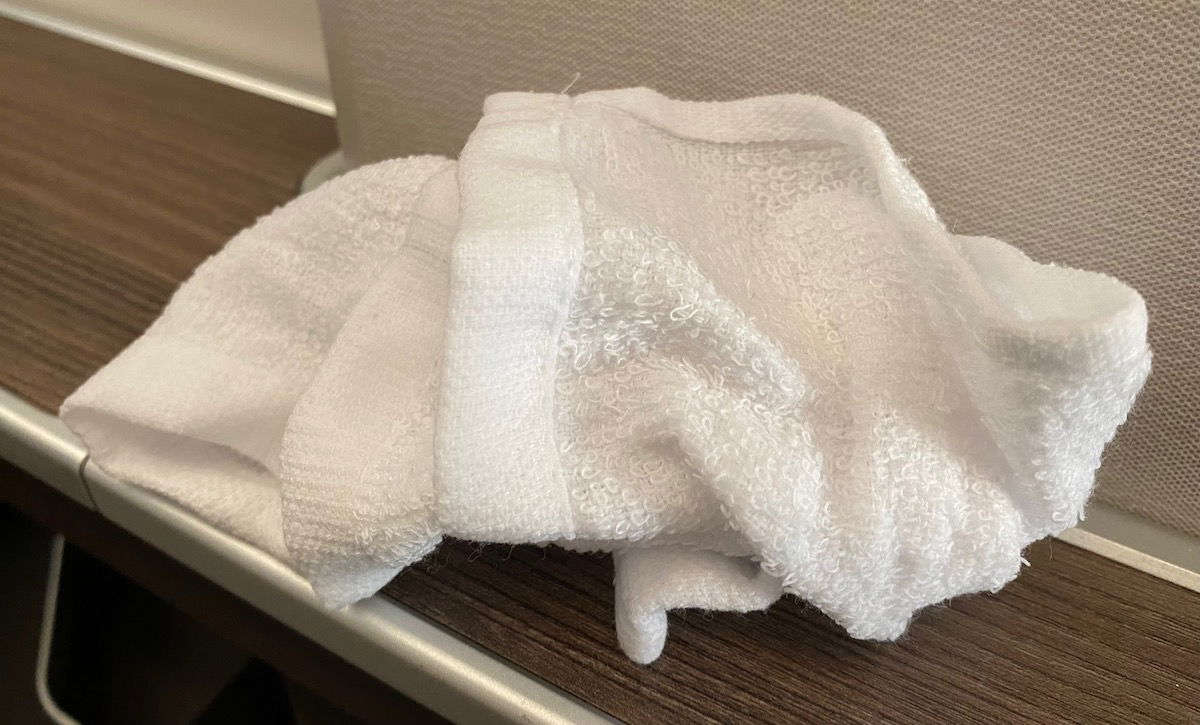 We were also offered drinks before departure, with a choice of lemon mint juice or orange juice. I chose the first, and it was served with a blanket.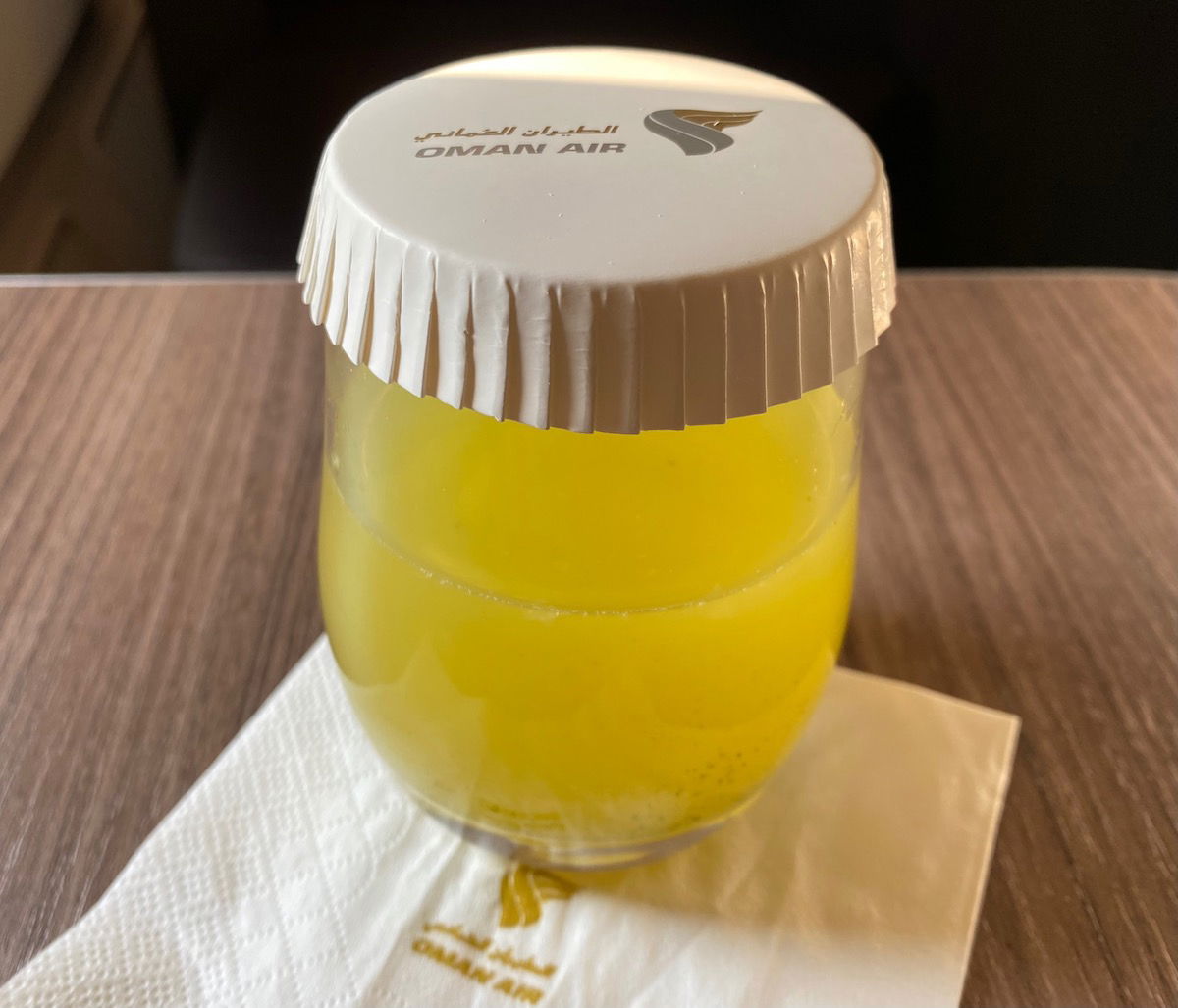 We were also given a bottle of water, a pair of headphones and a hygiene kit.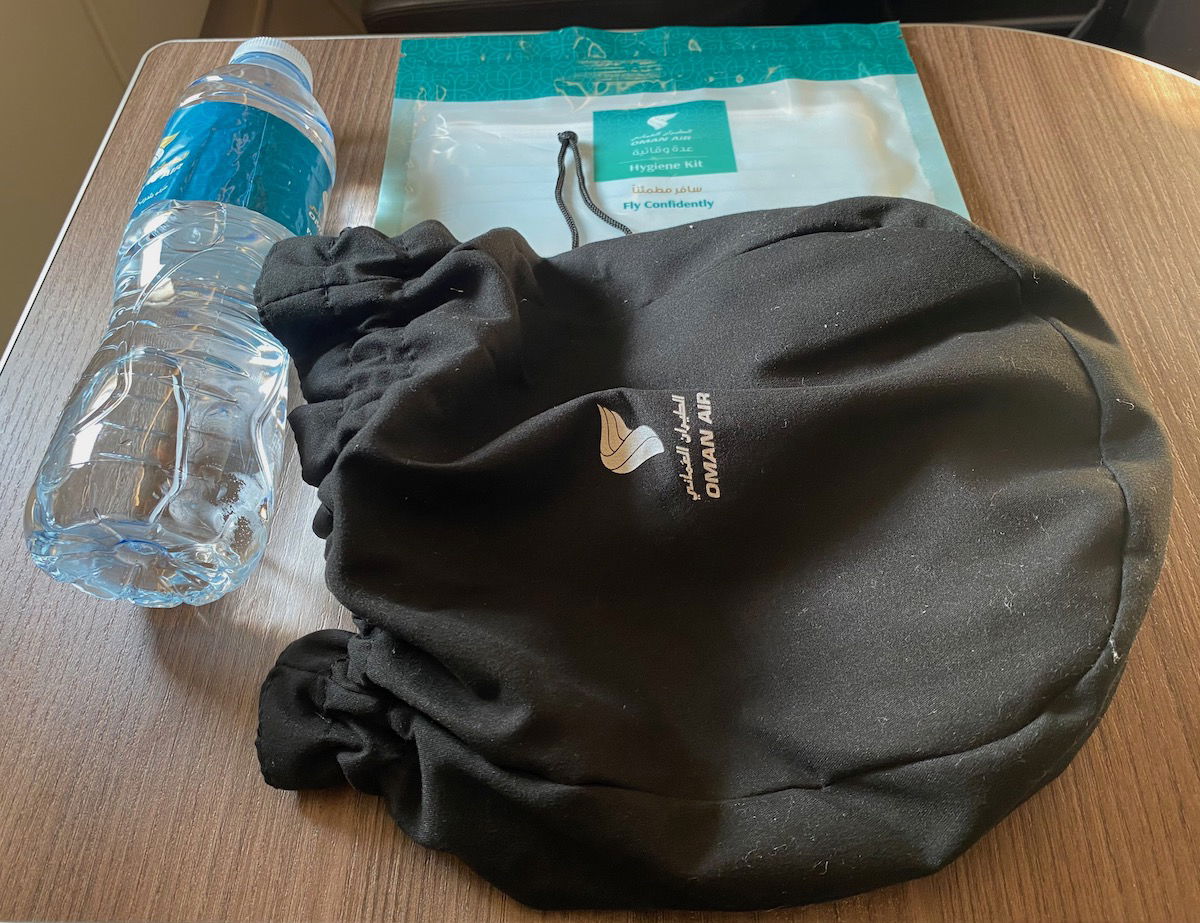 Headphones were fine, but nothing special.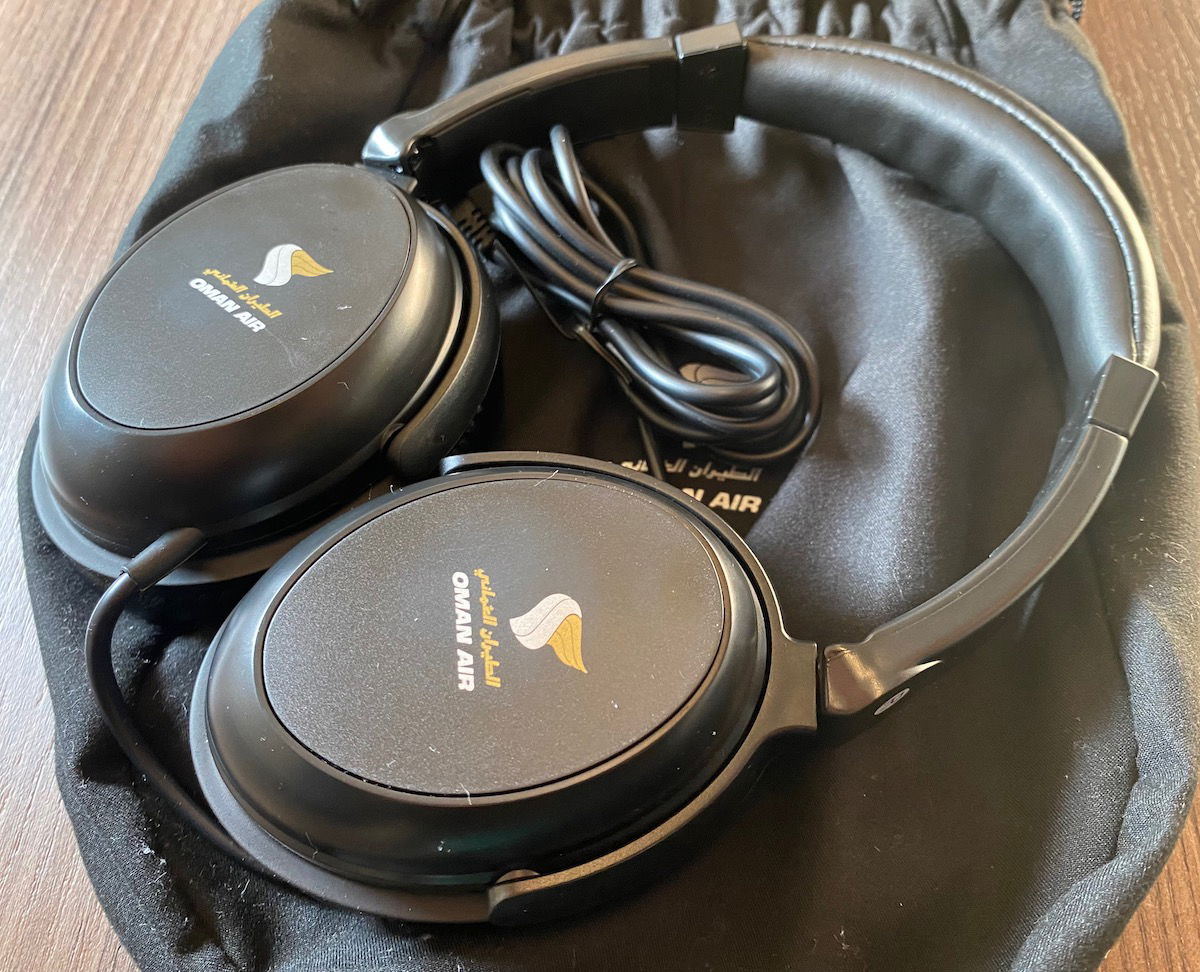 The hygiene kit included a face mask, two antibacterial wipes and two sachets of hand sanitizer.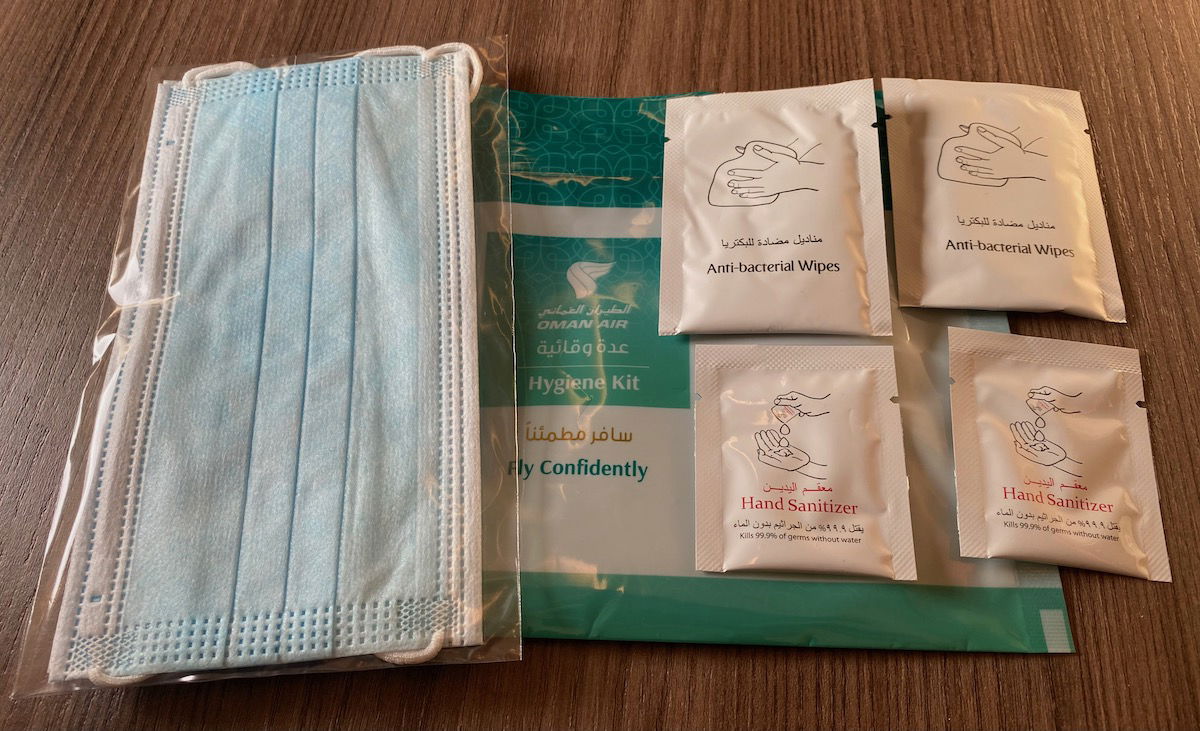 There was also a pillow at each seat, with blankets available on request.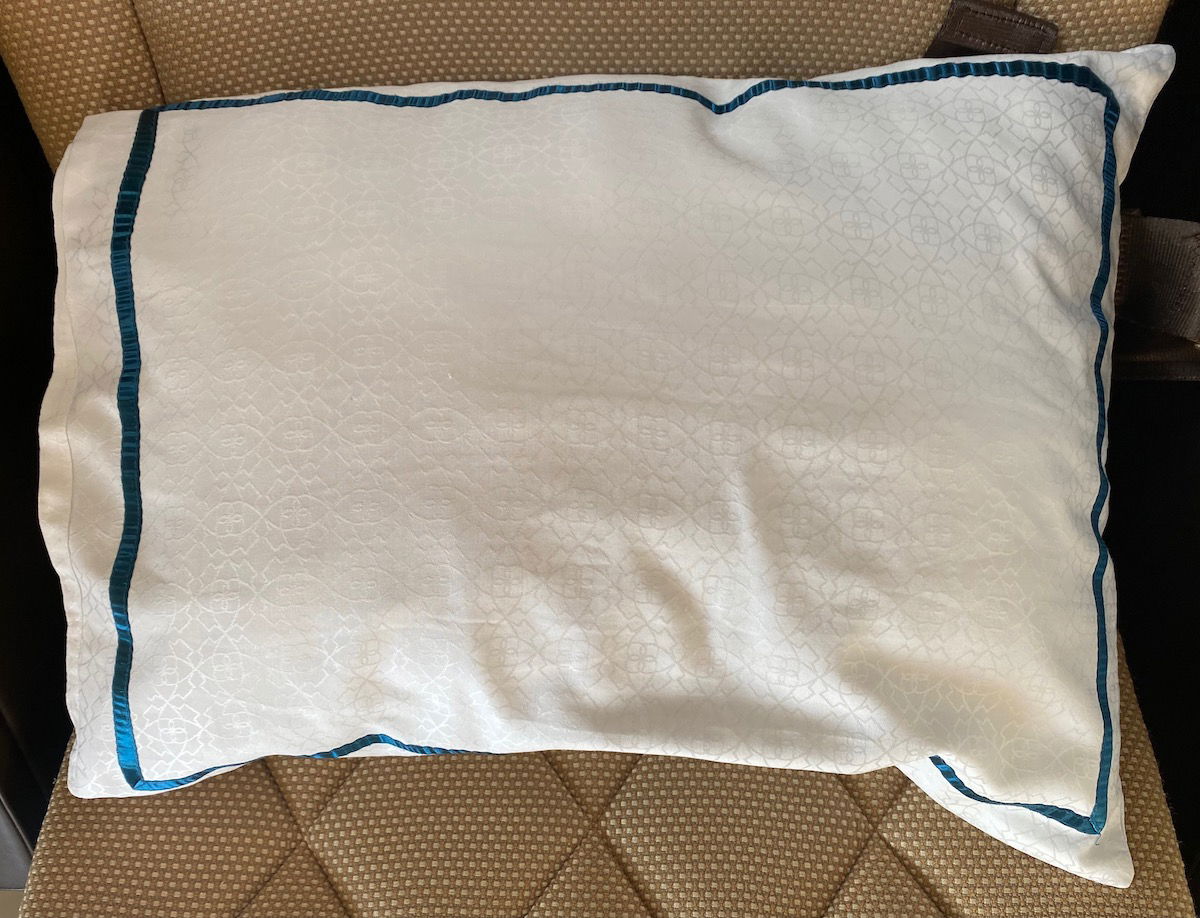 Oman Air departure from Salalah
At around 5:30 p.m. the main cabin door closed, at which time the captain made his welcome aboard announcement, informing us of our 80 minute flight time. Shortly after, the onboard supervisor made his announcement, informing us that the crew spoke Arabic, English, French, Bosnian and Swahili.
Generally speaking, Oman Air has male cabin crew from Oman and then female cabin crew from other countries. So in that sense the airline is similar to Saudia, and different from Emirates or Qatar (though unlike Saudia, the men are usually pretty hard working too).
A few minutes after the gate closed, we began our pushback, at which point the security video played.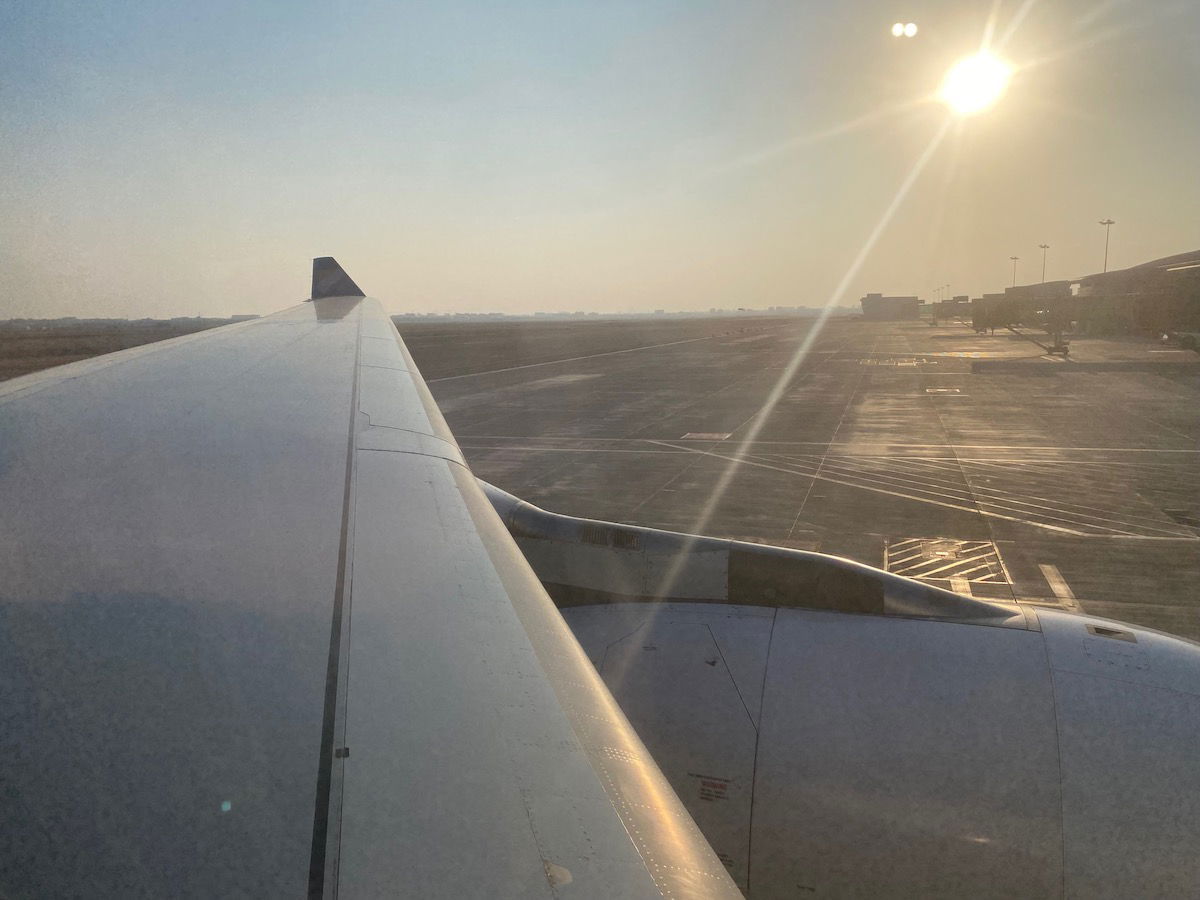 Oman Air's safety video is destination focused and pretty cool.
At 5:35 p.m. we started our taxi and just 10 minutes later we were cleared for takeoff on runway 25.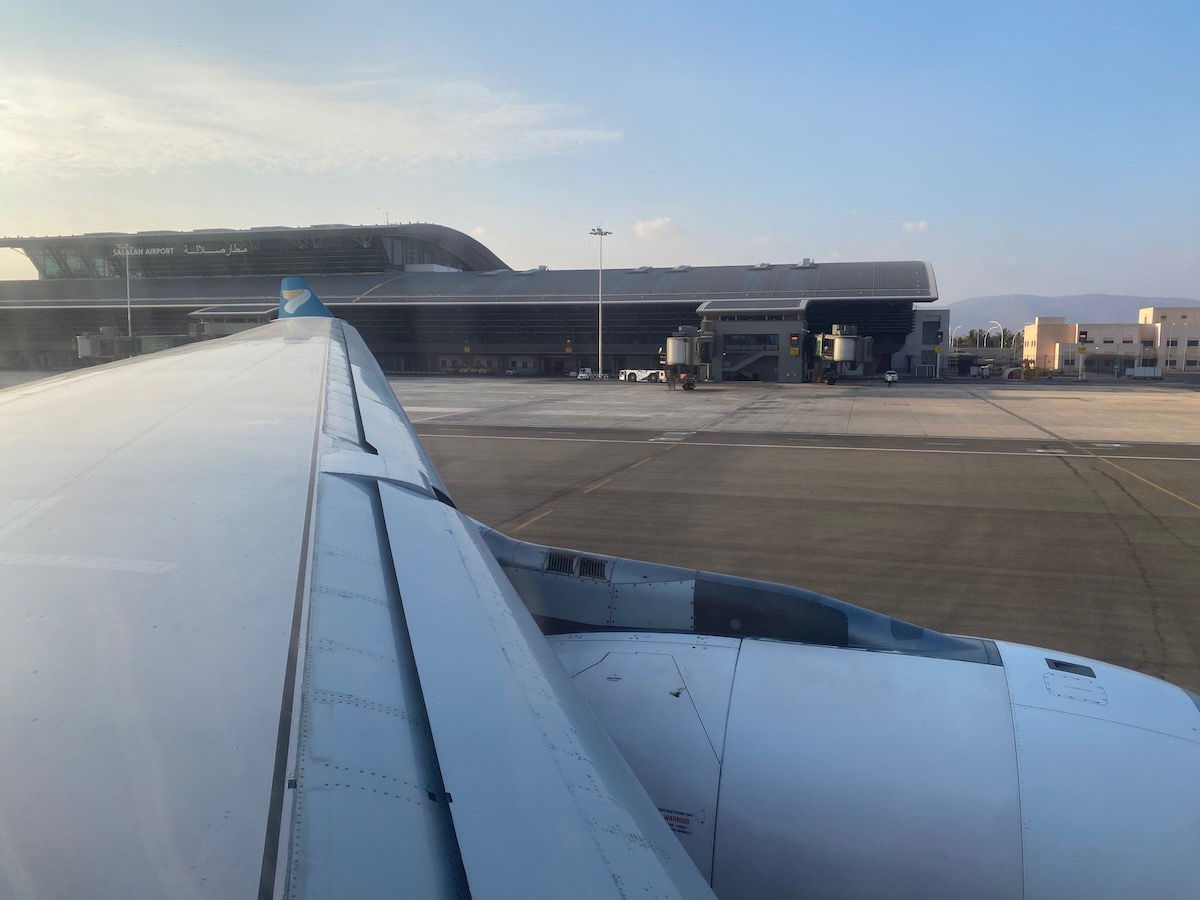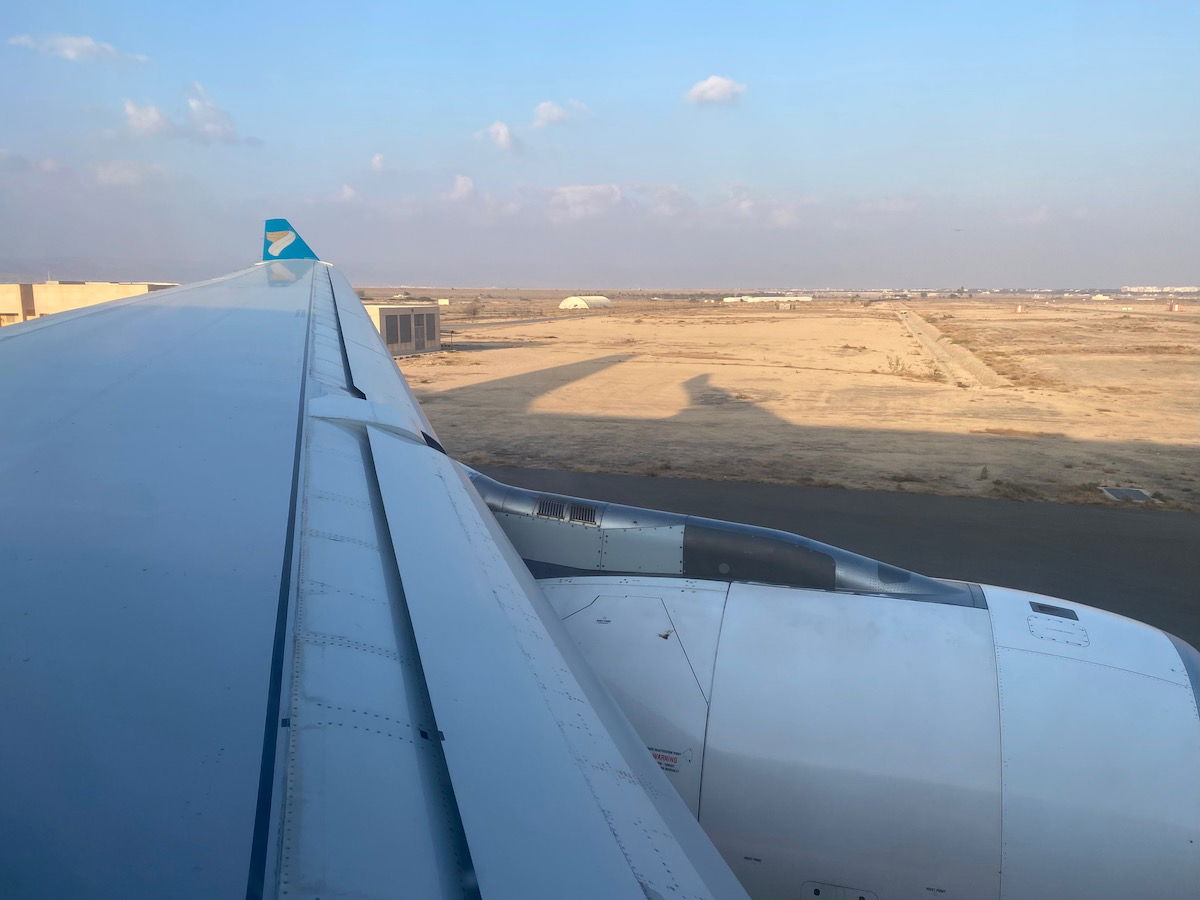 We had a smooth climb from Salalah and I had a great view of the engine and wing from my seat.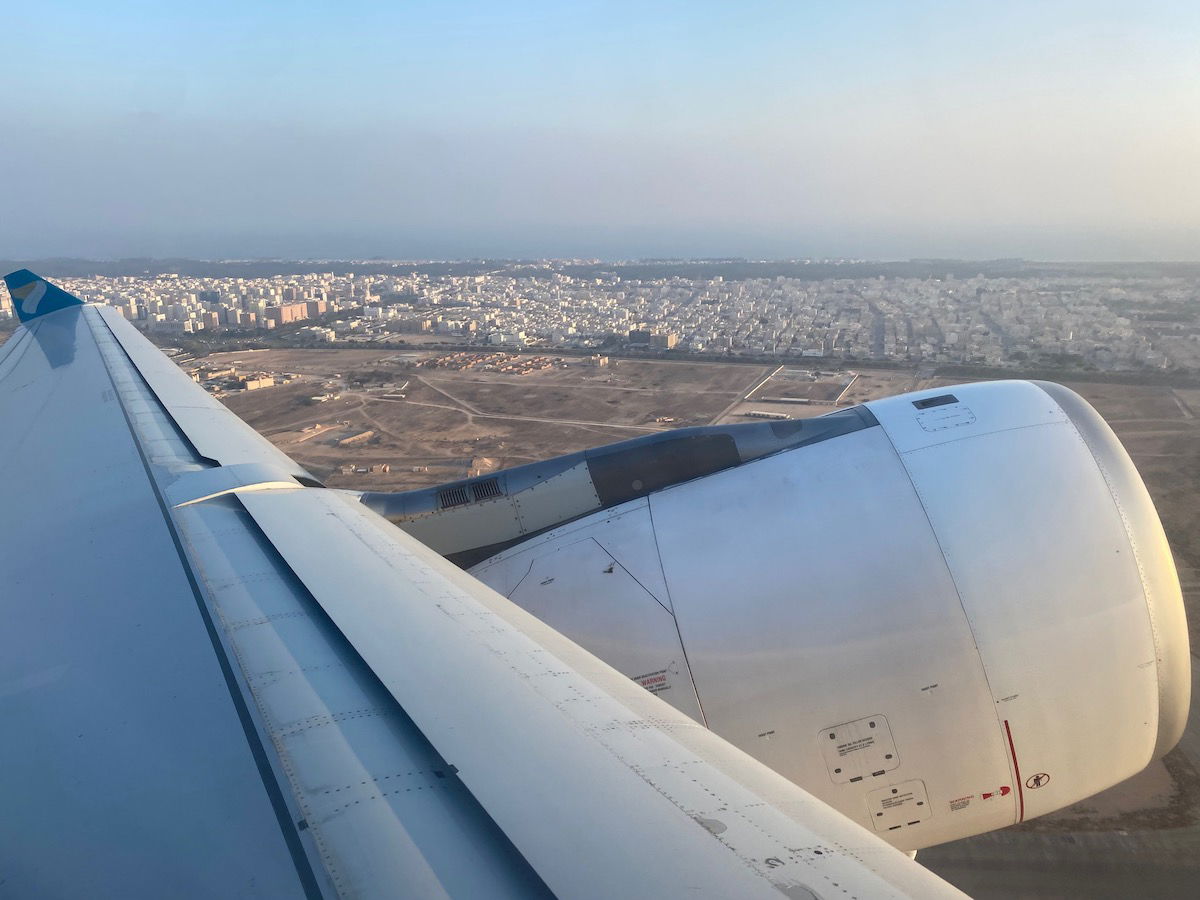 Oman Air Business Class Meal Service
In-flight service began just 10 minutes after takeoff. Both meal options were described as chicken tikka with a shrimp sandwich or a vegetable sandwich with grape leaves. We were asked what we wanted to drink with it – Oman Air doesn't serve alcohol on domestic flights so I just ordered a water.
I chose the non-vegetarian option, which was beautifully presented. The main plate had a shrimp sandwich and chicken tikka, then there were two rolls, then there was a fruit tart for dessert. Yum.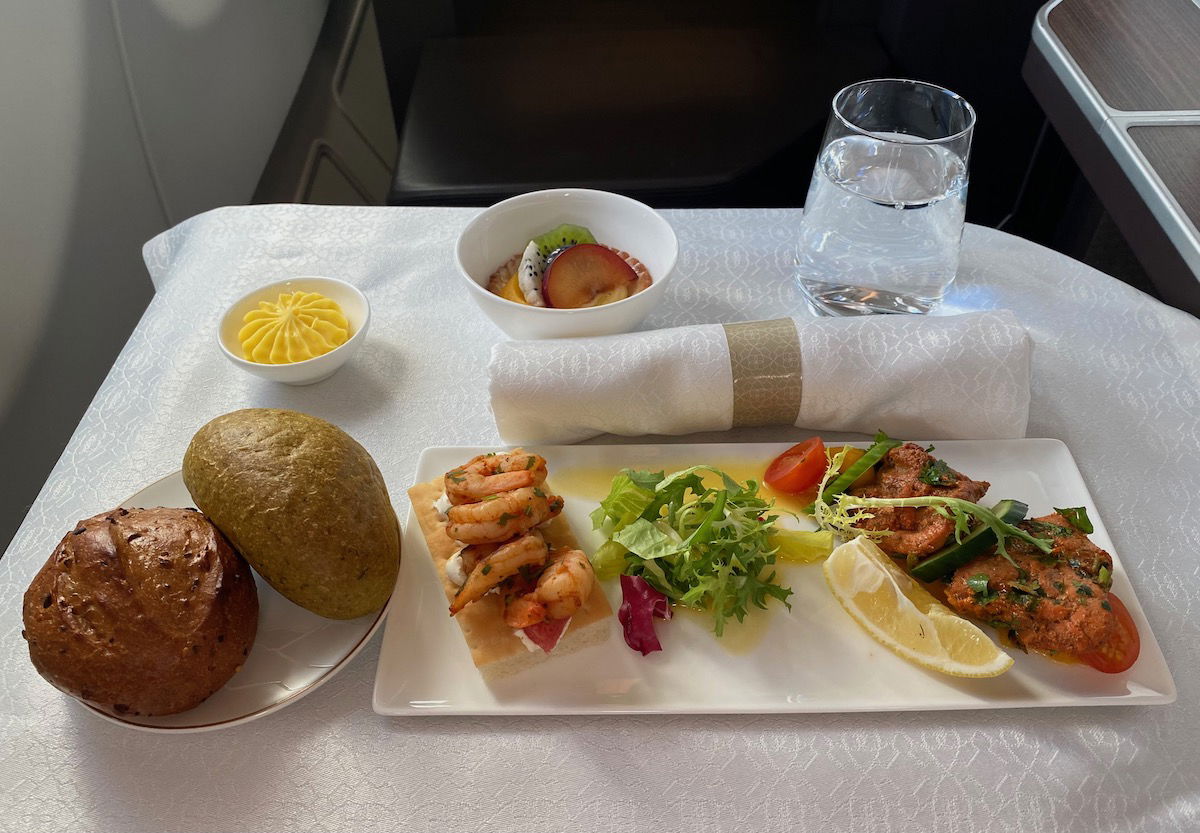 The vegetarian option was a little different and came with a salad rather than dessert. Otherwise, the dish looked pretty good.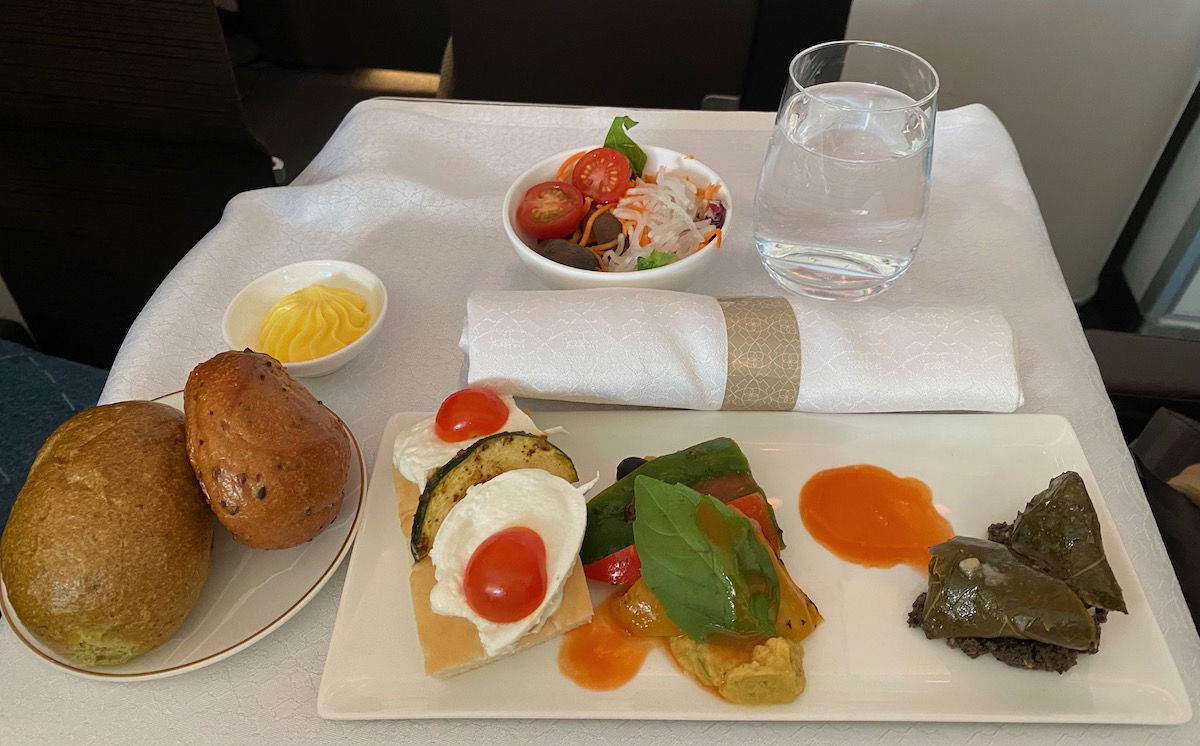 After the meal, I ordered a coffee, which was served on a nice tray with a biscuit and milk.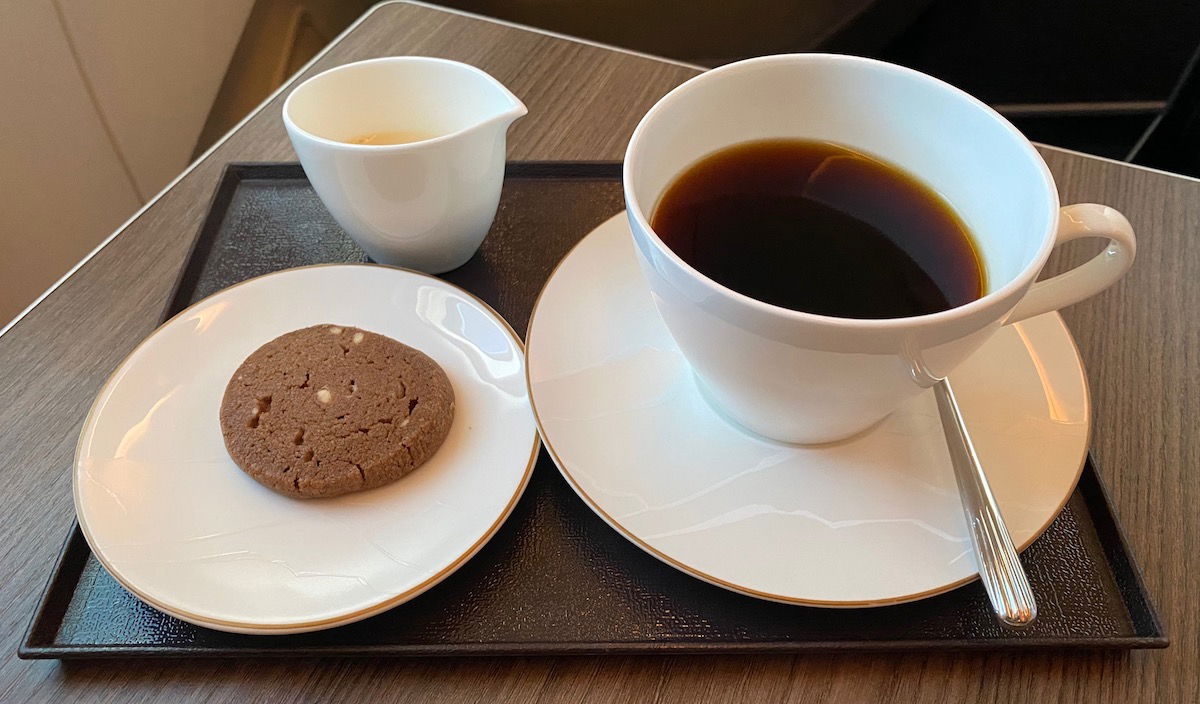 There was a local guy serving our driveway and he was super friendly.
Business class entertainment Oman Air and Wi-Fi
Oman Air has a pretty decent entertainment system, with a variety of movies and TV shows.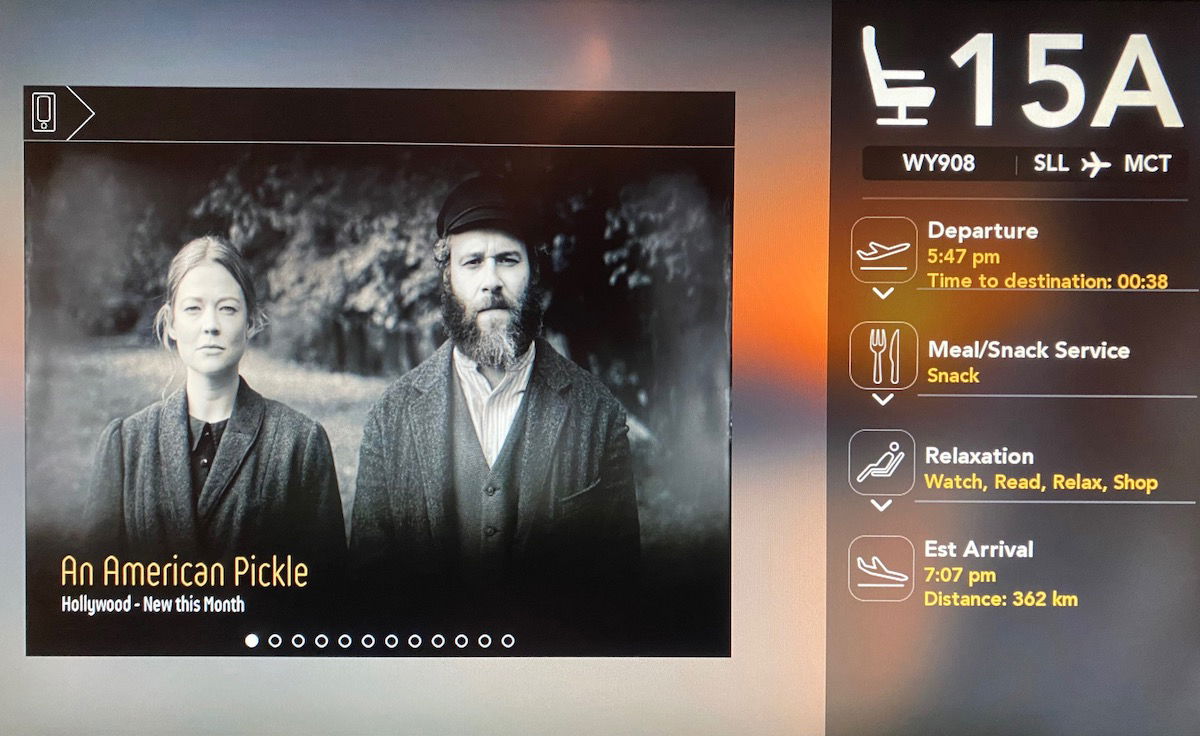 Rather frustratingly, you can only browse through the selection via the handheld monitor. Or maybe there's something I'm missing?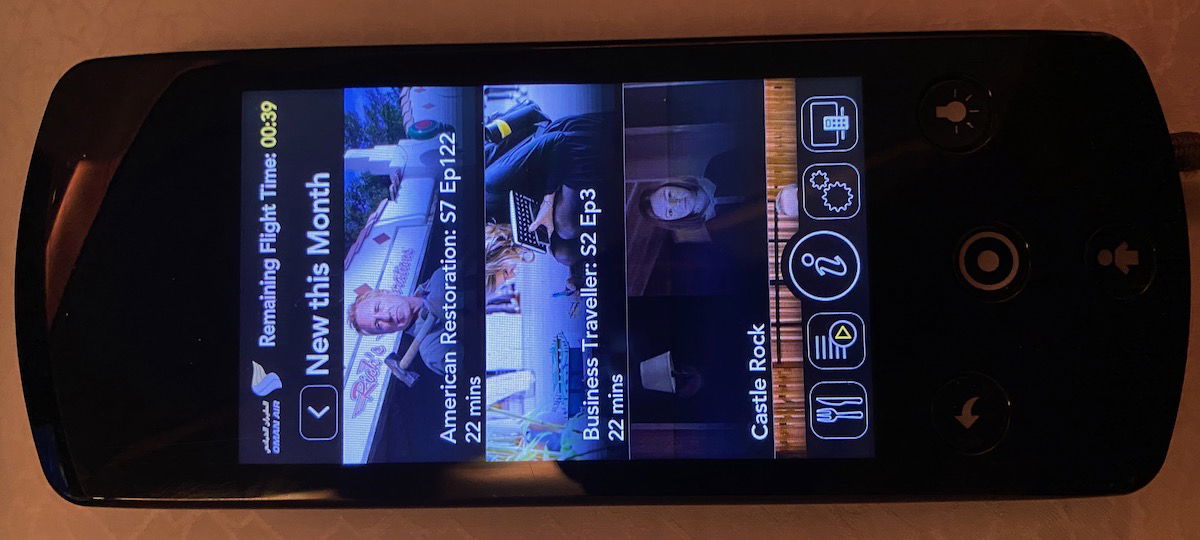 As usual, I just stared at the map for most of the flight.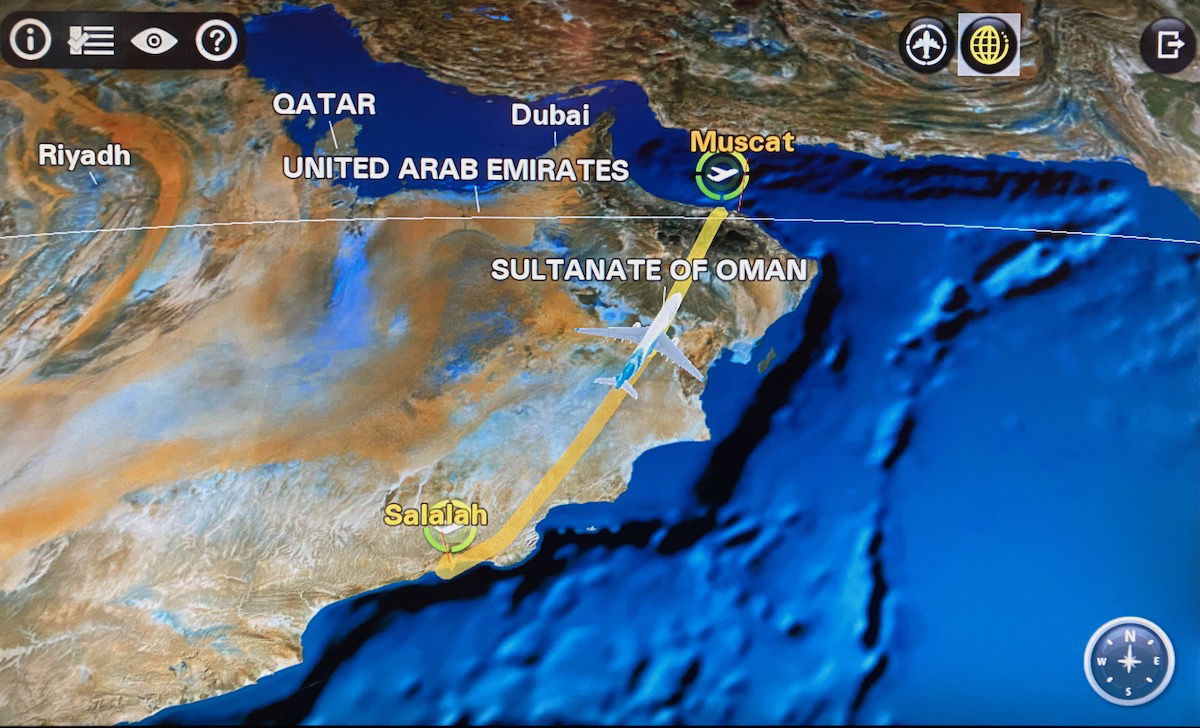 Oman Air has Wi-Fi on the A330s, but the price is ridiculous. For example, a Wi-Fi pass for an entire flight costs $39.99 and contains only 150MB of data. This has got to be one of the worst Wi-Fi prices of any airline these days.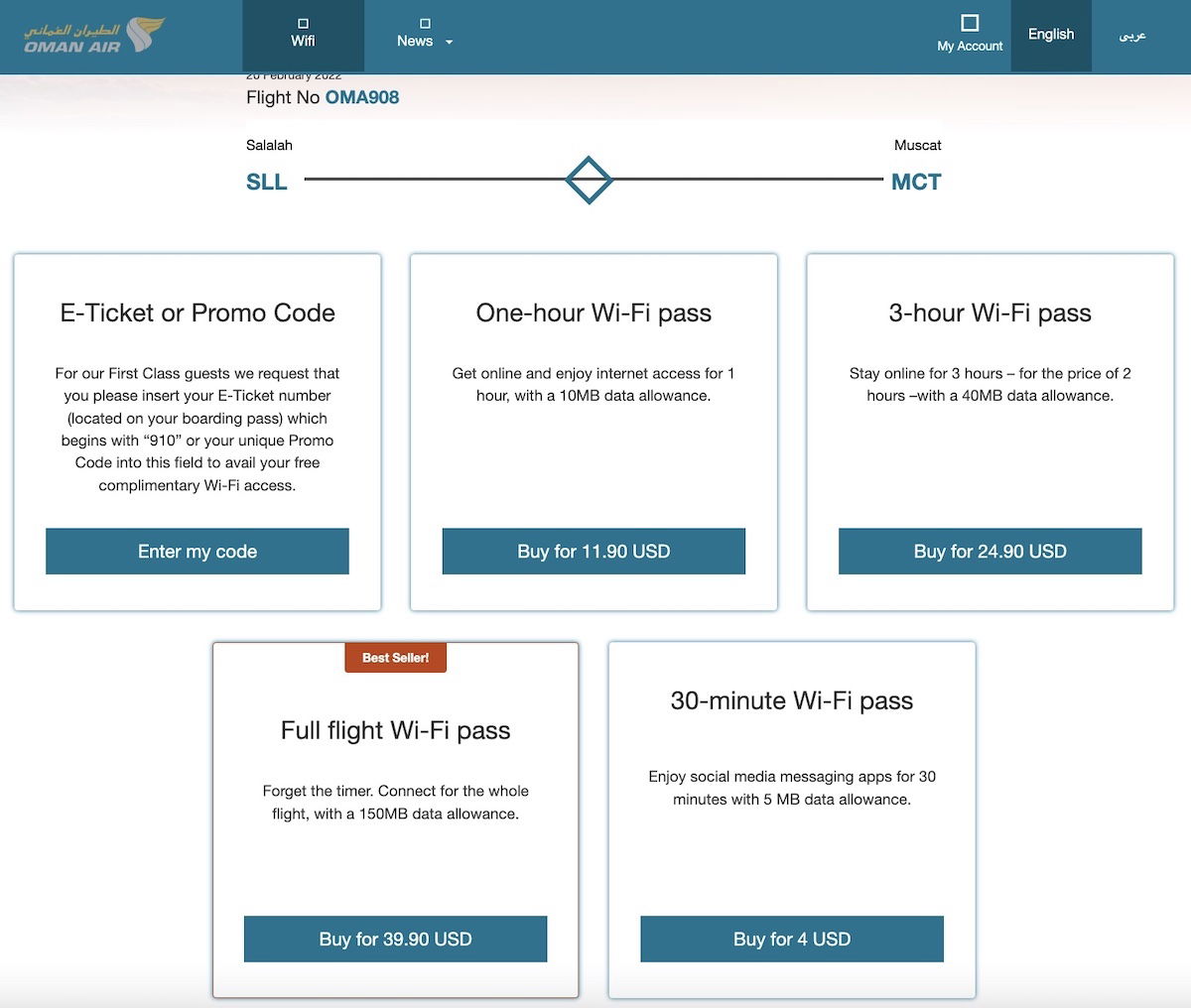 Unfortunately, even Oman Air's new Boeing 787s have this ridiculous Wi-Fi pricing, so let's hope it gets reduced over time.
Oman Air approach to Muscat
Oman Air prepares the cabins for landing very early, and this is particularly evident on a flight like this. 40 minutes before arrival, the first officer made an announcement advising us that we were at 39,000 feet and would be landing at 7:10 p.m. Moments later, the crew began to prepare the cabin for landing, i.e. straightening the seats, etc. It was almost only halfway through the flight!
On the plus side, it was easy to keep busy with the beautiful sunsets we were treated to.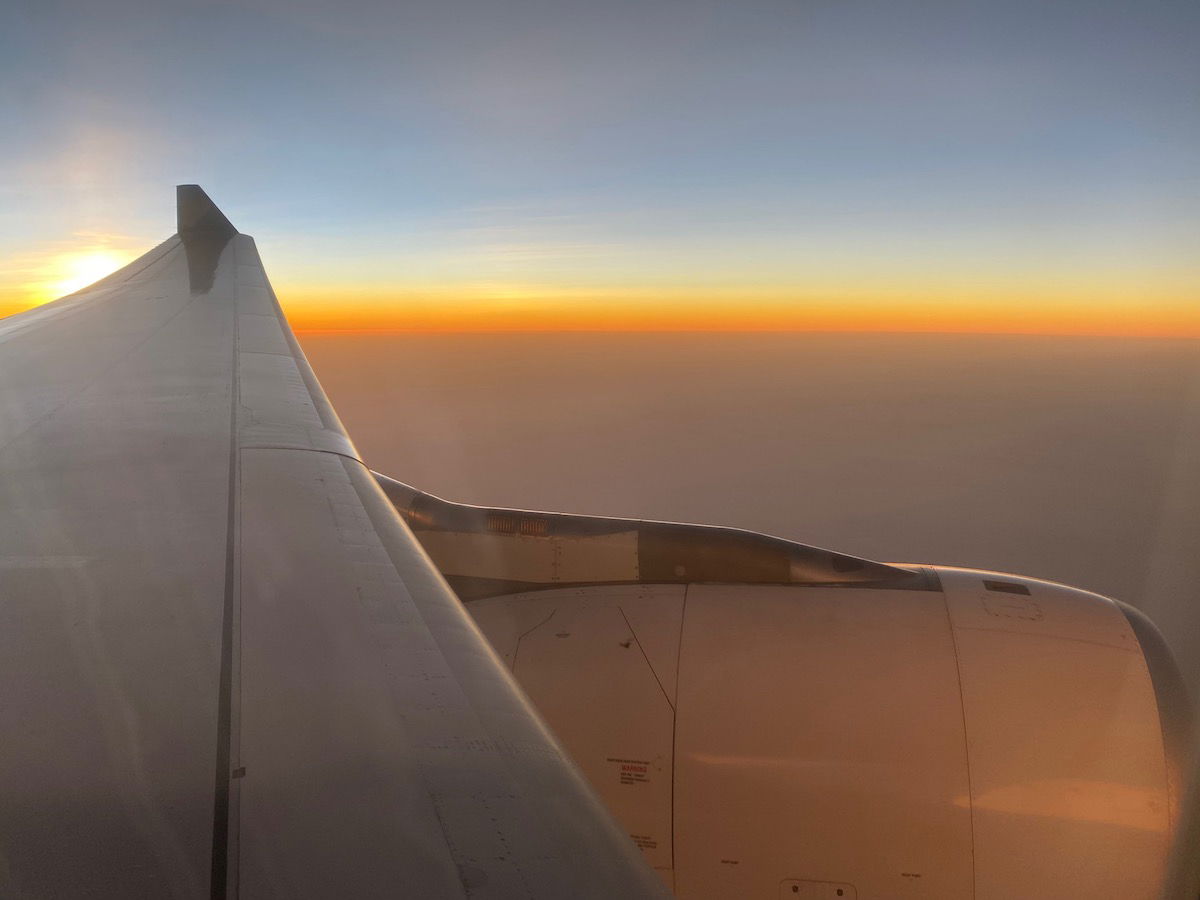 We ended up landing in Muscat at 7.05pm and were at the gate 10 minutes later.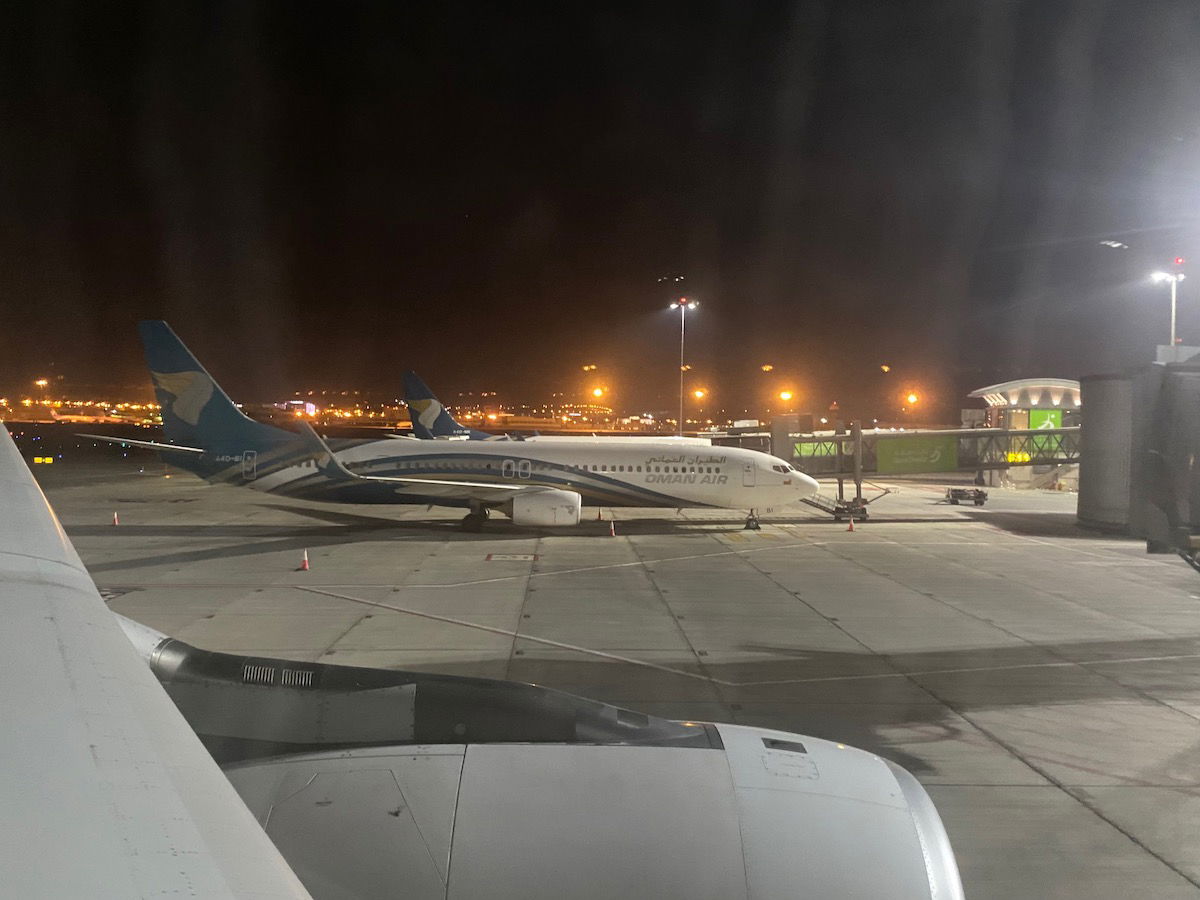 It was quite a walk from the arrivals hall, but soon enough we were in a taxi to our hotel.
At the end of the line
The 80 minute domestic flights aren't much better than what Oman Air offers on this flight. Our flight was operated by an A330 with Apex Suites, and we were treated to a tasty snack and friendly service. Oman Air is truly a phenomenal airline, and I hope the carrier will continue to join oneworld.
The only real criticism I have of Oman Air is the Wi-Fi pricing, which is ridiculous. This is not a problem on a flight like this, but the same price applies on longer flights.
If you have flown with Oman Air, what was your experience?