To reach Cape Town from the US, it makes sense to fly with a US carrier rather than an all-day connection to London, Paris, Amsterdam or Frankfurt. I flew United Airlines on the Polaris Business Class Boeing 787-9 from Newark to Cape Town. This review chronicles my trip and what to expect on board.
United Airlines 787-9 Newark Business Class – Cape Town Review [2022]
You might like to compare this review to my review of the same itinerary from March 2020, just a week before the worldwide shutdown. Although there are some differences in service, the most notable change is that the Dreamliner fleet now includes "real" Polaris seats rather than the older B/E Diamond seats. While couples may prefer the 2-2-2 seating, I much prefer the privacy and extra space the new seats provide.
Before the flight, I spent the day in the Newark Polaris Lounge, which is still a great lounge for premium cabin travelers and even when it's busy, it's worth a visit (and frankly, consider eating here before your flight, especially if you are on a shorter transatlantic flight).
I was rather late at the gate and among the last to board the flight.
United 1122
Newark (EWR) – Cape Town (CPT)
Sunday July 17
Departure: 8:15 p.m.
Arrival: 5:45 p.m.+1
Duration: 2.30 p.m.
Distance: 7,817 miles
Plane: Boeing 787-9
Seat: 11A (Business Class)
Boarding, I made my way through the crowded cabin to my seat at 11A. I've detailed the seat specs in detail in previous reviews, so I'll only recommend again that the odd A or L seats are best if you're traveling solo. They are real window seats and have privacy. Rows 1 and 9 (bulkhead seats) have even more room for your feet and are my favorites, although I was pretty happy with row 11.
A huge annoyance on this flight was that the dimmable blinds were locked after takeoff and remained locked until about 20 minutes before landing. The flight attendants were instructed not to, but they locked them anyway. Although that makes sense given that most passengers preferred to sleep and the sun rose about six hours into the 2 p.m. flight, it would have been nice to have breakfast with the daylight penetrating sun rather than darkness (it helps my circadian rhythm to reset).
Finally, the window blinds were unlocked and the beautiful shades of the afternoon sun filled the cabin.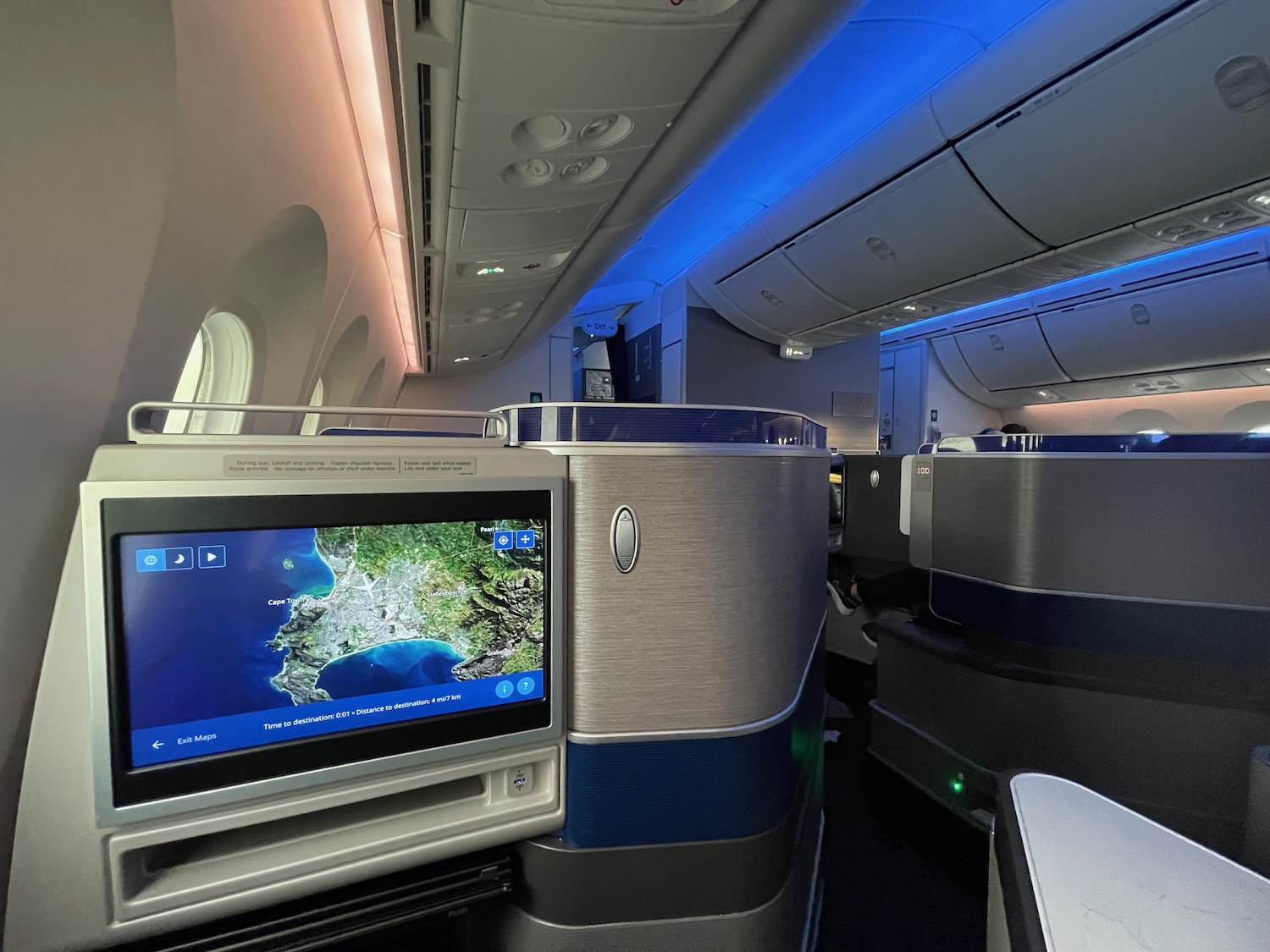 I have to (humbly) brag that I managed to get 10 hours of sleep on this flight. I'm so grateful to be able to sleep on airplanes and also grateful that United keeps their cabin temperature cool.
After dinner, I reclined my seat, fell asleep, and woke up two hours before landing.
Food + Drink
I tried something different on this flight and ordered a special meal, an Asian vegetarian meal, rather than taking a chance on the standard menu offerings.
Before take-off, a choice of drinks was offered and menus were distributed.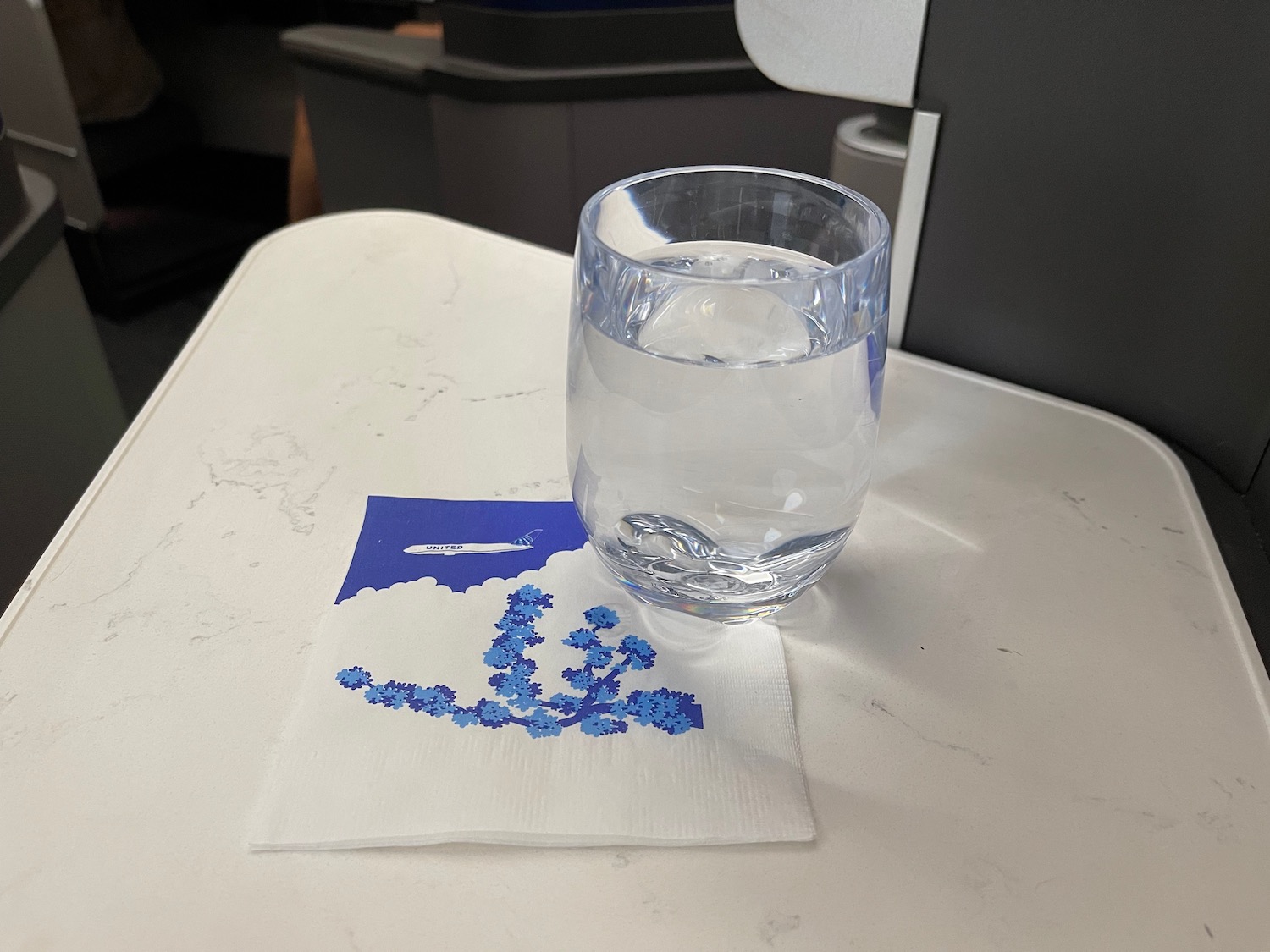 These menu choices really haven't changed much for many years, so I was happy when the flight attendant confirmed, while taking meal orders, that my special meal was loaded.
Dinner started 30 minutes after take off with mixed nuts and a choice of drink. I had lemon sparkling water… I find it best to avoid alcohol and even coffee on long haul flights and stick to water. I experienced virtually zero jet lag on this trip and I think that helped.
Dinner was served on a single platter and included a leafy green salad, plain yogurt and a dish of spiced chickpeas with white rice. Although the presentation was lacking, I was grateful that I ordered this Indian "comfort food" and would order it again.
A wrapped chocolate chip cookie was offered for dessert (part of the special meal), but a flight attendant also offered me vanilla ice cream with a chocolate cookie topping, which I enjoyed.
The real benefit of ordering a special meal, if you tend to get hungry on a long-haul flight, is the in-flight snack. United only offers snacks and small sandwiches in business class as part of its standard offering:
However, a large chickpea salad was loaded for me as a mid-flight snack, which was light and refreshing (since I slept through the flight, I ate this with my breakfast before landing) .
90 minutes before landing, breakfast is served. My "special meal" was oatmeal, one of two choices on the menu. I asked if I could have eggs instead and I obliged. Egg whites were served with chicken sausage, cooked potatoes and tomatoes, with fruit and a warmed croissant on the side.
As always, United's meal service lags the competition, but I find the food perfectly edible. Definitely recommend a meal special if you are a regular United traveler and tired of the usual choices.
Pajamas
Pajamas are offered on flights over 12 hours and United's pajamas again have pockets, which was my biggest complaint before. I put on my pajamas before takeoff and find them comfortable and note that American and Delta do not offer business class pajamas.
Bathroom
I used the restrooms several times during the flight and found them to be clean on both visits. I always remind you that when the floor is wet, it's often not water… wear slippers or shoes when you go to the bathroom.
IFE + Wi-Fi
All my work was done before the flight and Sunday is my day off so I didn't connect to wi-fi during the flight even though a flight pass was $29.99. IFE picks included over 100 movies, TV shows, and games. I watched The Dukewhich I thought was a green film.
I was finally able to enjoy the scenery outside the window during the final moments of the flight.
CONCLUSION
I say it often and will say it again here. I travel often with United and United does the work for me. Food is still miles behind American and Delta when it comes to long-haul flights, but the overall product works very well. I can always count on a good rest during the trip to Africa and I will choose United again next time.
The beautiful thing is that I left Newark on a wet summer evening and landed in Cape Town on a cool, crisp winter evening. I love being in the southern hemisphere in the winter!