[ad_1]
Expect French cuisine with Asian accents inspired by a rich culinary heritage and driven by conscious creative finesse
Chef-owner Emmanuel Stroobant of the two Michelin-starred Saint Pierre is doing it again with the unveiling of his brand new menu, Opulence.
The multi-course creations reflect the eclectic roots of the humble Belgian-born, French-trained chef who has spent more than half his life in Asia. Start Stroobant's final legendary journey with a trio of snacks including Flemish-style white asparagus, Vichyssoise tartlet and smoked French asparagus with marinated sand carrots, served with an optional pairing from the very appealing Champagne trolley. The first creation, better known as Flemish-style asparagusis a nod to Stroobant's legacy as it's popularly hailed as Belgium's 'white gold', easily making it one of his favorite childhood dishes.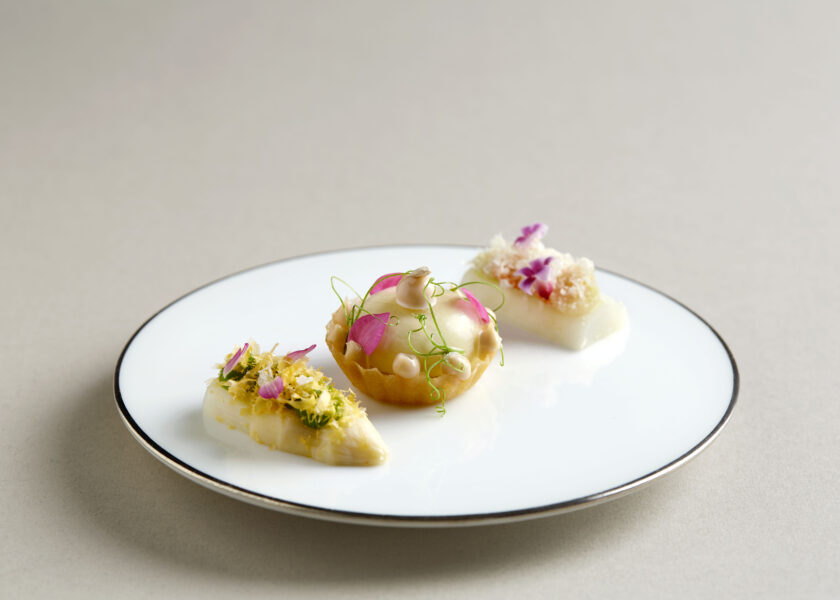 Next, Caviar is Stroobant's creative take on a Paul Bocuse classic. Indulge in tarragon jelly on a creamy, ginger-infused cauliflower cream, topped with Bafun uni from Hokkaido and Oscietra N25 caviar. The caviar comes from high altitude Chinese farms in Yunnan, but is further aged in Germany for six to nine months. The plain Bafun adds a smooth, creamy mouthfeel while the tartness of the tarragon jelly cuts through the richness, making every bite an opulent delight.
As always, Stroobant's creations are visually stunning, and the Scallops course is no exception. Premium raw Hokkaido scallops are layered over Jerusalem artichoke tartare, drizzled with lemon oil and finished with oba or wild basil jelly and buttermilk drops. Candied French black winter truffle from Périgord brings the finishing touch to this incredible dish.
The crab is brought to the table by Stroobant himself and steamed kegani (also known as hairy crab) cooked in a salt crust. Steaming locks in the crab's naturally sweet flavor, complemented by roasted red pepper. An unusual but winning combination comes in the form of the finishing pea velouté prepared with tarragon syrup, and infused with passion fruit juice.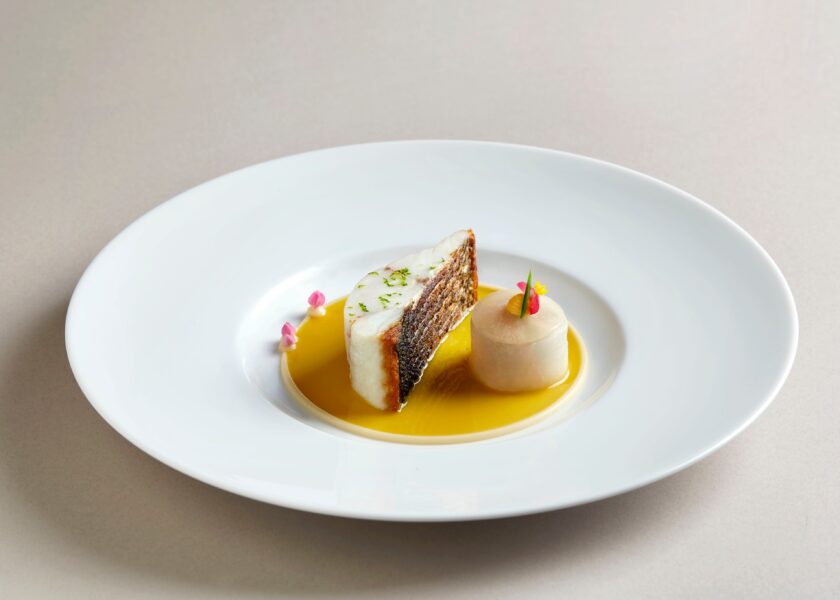 Choose between Brown and Seabass for the next course. The first sees Majimup chestnut prepared with an emulsion of tomato, carrot and chestnut Amela, completed with a flavored galangal consumes; while this latest creation features seared Nagasaki sea bass, with Gensuke daikon filled with mushroom duxelles, finished with parsnip mash and a sublime ginger-infused Hokkaido corn nage with hints of lemongrass and ginger.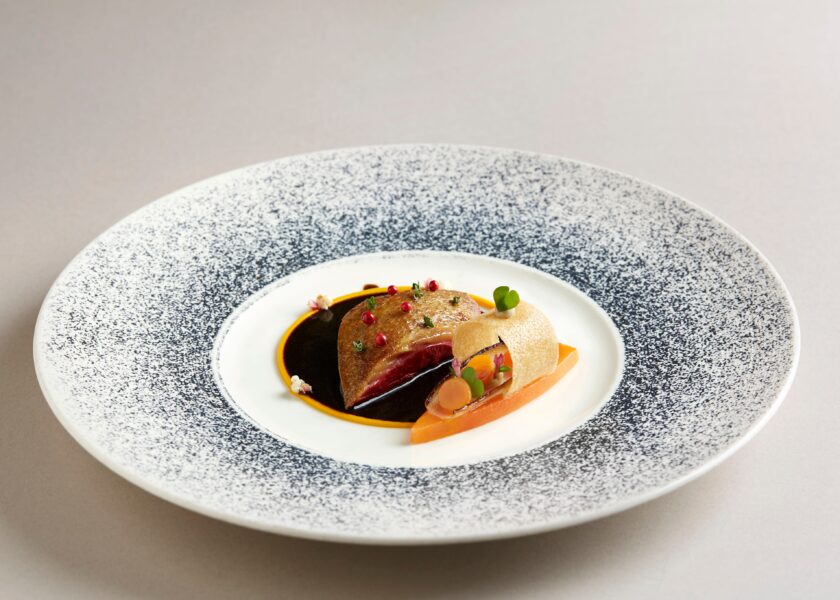 The centerpiece of the Opulence menu features an unexpected pairing inspired by co-owner Edina Hong's Peranakan heritage. Pigeon d'Anjou in the Loire Valley is served with carrot mash potatoescaramelized long shallot and boo keluak sauce. Passed down by Hong's grandmother, the buah keluak recipe gets a delicious new twist as the flesh of the black walnut is deglazed with oxtail consumes before being reduced and finished with the veal sauce. The dish is the perfect example of Stroobant's signature style which seamlessly blends modern French cuisine with an Asian accent.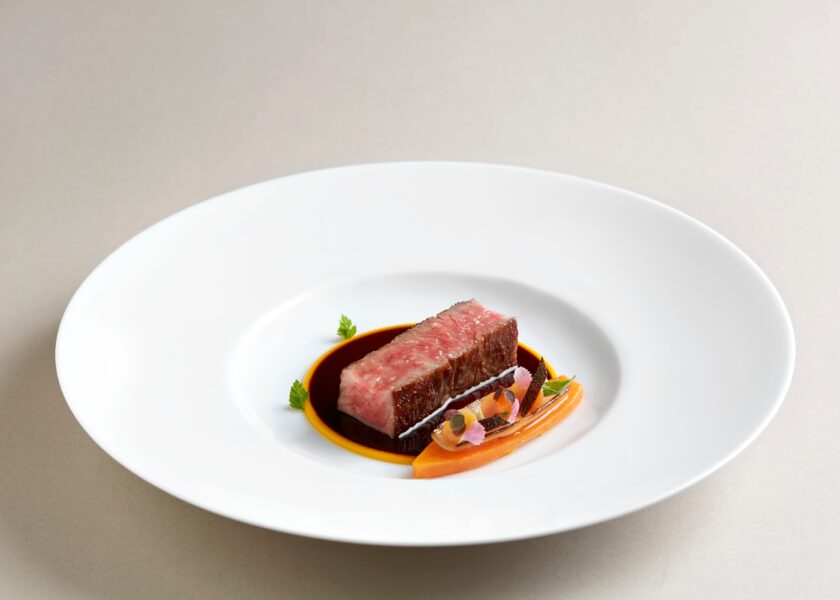 For a more carnivorous main course, Shiga Prefecture's premium Omi A4 awaits. The lightly-processed pan-seared sirloin is finished with a rich seaweed sauce including nori, mirin, sake, shoyu, and beef gravy.
Marking the end of the main meal, and served before the pre-dessert, is Gobo, Saint Pierre's signature digestive tea. The hot, homemade concoction contains the goodness of burdock root of the same name, rosemary, angelica, myoga, lemon thyme and oba leaf, all simmered together to aid digestion and improve health intestinal. Trust us, it's impossible to stop sipping on this beautiful single cup brew.
Doubles as a palate cleanser, the pre-dessert includes an Amane muskmelon sorbet served on a Toulouse violet coulis. Originally from Shizuoka, muskmelon is highly appreciated for its sweetness and fragrance, complemented by the delicate notes of Toulouse violet.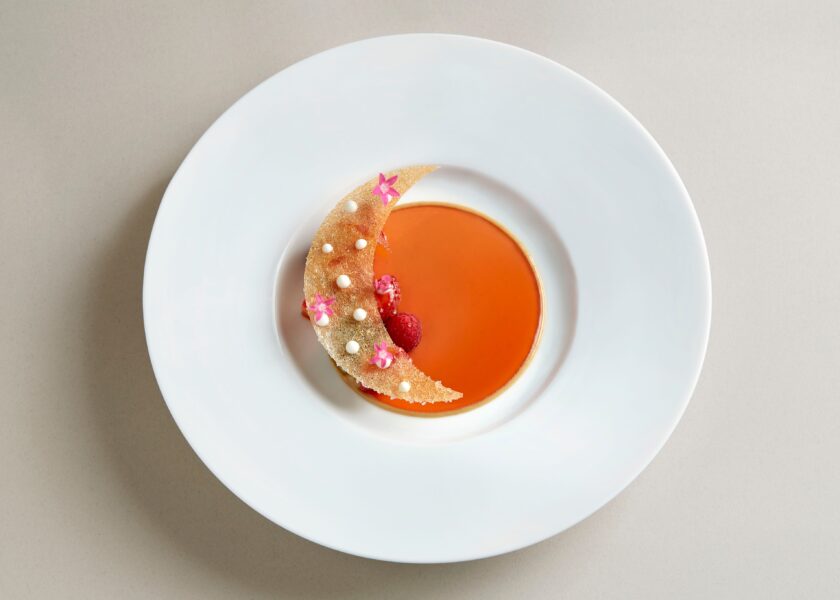 Finally, the dessert poses an impossible choice between Strawberry and Chocolate. Strawberry offers premium strawberries from Japan's Fukuoka prefecture, served with homemade lassi gel, kouign-amann tuile and Kampot peppercorn ice cream sitting in a beautiful strawberry consommé.
Alternatively, the chocolate is brilliantly presented in the form of a cocoa bean (chocolate), filled with Manjari chocolate ganache and banana jam, and served with coconut sorbet and salted caramel sauce.
Opulence menus range from $168++ to $388++ for a three- or six-course tasting menu. Both are available for lunch and dinner with wine pairings or sparkling teas.
Saint Pierre is located at 1 Fullerton Road, #02-02B One Fullerton, Singapore 049213. Tel: 6438 0887
[ad_2]
Source link