Sophomore Ashlyn Bellmeyer shares starting her own bakery and the challenges that come with it
Sophomore Ashlyn Bellmyer has her own bakery called Ashlyn's Creamery and uses her baking skills to bring joy into the lives of others. Bellmyer uses Instagram @ashlyns_creamery to take orders and advertise her items.
Bellmyer started cooking when she was little, watching her family members cook. Another thing that got her into cooking was watching TV shows to start growing.
"I always watched my father cook and I cooked with my grandmother. I slowly started loving cooking, so I started watching The Food Network and other cooking shows where I learned how to cook," Bellmyer said.
Bellmyer's business idea started when she tried a recipe and it turned out really delicious. Her father then came up with the idea of ​​selling his products and her business eventually grew to include cooking and selling other desserts as well.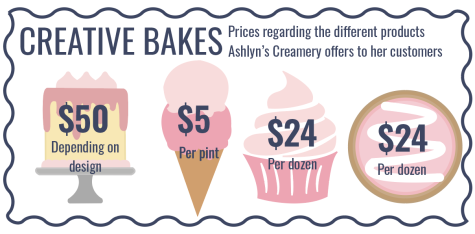 "I tried a new ice cream recipe and when I let my family taste it, they went crazy for it," Bellmyer said. "It sparked my business idea, which then led me to making cakes, cupcakes and cookies."
Librarian Ashley Bennett bought cupcakes and cookies from Ashlyn's Creamery for her daughter's 12th birthday and they were a hit.
"Ordering through Ashlyn's page was easy, she answered all my questions quickly," Bennett said. "The cupcake and frosting were a perfect combination and the cookies were huge and amazing."
With the prices of some things rising, Bellmyer shares her difficulty getting the ingredients and materials she needs to sustain her business.
"Some of the challenges I have of course is price inflation right now. Butter, egg and flour prices have gone up significantly over the last year," Bellmyer said.
Another difficulty Bellmyer faces is planning her week for her bakery and her school.
"To balance school and my business, I need to have a written schedule," Bellmyer said. "I also only need to schedule a certain number of orders per week and know that I have time to fulfill my orders."
After Bellmyer began expanding her business and making cakes, cookies, and cupcakes, as well as ice cream, her cakes became favorites with her customers. Although her cakes are well-loved, Bellmyer also has some seasonal favorites.
"My most popular item is my cakes. People love custom cakes and order them for birthdays, graduations and more. But during the summer, ice cream is probably number one," Bellmyer said. .
Using baking as a creative outlet and making desserts that she is proud of is very important to Bellmyer.
"The best thing about creating baked goods is that I can be creative and put my ideas into edible form," Bellmyer said.
(Visited 6 times, 5 visits today)