[ad_1]
Move over the turkey – everyone knows that side dishes are the real star of Thanksgiving. This holiday season, nutribullet thought it was time to honor these unsung heroes in the way it knows best: by turning them into Thanksgiving smoothies..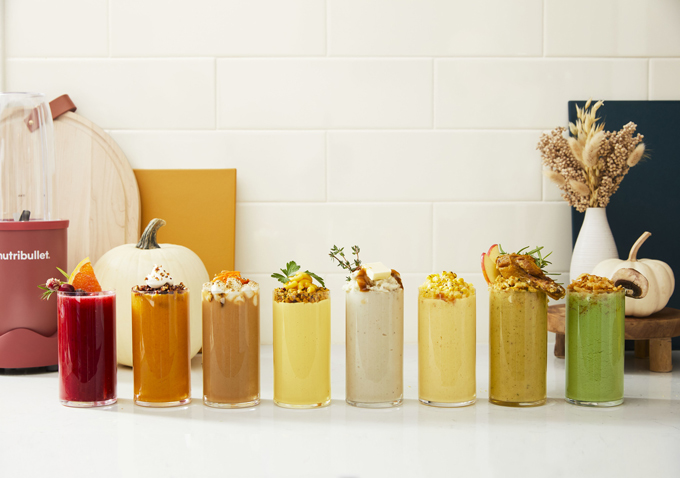 Whether you're a mashed potato and gravy lover, macaroni and cheese lover, or stuffing fanatic, nutribullet has created smoothie versions of your favorite Thanksgiving sides to celebrate and invigorate their time-tested presence on the table. festivals. .
At one end of the smoothie spectrum, these savory recipes encourage seconds and thirds:
Smoothie Casserole with Green Beans: If your smoothie idea includes frozen tropical fruits and a cute little umbrella, this might not be the one for you. But, if you're open to a tastier tasting experience, this unconventional blend is actually quite tasty.
Mac and cheese smoothie: This smoothie might be a little shocking, but trust us! And, when it's the next nerdy trend, remember you heard it here first.
Garlic Mashed Potatoes with Smoothie Sauce: Creamy, smooth, easy to digest… mashed potatoes are already a smoothie. nutribullet® goes even further on the texture front.
Stuffed Smoothie: Bread, garlic, onions, mushrooms: key stuffing ingredients – potentially questionable ingredients in a smoothie. What could have been a kitchen disaster is actually a smoothie masterpiece. Further proof that any prank is a good prank.
Packed with benefits like fiber, vitamin A, and magnesium (sorry, magnesi-YUM), these four recipes are designed specifically for foodies:
Cranberry Sauce Smoothie: For those with a dangerously high cranberry sauce to turkey ratio, this is the smoothie for you.
Sweet Potato Casserole Smoothie: Love the sweet and savory taste of this classic casserole, but don't really want to spend time in the kitchen assembling and baking? Make this blended version instead.
Cornbread Smoothie: Spare the crumb-laden table and treat yourself to this rich, creamy smoothie instead.
Pumpkin Smoothie Pie: Love it or hate it, pumpkin pie is the most iconic dessert on the Thanksgiving table. This smoothie-fied version is creamy and sweet, with just enough spice to keep things interesting.
Each recipe is carefully formulated by nutribullet®'s resident recipe developers using the nutribullet® Pro 900.
Designed for intuitive use with 900 watts of power, this personal blender cuts down on cooking and prep time with its nutrient extraction blades and unique shape. Plus, its dishwasher-safe parts in the top rack make cleanup a snap.
While these recipes might not be the first thing you think of when it comes to a smoothie — or Thanksgiving side dish for that matter — they deliver big.
Try it for yourself – visit www.nutribullet.com/recipes/o/thanksgiving-smoothies/ for a full ingredient list and step-by-step instructions.
Sharing is caring!
[ad_2]
Source link