If you like to shop – and even if you have shop – now's the time to pay off the small businesses that keep Denver more trendy and more eclectic, despite rampant development and new cookie-cutter stores. Shopping on Small Business Saturday Weekend is a feast of mutual love, when the money you spend doesn't leave your community and the store owners greet you like an old friend.
While some of the small business Saturday events are over, many more continue today. Read on for your options:
Colfax bag
colfaxave.com
Saturday November 27, from midnight
The Colfax Ave Business Improvement District (BID) is making local shopping easier this holiday season with the sale of its second annual Colfax bag, filled with items from the Strip. Pay $ 60 for five to seven products, or $ 75 for a VIP bag that includes a recycled tote bag made from vintage Colfax street banners. Find out more here.
Small Business Saturday Weekend
Pearl Street Mall, between 8th and 20th streets, Boulder
Until Sunday November 28
The Pearl Street Mall may have firmed up over the past twenty years, but the downtown Boulder shopping corridor can still claim over 100 local stores, accounting for over 70% of retailers along of the artery. Let's keep them there: Avoid Black Friday and save your buying power for the little guys who make shopping more user-friendly, more interesting, personalized, and region-centric. Find a map of the companies participating in the Saturday offers here.
Small Business Weekend, Cherry Creek North
University at Steele Street, between First and Third Avenues
Until Sunday November 28
Cherry Creek North is a compact space filled with what feels like miles of retail heaven. There are 175 small boutiques, gift shops, galleries, restaurants, fair trade stores, and home decor establishments clustered in a sixteen-block pedestrian zone, many of which will be offering gifts and deals over the weekend. And if that's not enough, the Cherry Creek Holiday Market is open for business at Fillmore Plaza. Go to the website for a list and map of businesses to visit.
Beaver Creek Holiday Market
Beaver Creek Village, Beaver Creek
Until Sunday, November 28, from 1 p.m. to 5 p.m.
Are you up I-70? No problem. You can shop during Small Business Saturday Weekend in Beaver Creek, where a selection of handpicked vendors will hawk the afternoon. Santa will also be ready to take pictures.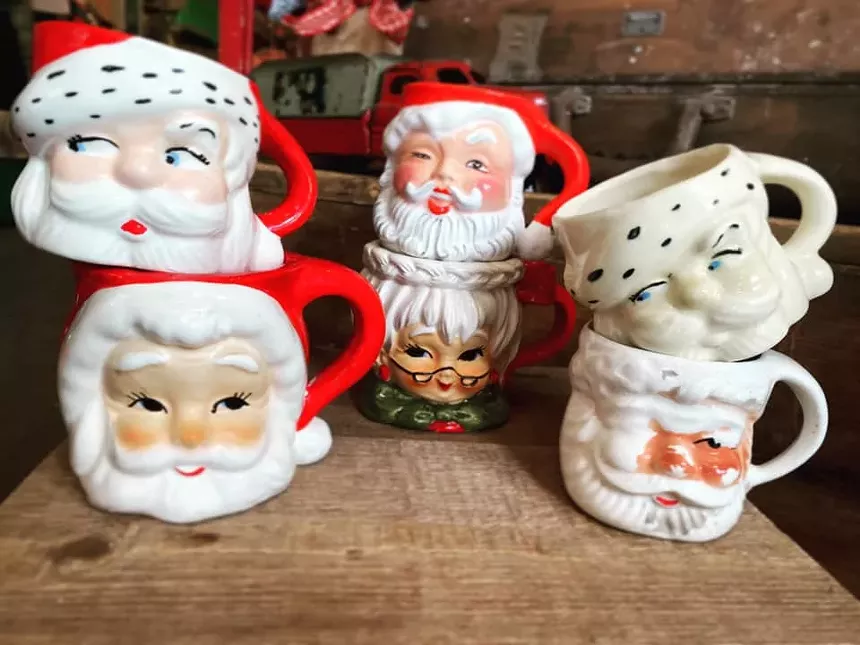 SoSu Artist Collective Holiday Studio Sale
Streets in Southglenn, 6851 South Vine Street, Centennial
Until Sunday November 28
The South Suburban Artist Collective brings an artistic vibe to SouthGlenn's local retail mix, offering original artwork from seven members, as well as $ 29 prepackaged interview packages with a focus on creativity. . Visit this weekend and next for vacation deals.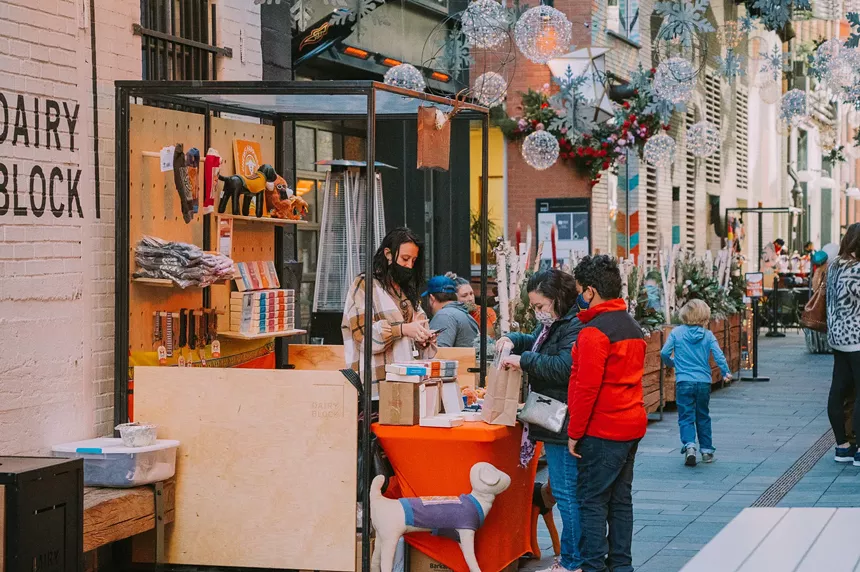 American après ski holiday market in the field
Dairy Block Alley, 1800 Wazee Street
Until Sunday November 28 from 11 a.m. to 5 p.m.
American Field is relocating its après-ski holiday market this year to Dairy Block Alley, which runs every Friday, Saturday and Sunday from November 26 to December 19. You'll find a mix of Colorado and nationwide retailers selling clothing, household items, and other goodies while being entertained by Jingle Belles singers, visited by Santa, and munching on specialty food and drinks. It's the holiday spirit!
Arvada Old Town Holiday Market
Old Town Square, 5700 Olde Wadsworth Boulevard, Arvada
Until Sunday November 28 from 11 a.m. to 6 p.m.
Now that Olde Town Square has been redesigned as a pedestrian mall, with street closures, outdoor activities, and open container ordinances in effect, a fully-fledged new manufacturers market will flourish there for the holiday season. , from the day after Thanksgiving until December. 18. After the market closes today, change gears for the Old Town Christmas Tree Lighting Celebration, which begins at 5 pm with a parade through the streets led by the Guerrilla Fanfare. It all ends in the plaza for tree lighting and hot chocolate warm up next to new fire pits, mini golf and a curling rink. Curling? Go on and find out.
Christmas in the Rockies
Aspen Grove, 7301 South Santa Fe Drive, Littleton
Until Sunday November 28 from 10 a.m. to 6 p.m.
Metro Denver Farmers 'Markets Christmas in the Rockies Craft Show is coming to Aspen Grove this season, with a down-to-earth selection of vendors selling local prepared foods and treats, kids' books and games, toys, holiday decorations, jewelry, dog treats and other gifts. It's all inside, so you won't need to bundle up. The market continues on weekends until December 23 (and every day from December 20 to 23).
Cheerful vintage holiday pop-up shop
BRDG project, 1553, rue Platte
Sunday November 28 from 11 a.m. to 3 p.m.
At the BRDG Project gallery on Platte Street, a cluster of exhibitions will wrap up this weekend to make way for new openings on the first Friday in December. But first, artist and apron collector EllynAnne Geisel's Cheerful Vintage Pop-Up, an eclectic marketplace of antique books and magazines, second-hand decorations, linens and aprons, will give clues to her next one. Attach one exposure. Browse the vintage and Geisel products through December 29, but the best choices are first come, first served.
Holiday POP! Gallery
1421 Pearl Street, Pearl Street Mall, Boulder
Sunday November 28 from 11 a.m. to 7 p.m.
Boulder's visual arts organization, Open Studios, takes advantage of temporary market spaces to mount pop-ups; This holiday season, you'll find at least eighty member artists (and others living and / or working in Boulder County) selling original artwork in a vacant space conveniently located on Pearl Street Mall. Kids will be kept busy with family-oriented making and taking activities while you shop. The pop-up continues until Christmas; find out more here.
Globeville Horseshoe Holiday Market
Former Salvation Army Headquarters, 4751 Broadway
Sunday November 28 from 10 a.m. to 5 p.m.
The horseshoe remains the epitome of his non-glitzy approach to managing a craft market. What makes it all work is conservation and the idea that quality merchandise and a great atmosphere is really all you need to keep customers coming back. Over 100 vendors will show up this year at the brand new Horseshoe location in Globeville (there will be a smaller market next weekend at Breckenridge Brewery in Littleton), accompanied by food trucks, live music and a bar. Free, but a $ 5 donation is requested.

RiNo Holiday Bazaar
Zeppelin Station, 3501 Wazee Street
Sunday November 28 from 11 a.m. to 5 p.m.
The Denver Bazaar can be found at Zeppelin Station in RiNo for small businesses on Saturday weekends, with at least eighty artisans and makers on board, plus pop-up bars, live music and, of course, the gym. Convenient catering from the location just inside the building waiting for people to go hungry from all those purchases. Shopping is free, but as usual for the Bazaar, there are paid options including drink tokens, Bottomless Bluegrass on Saturdays (with or without alcohol) and Mixes & Mimosas with DJ Polyphoni on Sundays. Buy in advance on Eventbrite.
Holiday art market
Firehouse Art Center, 667 Fourth Avenue, Longmont
Sunday November 28 from 12 p.m. to 5 p.m.
A dozen or more local artists and designers will stand by, waiting for small business walk-in buyers on Saturdays and lesser-known artists on Sundays at the Firehouse Art Center. Why? Because an original art gift chosen for a special someone can be life changing during a season when many people are getting gloomy rather than happy. Firehouse also offers gift certificates for buyers who feel less confident in choosing art for someone else; look for one in the gallery store or online. They are good not only for art purchases, but also for course registrations.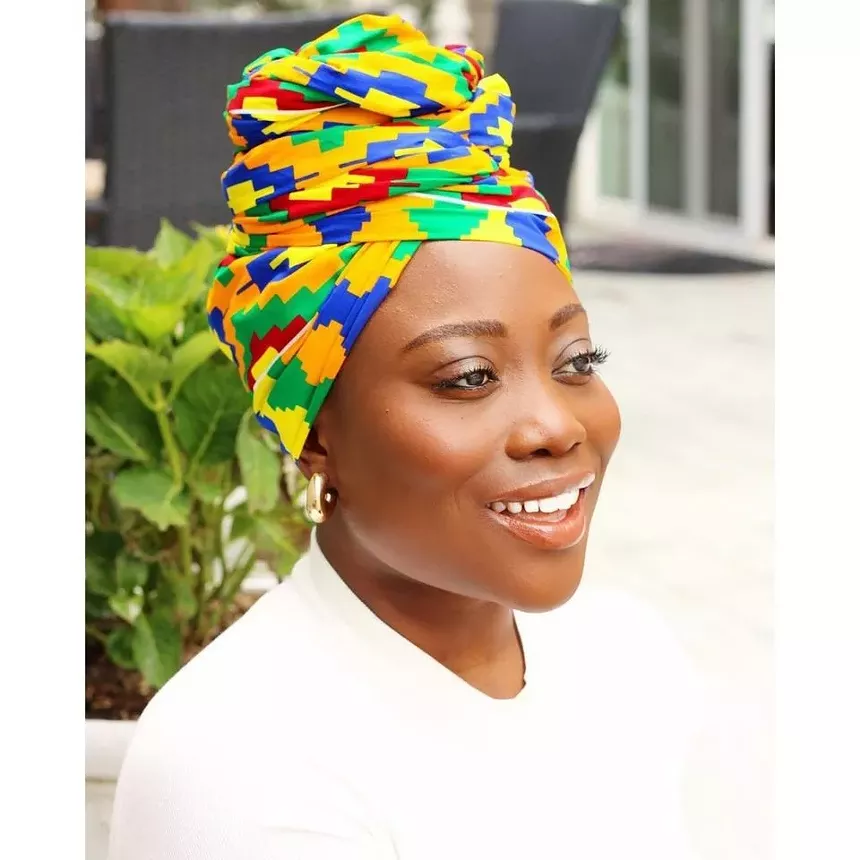 Holiday store Mercado Gui
People's Building, 9995 East Colfax Avenue, Aurora
Sunday November 28 from 12 p.m. to 6 p.m.
The Mercado Mistletoe holiday store makes its Small Business Saturday debut with a welcoming collection of independent, multicultural manufacturers and artisans whose vendor stalls will then be open Wednesday through Sunday until Christmas Eve.
Boutique Petit Samedi 2021
Curate: A Local Mercantile, 8242 South University Boulevard, Centennial
Saturday November 27 from 10 a.m. to 5 p.m.
Curate: A Local Mercantile takes the "little" part of Small Business Saturday seriously by dedicating its celebration to young entrepreneurs entering the retail world. Six kid-run micro-businesses – Something Creative crochet and candles, handmade Sewing With Smiles bags, Little Sista Treats candy, Soleil & Co. art sweatshirts, LightnerDesigns art and GatorTailz neck gators – will be featured. in their own pop-up shops. See the schedule online.