Whisk pastries for taro desserts
If you are a hardcore fan of everything ouh nee, chances are you will come across Whisk the pastries, a home-based business that became famous on IG for its taro pie balls. This time the local bakery has gone big, launching what they claim is Singapore's first ever orh nee themed cafe at Lavender!
Food at Whisking Bakes
The dessert cafe specializes in taro-infused pastries, perfect for afternoon tea or a night out since they're open until midnight on Fridays and Saturdays.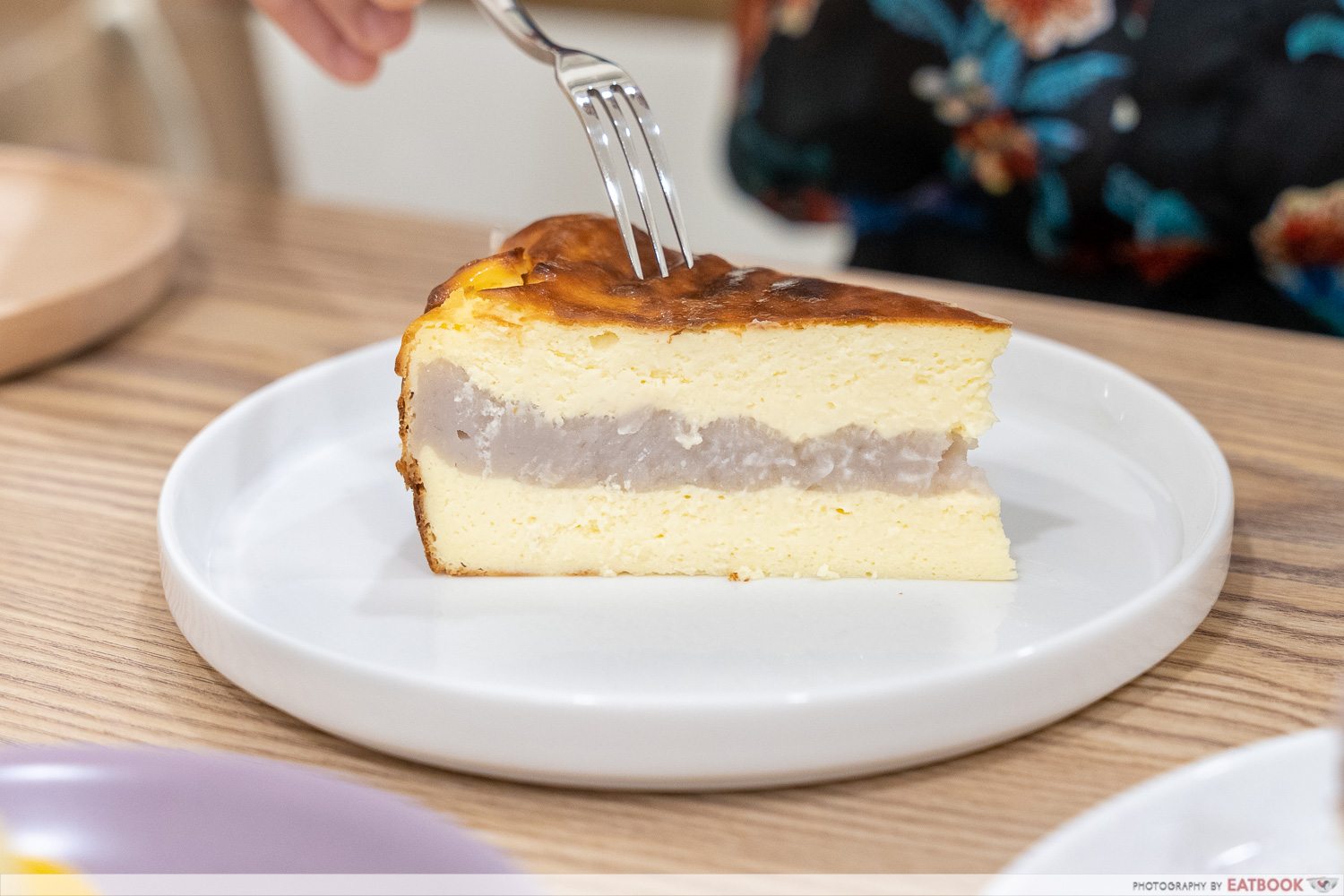 Head to the glass display for the full range of pastries to choose from. The dessert menu is quite meager, with an emphasis on orh nee sweets, including our first choice cake: Taro Burnt Cheesecake ($7.50).
16 unique yam desserts to try, including Orh Nee Mille crepe and taro croissants
Each slice features a burnt cheesecake sandwiched by a generous layer of Whisking Bake's signature pure yam paste. This popular paste, which features in most of their desserts and drinks, is freshly made daily in their kitchen area next door. When paired with the creamy cheesecake, the dessert was a delicious combination of sweet and creamy, with a slight earthy touch from the yam.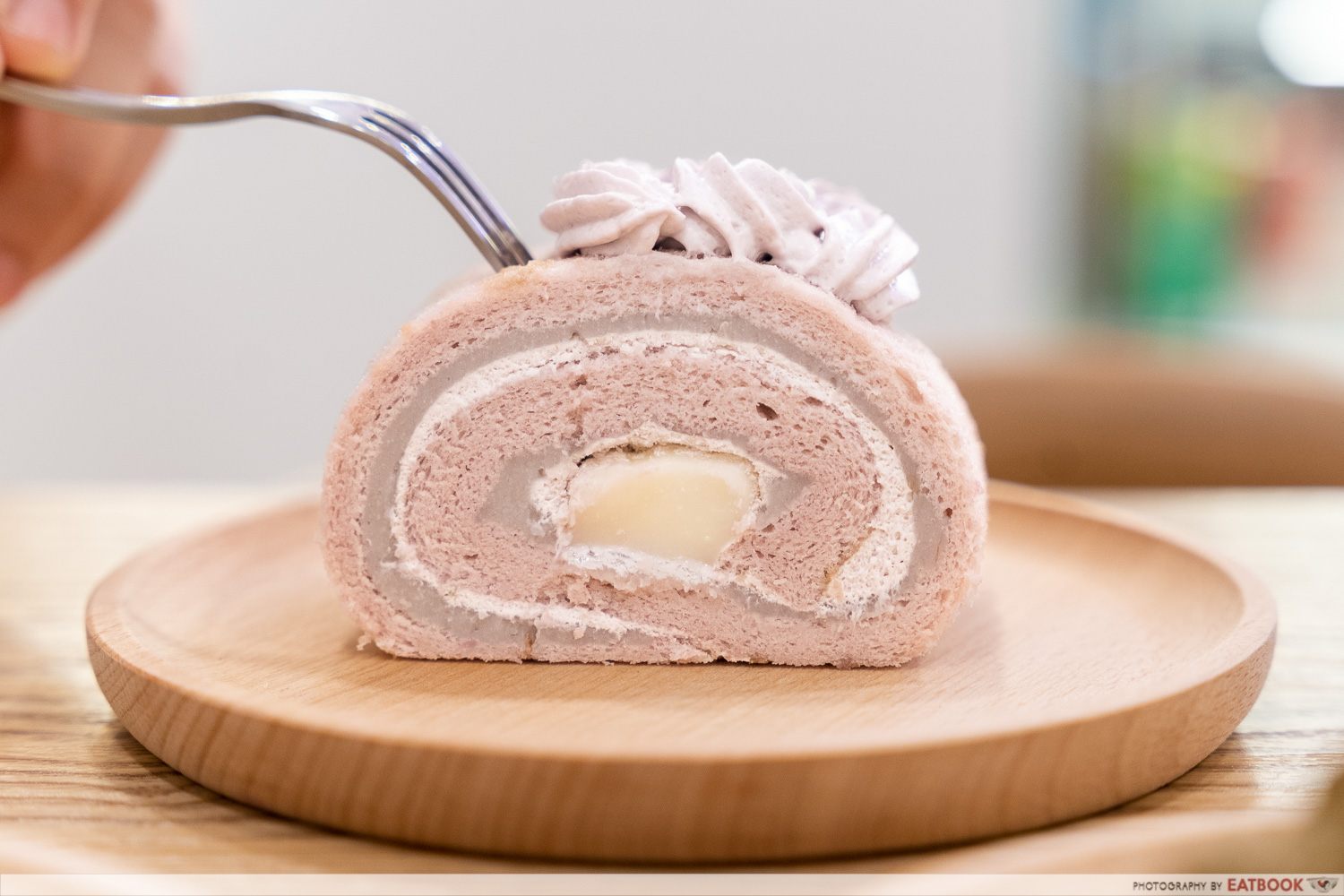 The next step was the Swiss Rolled Taro Mochi ($5): fluffy sponge cake with yam paste, cream and a center of milk mochi.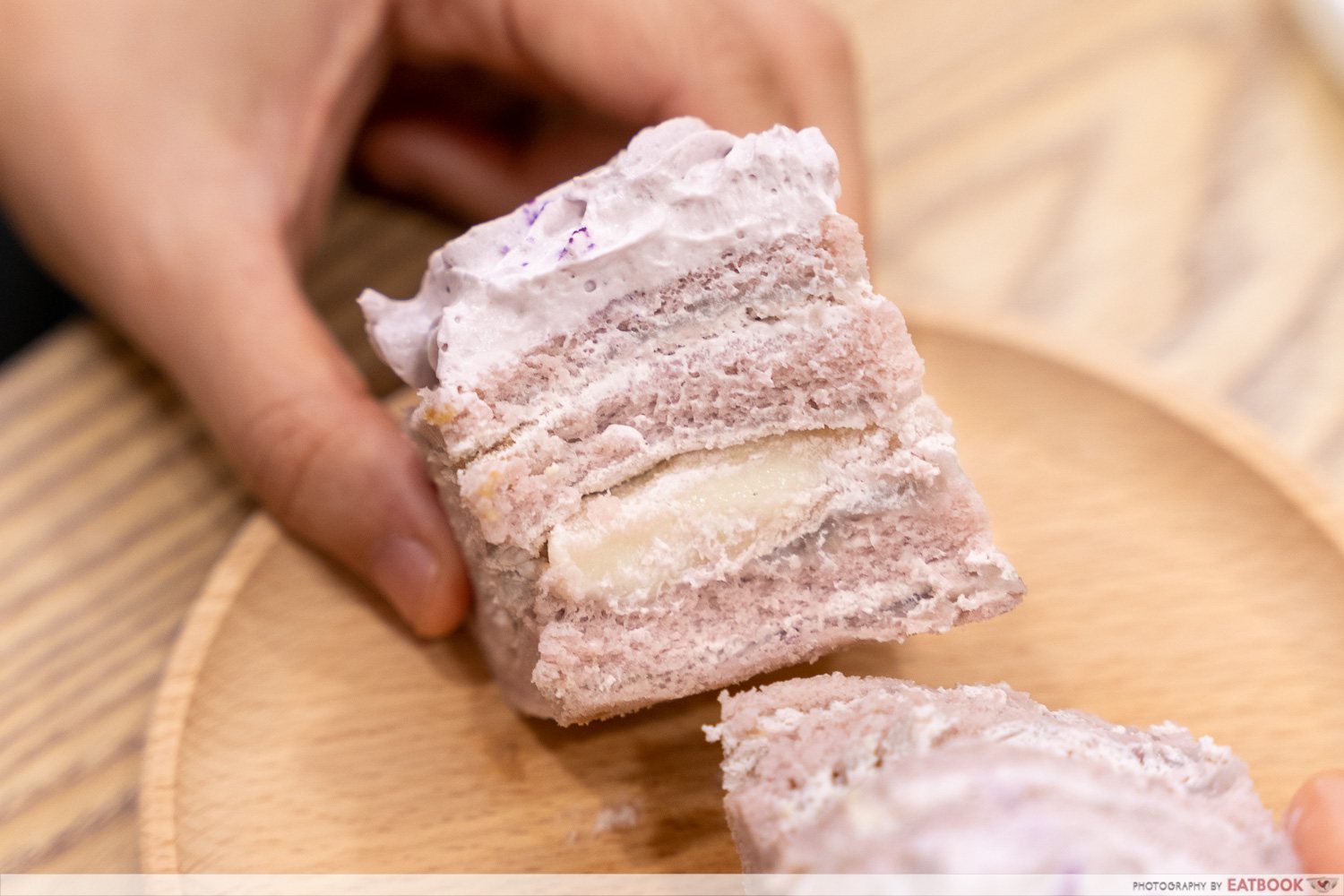 I was impressed with the lightness and fluffiness of the yam cake. Paired with a thin layer of light cream and fresh orh nee paste, each bite had the right amount of yam flavor without being jelak. The mochi was also well executed, adding a pleasant chew to the moist cake.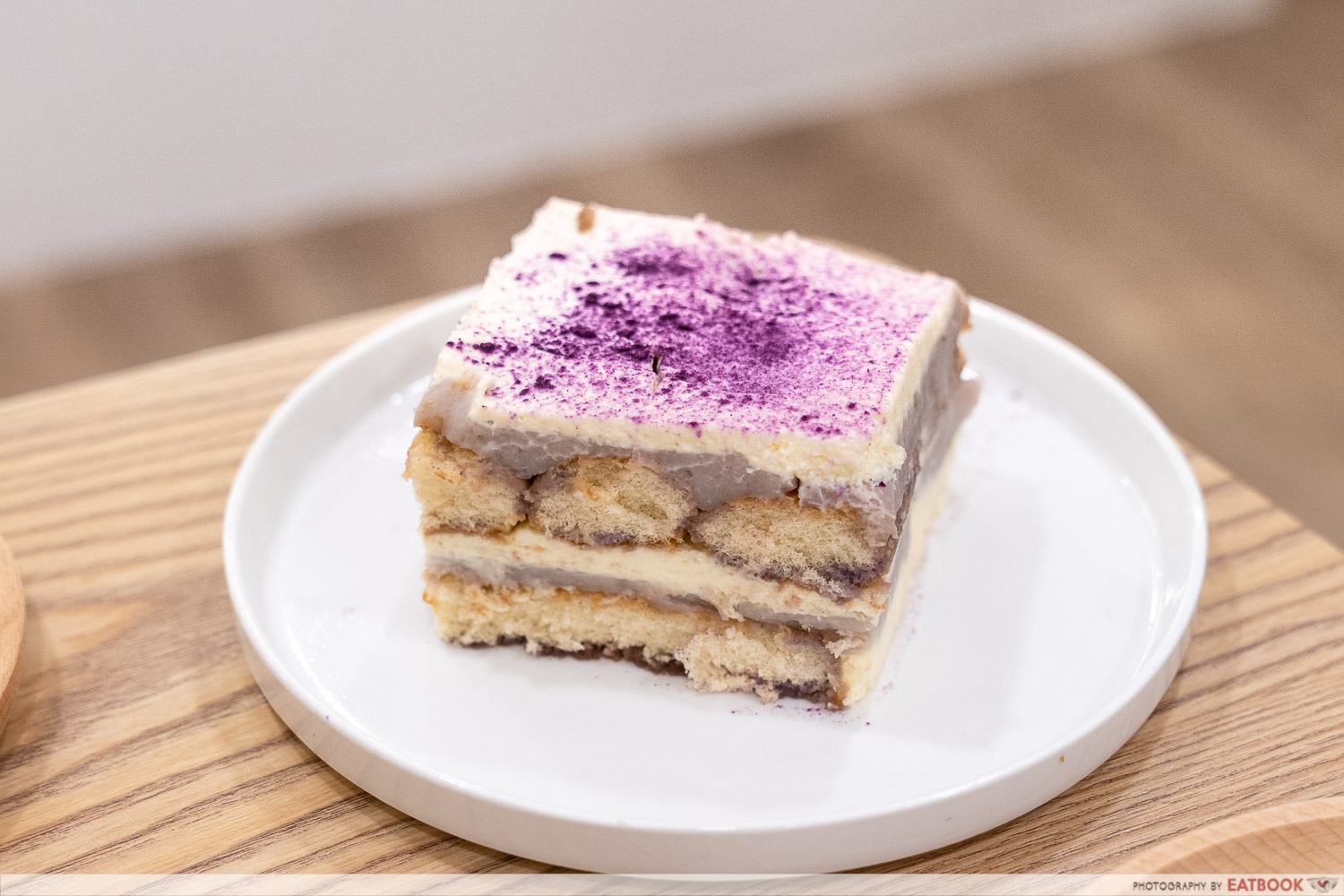 Another must-have is the Taro misu ($6), a unique take on the popular Italian dessert. This layered treat includes lady fingers dipped in homemade taro milk, mascarpone cream and the same fresh yam paste. Served as a generous slab with exposed layers, this was my co-worker's favorite item of the day, which is saying a lot considering she's not a fan of taro.
I enjoyed the milky and creamy flavors of this dessert, but thought it was a bit too sweet for my taste.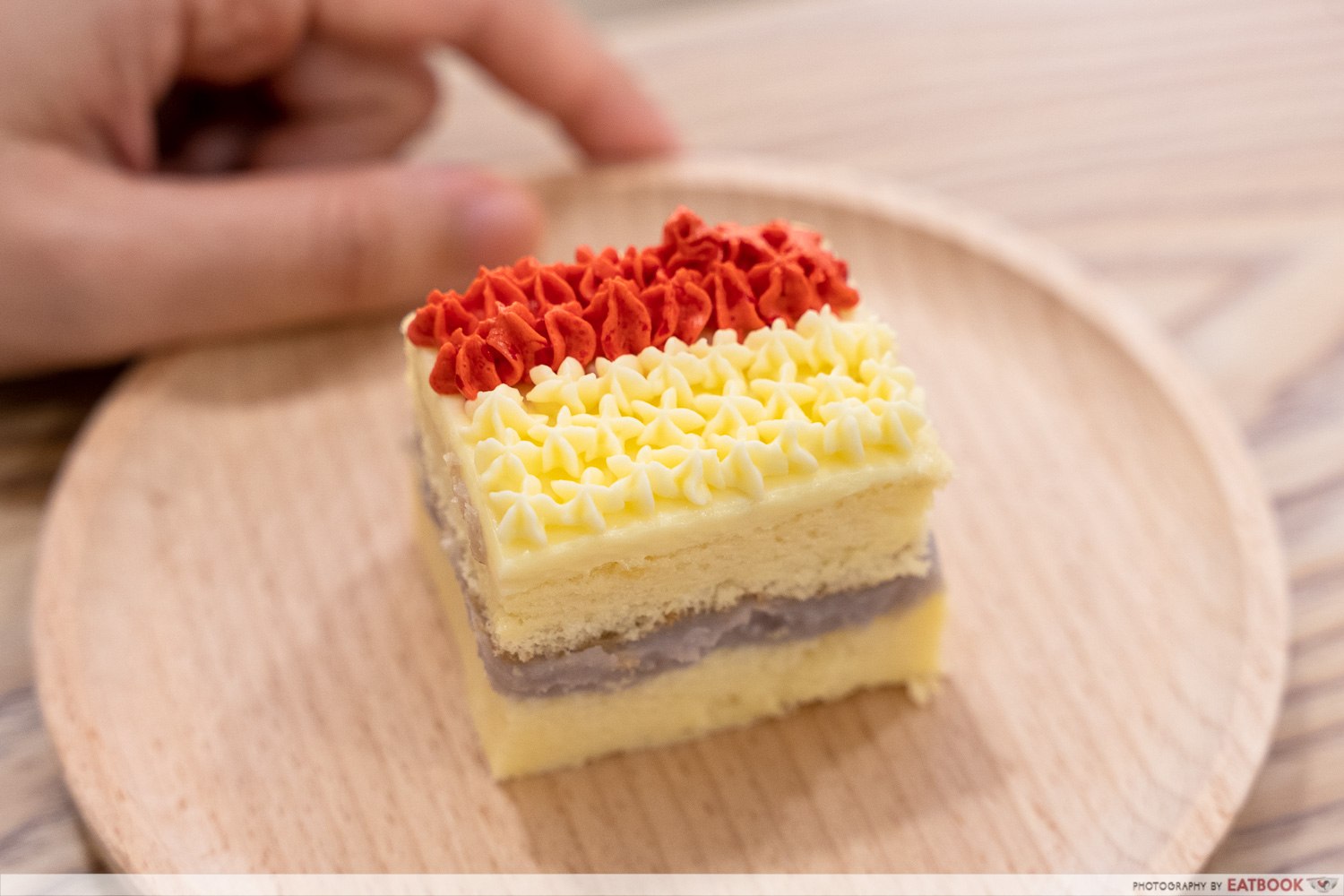 For a pure taste of the café's homemade yam paste, go straight to Old School Taro Cake ($2.50), a national holiday special. Each slice was small but packed a punch; the simple sponge and salted butter cream completed the thick layer of orh nee.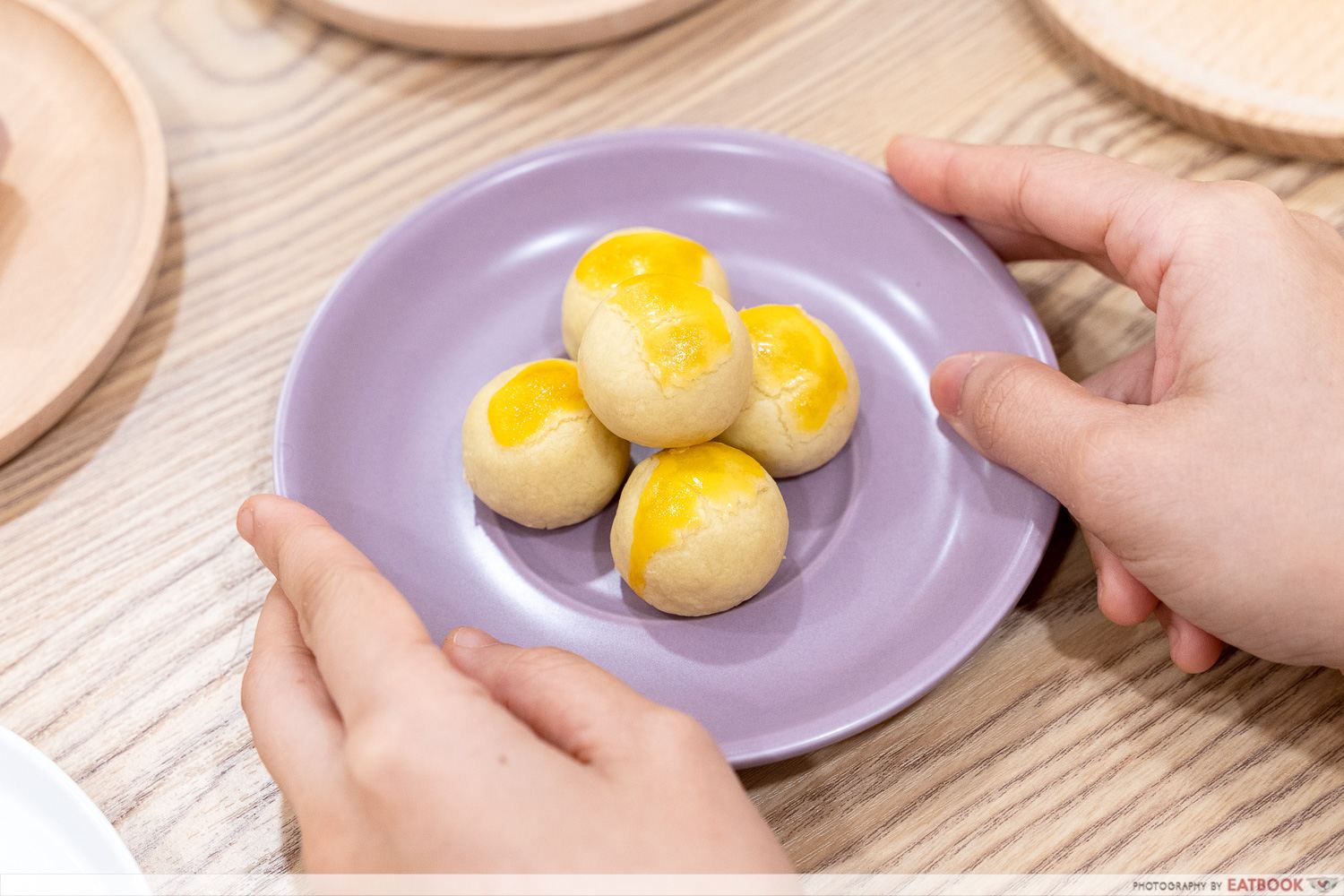 Then there is also their famous Orh Nee Tartlets ($6.80 for five), bite-sized flavor bombs that were really buttery. These freshly baked pastries were dangerously addictive, although I wish they were slightly less buttery so more taro flavor would come out.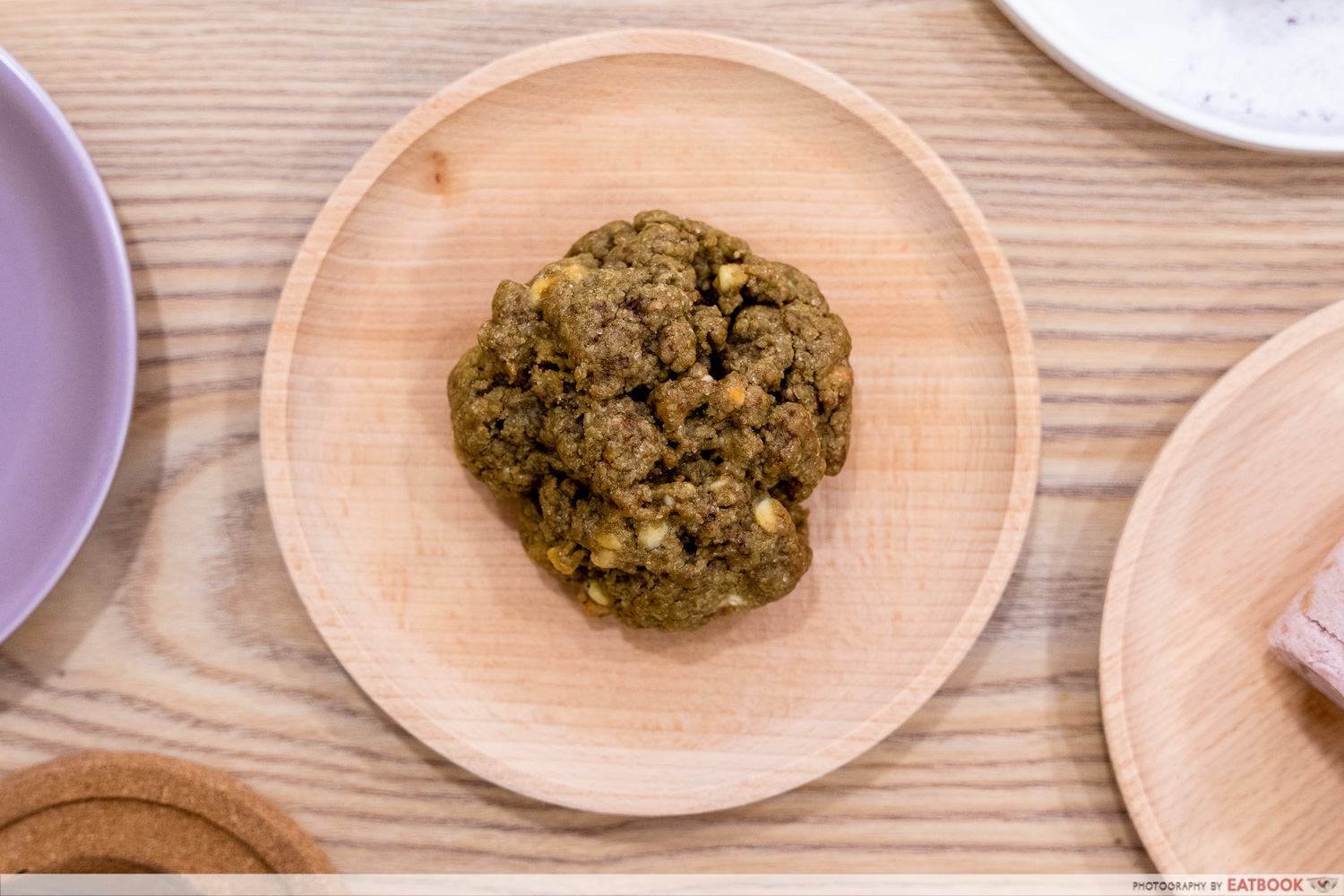 If you're not so crazy about orh nee, they also have a few taro-free pastries on the menu. Try them NYC Sourdough Cookie ($5) in flavors such as Sea salt chocolate, red velvetand our choice: Matcha.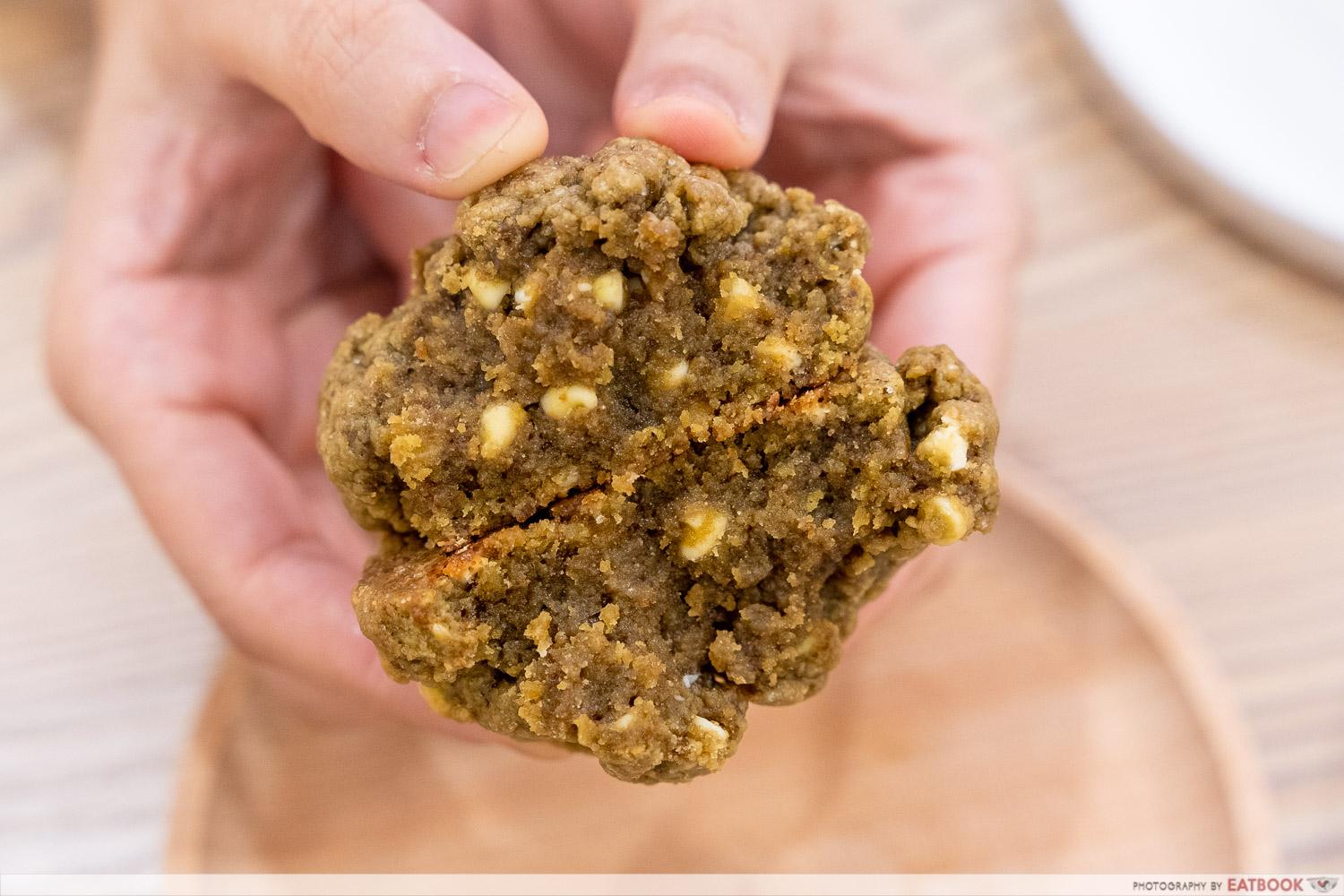 The large tea spike cookie had a crispy exterior. Break it open to reveal its soft, dense crumb, as well as the white chocolate chips hidden in the batter. It was a delicious cookie that we devoured quickly, although it was sweet due to the generous amount of white chocolate it contained.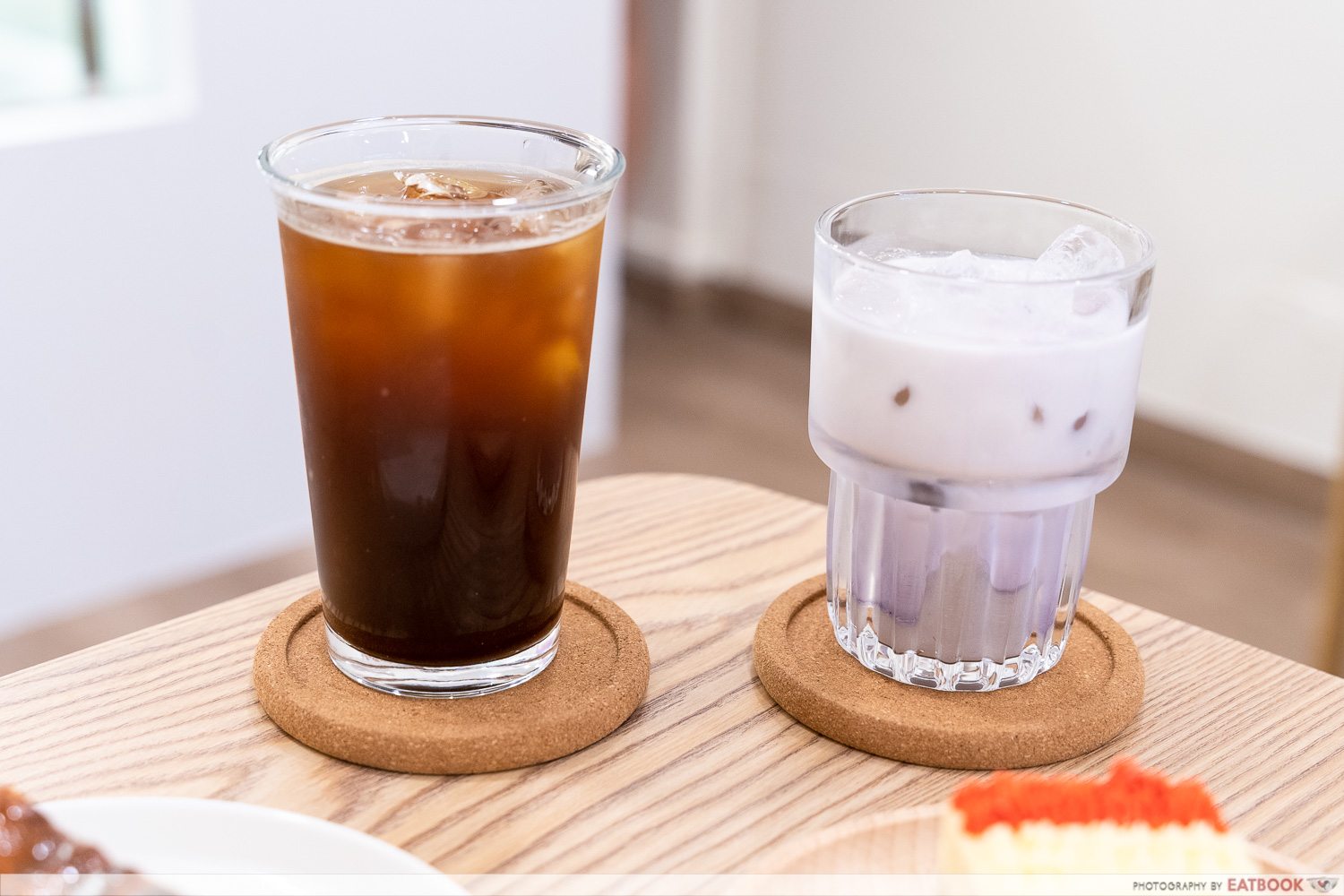 Drinks are also well priced, with my Ice black bring me back to just $3.50. In addition, hot and cold drinks are the same price. There is also no extra charge for plant milk, so you can enjoy a Soy Where Oat milk latte for only $5! My coffee was mild but strong and went perfectly with the sweet treats. Whisking Bakes sources its beans from specialty roaster Dutch Colony.
We also tried their Taro Latte ($6), made with the same fresh yam paste in their desserts. It was very similar to taro milk tea, but much fresher and with no artificial aftertaste.
Atmosphere at Whisking Bakes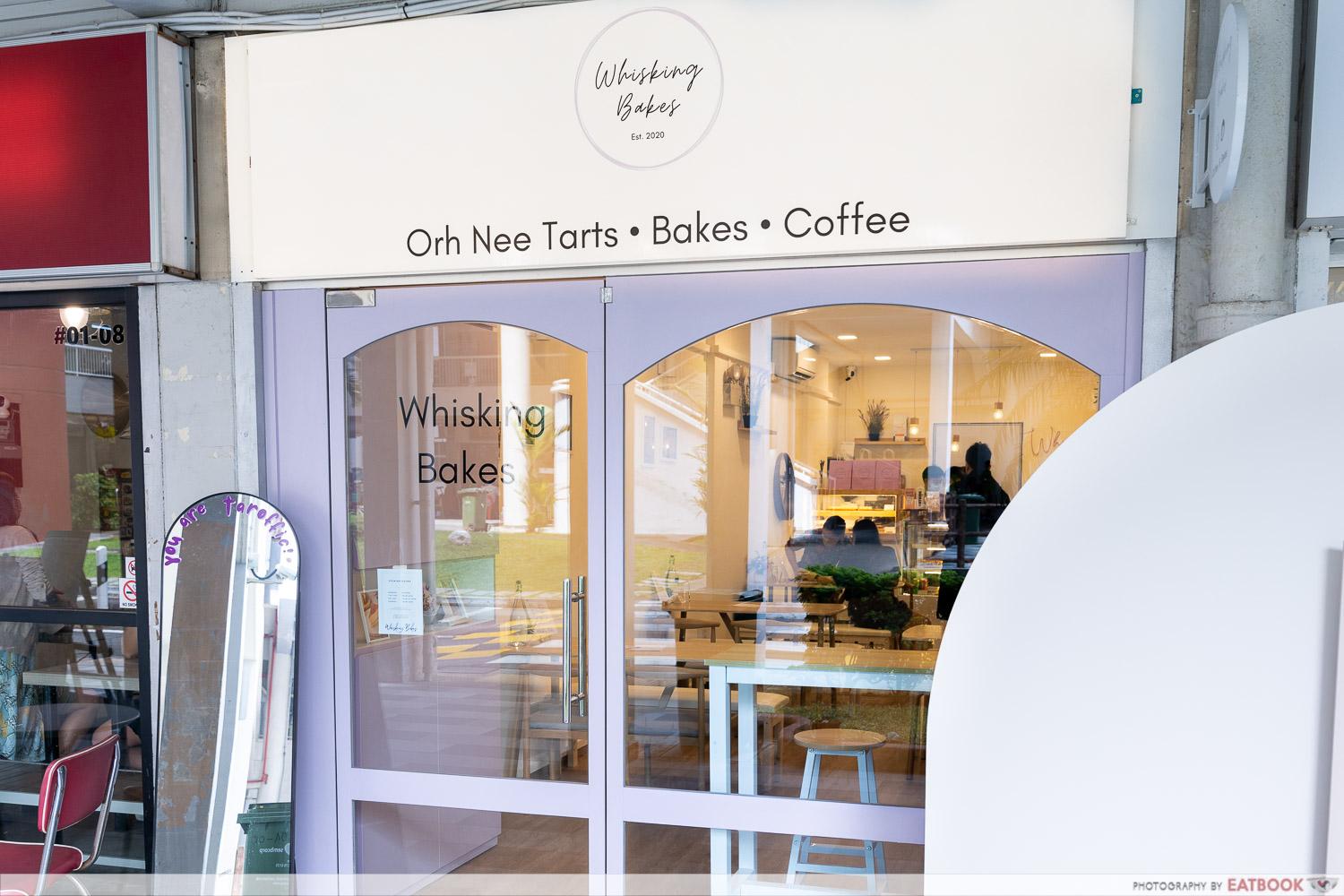 Locating Whisking Bakes is easy as it faces the main road and is right next to the coffeeshop that houses the Michelin-starred Hill Street Tai Hwa Pork Noodle. The cafe is an eight-minute walk from Lavender MRT Stationthrough exit A.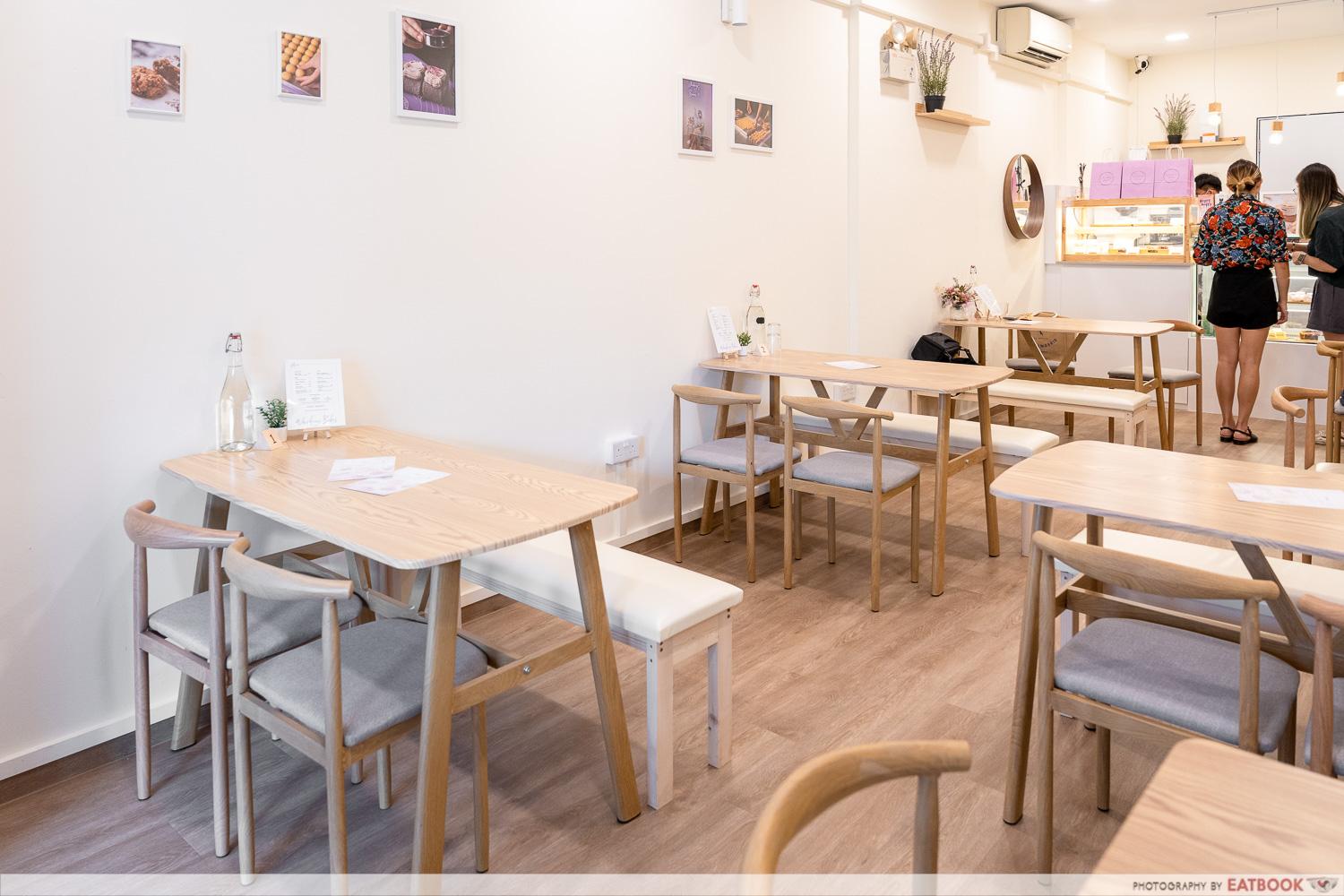 It's a cozy space with about 20 seats, so it can be difficult to snag a table during busy times. The cafe's decor is minimalist with warm wooden furnishings and pastel lavender details, so the vibes are both homey and aesthetically pleasing.
The verdict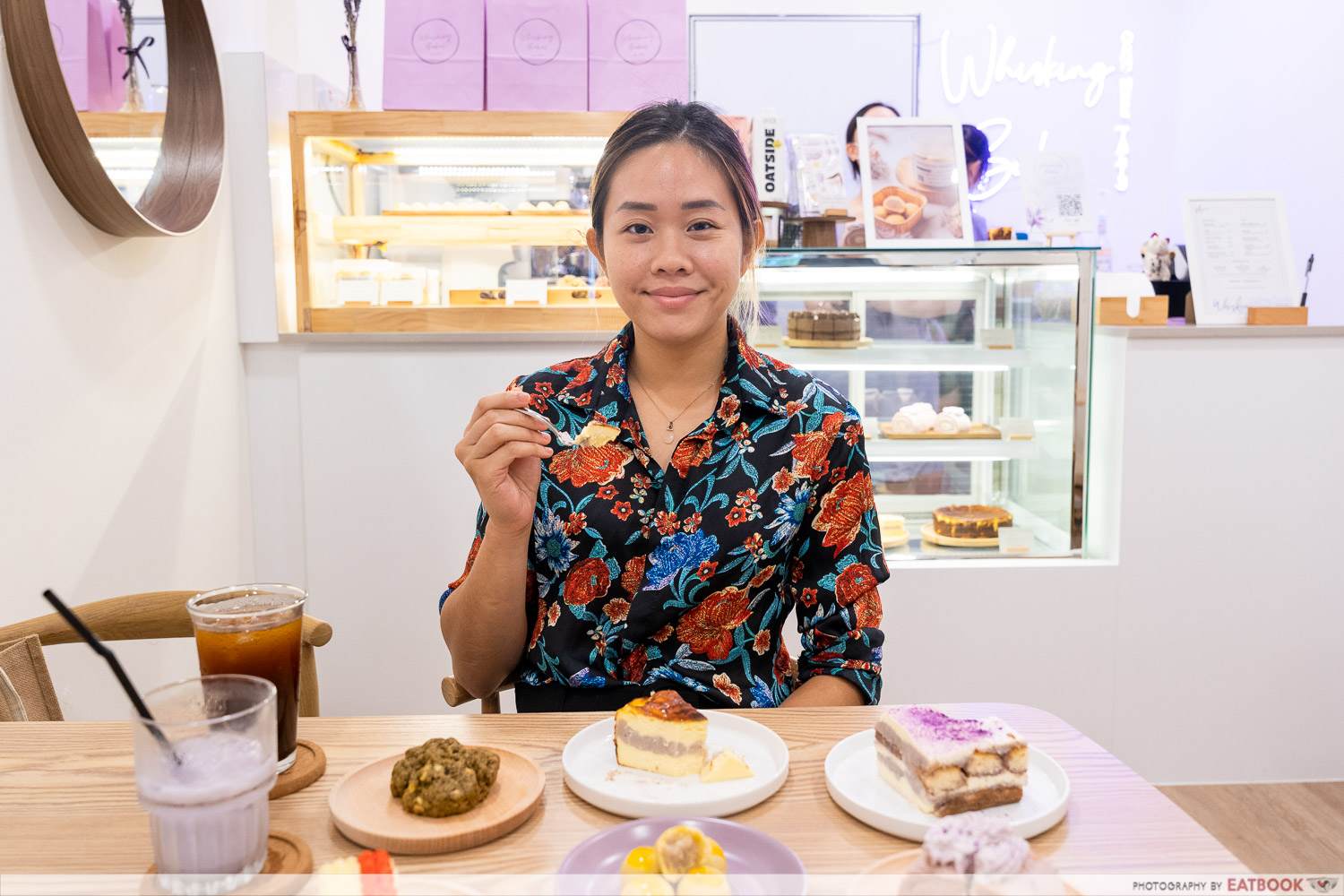 There are plenty of cafes in Singapore, but Whisking Bakes has created a niche that sets them apart from their counterparts. Their good price and delicious desserts, coupled with their accessible location, make this a must visit if you are in the area. I will definitely be back for my dose of taro, but this time with my parents who love orhs too!
For more delicious pastries to try, read our comprehensive guide to dessert box deliveries in Singapore. If you prefer something savory, visit the nearby Salai M'an for halal burgers, smoked meats and more at Jalan Besar.
Address: 466 Crawford Lane, #01-08, Singapore 190465
Opening hours: Tue-Thu 12 p.m. to 10 p.m., Fri 12 p.m. to midnight, Sat 10 a.m. to 12 a.m., Sun 10 a.m. to 4 p.m.
Such : 8850 5918
Website
Whisking Bakes is not a halal certified restaurant.
Salai M'an Review: Halal Burgers And Smoked Meats By Former Potato Chef In Jalan Besar
Photos taken by Tanya Tham.
It was a media tasting at Whisking Bakes.
Whisking Bakes Review: First Taro Cafe in Singapore by HBB with IG-Famous Orh Nee Tarts, Taromisu and more

Whisking Bakes Review: First Taro Cafe in Singapore by HBB with IG-Famous Orh Nee Tarts, Taromisu and more – 8.5/10
8.5/10
Summary
Advantages
– Net and affordable prices
– The desserts were not too sweet
– Accessible location
The inconvenients
– The range of desserts was small
– Limited places
Recommended dishes: Taro Burnt Cheesecake ($7.50), Taro-misu ($6), Taro Mochi Swiss Roll ($5)
Opening hours: Tue-Thu 12 p.m. to 10 p.m., Fri 12 p.m. to midnight, Sat 10 a.m. to midnight, Sun 10 a.m. to 4 p.m.
Address: 466 Crawford Lane, #01-08, Singapore 190465